Meet Senior Custodian Herbert Menjivar
---
Published on May 27, 2015
---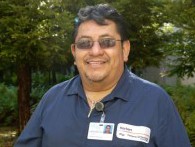 UCSF Custodian Herbert Menjivar's life revolves around community, both here and in his native country of El Salvador.
Herbert has been working at UCSF for more than 13 years. He's currently a Senior Custodian working with a team of four custodians charged with cleaning the housing complex at Mission Bay. In the past, he has worked at Parnassus, Aldea, and other UCSF campuses.
"We clean the housing units when the tenants leave," he said. "We get them ready for new tenants. We also clean the common area. It has lots of parties and gatherings so we spend a lot of time shampooing carpets and waxing the floors."
Girod St. Martin, Assistant Facilities Superintendent, East Zone, said working with Herbert is a pleasure. "He is always willing to go above and beyond what is asked of him. So much so that I have to tell him to slow down, stop, or take a break. He cares about his work and it shows. I love having him work for me."
Leslie Santos, Director of Housing Services at UCSF, said Herbert is an employee you wish you could clone. "He approaches every project with a 'can do' attitude, is eager to learn new things, and genuinely cares about the quality of his work. I cannot express how grateful I am that he takes pride in keeping our trash room clean and well maintained. I also love that every time I see him he always has a smile to offer."
As popular as Herbert is on campus, he's even more popular in his hometown of Armenia, El Salvador. Herbert grew up in Armenia, located in the Sonsonate Department of El Salvador in the western part of the country.
It's there that Herbert and his family have a home and where he has worked with friends and neighbors to establish the Centro Cultural Armeniense. The cultural center has 95 students studying music, English, dancing, and computer maintenance.
"We host art exhibits, a homework club for local kids, and a limited medical center," Herbert said. He works with friends and family to raise money to fund activities at the cultural center. They also fund a local soccer team for kids.
Each November, Herbert travels to Armenia for three weeks to celebrate with family and friends at the cultural center. "It's very important to me to give back to my community."