Meet Michael Powers: Fire Alarm Technician
---
Published on January 05, 2015
---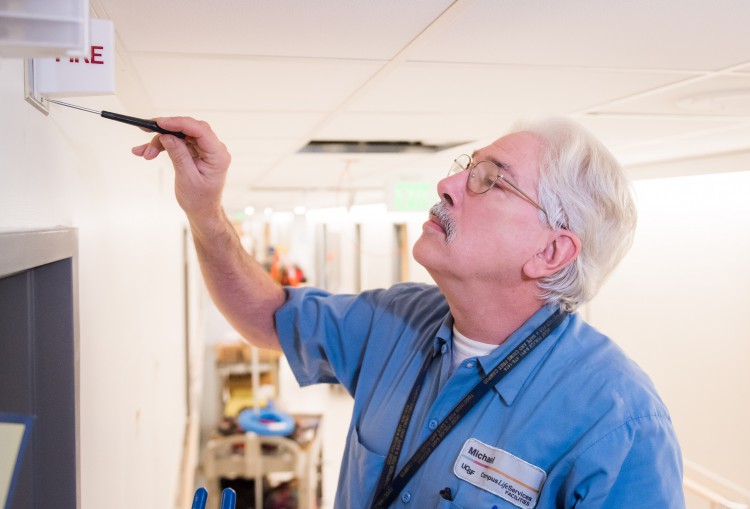 Powers and the Fire/Life Safety Group are working to keep us safe. Under Raj Bhakta, Senior Superintendent, a nine person team of technicians, inspectors, and an analyst tasked with monitoring the network ensures that the university adheres to National & State Fire codes, maintaining both on and off campus systems in proper working order. We recently talked with Powers about his work as a fire alarm technician.
Q). What does a fire alarm technician do?
A). Technicians perform the installation, programming, troubleshooting and repair of the university's addressable fire alarm systems, which are networked over both copper and fiber-optic circuits and are centrally monitored. These systems detect conditions indicating a fire, respond with visual and audible evacuation signals and report so that a fire department response can be initiated. Relays are automatically operated to shut down building fans, close fire doors and recall elevators.
Q). What is an addressable fire alarm system?
A). In an addressable fire alarm system, each field device (as well as each panel and each building) is uniquely identified on its circuit. There are roughly 40,000 hard-wired field devices on the various UCSF owned properties. Each one requires periodic inspection and testing.
Q). It must take some super fast computers to power that network.
A). There isn't a lot of traffic on our network so we don't need the fastest computers. We do, however, need them to be reliable. The fire alarm industry lags behind in computer and electronic technologies because our systems need to be tested for reliability and approved for use by Underwriters Laboratories, the California State Fire Marshal, and other agencies before they can be deployed. At UCSF, we use the latest in fire safety, but that technology isn't cutting edge compared to other industries. It's interesting to see how both the technology and the governing codes are evolving.
Q). What do you like best about your job?
A). I like troubleshooting. It's a little like detective work. When I receive a warning on the system, I explore why it is being displayed. Some problems are more easily fixed than others.
Q). How does that work? Are you constantly looking at fire alarm control panels?
A). Our systems are monitored 24/7 by stationary engineers and UCPD, but we are pro-active in staying on top of troubles. The system continuously sends out interrogation signals to all of the devices and they respond to the control panel. Sometimes we'll receive a notice from a smoke detector that it needs maintenance, so we'll make sure it's cleaned or replaced. I can schedule some of my labor based on reports indicating what the system needs via both our dedicated computer workstations and individual building's control panels.
Q). How did you get into this line of work?
A). I grew up in New Jersey (2 towns away from the Jersey shore) but moved to Phoenix in 1981 because I wanted to see the Southwest. There, I was trained to work on alarms. I stayed in Phoenix less than a year; I couldn't handle the heat. On the day I left, it was 118 degrees.
Q). How did you arrive in San Francisco?
A). I moved to the Bay Area in 1981. I worked for ADT, Pacific Auxiliary Fire Alarm (where I did installation work at Mount Zion, St. Mary's, & CPMC), and at Siemens Building Technologies (where I was involved in modernizing the fire alarm across the SFGH campus). I wound up working in a lot of hospitals.
Q). That must have prepared you well for the job at UCSF.
A). Yes. It helped that Siemens uses the same hardware that we have here. Not every technician is comfortable working on systems of this size, but I like it. I feel proud to have a role in supporting the educational, research, and healthcare mission of UCSF, and in keeping the campus safe.