Meet Marquita Bowe: Journeyman Painter
---
Published on January 05, 2015
---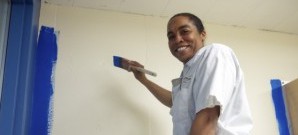 San Francisco resident Marquita Bowe joined Facilities Services a little over two years ago. She spends the majority of her time painting and repairing walls at Parnassus. We sat down with Marquita recently to talk about her time at Campus Life Services.
Q). How did you get started as a painter?
A). I began painting as part of a general maintenance crew at a private fashion design school in Long Beach, California. I was the only female on the crew so I was routinely sent into areas where males couldn't go to make repairs and paint. I enjoyed the work so I knew that's what I should be doing. I was very fast at hanging drywall and painting and I didn't like knocking down concrete walls or other heavy labor. I sort of gravitated toward painting.
Q). How did your career evolve?
A). Following the job at the design school, I went to work for CalTrans painting bridges and overpasses. I painted every major bridge in the Bay Area. I've painted the Bay Bridge, Richmond Bridge, Carquinez Bridge, and Benicia Bridge. I've also painted many of the overpasses on Highways 101 and 280.
Q). That sounds like an interesting job. It must have been a thrill painting the bridges.
A). Because there weren't many female painters and I was the smallest team member, my team used to lower me by my feet to reach areas other people couldn't reach. We also had to paint all the major cross braces on each bridge.
Q). With all the traffic on Highways 101 and 280, it must have been difficult painting the overpasses.
A). We used to paint those in the middle of the night, when traffic was light. I loved those graffiti kids. They kept us busy.
Q). I understand you also owned your own painting company prior to joining UCSF.
A). Yes. I started my own company after I left CalTrans. I enjoyed the solitude of painting. It's like my Zen. I'm like an NBA or NFL player. I'm getting paid for something I love to do. Unfortunately, when you own your own business, there's a lot more involved than just painting. Jobs would come all at once and then there wouldn't be any work for a while. I needed some consistency. I was working with UCSF as a contractor but when a permanent job opened I knew that's what I wanted.
Q). Where did you grow up?
A). Right here in San Francisco. I graduated from Mercy High School and attended San Diego State University before returning to the Bay Area in the late '90s. I found when I was away at school I really missed San Francisco. I currently live with my wife near City College and Balboa Park.
Q). What do you enjoy doing when you aren't painting?
A). I like putting together jigsaw puzzles with my wife or working on Sudoku. I also enjoy going to the movies with my mom. We go nearly every weekend. I'm like a movie critic. I give them the thumbs up or the thumbs down.
Q). What movies have you seen recently that you can recommend?
A). One of the creepiest movies I've seen recently is Nightcrawler with Jake Gyllenhaal. It's about a guy who uses a camcorder and police scanner to roam around Los Angeles looking for grisly crimes. It was a really good movie but it creeped me out. I also liked the animated movie Big Hero 6. It was about a robot that takes care of people. That was a cute movie. Right now I'm waiting for the Hobbit movie and Exodus: Gods and Kings. I've seen all the Hobbit movies.