Marco Sanchez and his New York City Roots
---
Published on September 30, 2014
---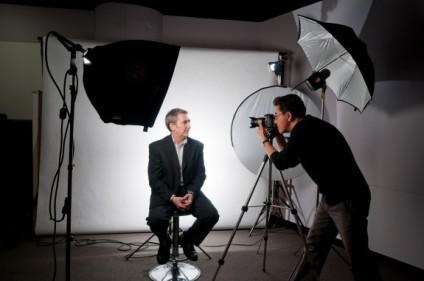 When Adobe introduced Photoshop in the early 1990s, Marco Sanchez was enthralled. The Queens, New York native of Guatemalan descent eagerly consumed as much knowledge of the new computer program as possible.
"I was studying graphic design/photography at Queens College at the time and the entire industry was undergoing radical change," said Sanchez, a photographer and graphic artist with Documents & Media. "It was an exciting time to be involved with photography."
Little did he realize that his thirst for digital photography knowledge would lead him to neighboring Manhattan and corporate America's fastlane.
"I began working for a firm in New York City that was one of the country's first to use very expensive digital cameras," Sanchez said. "They specialized in product photography."
He was named the firm's digital team director and was responsible for re-touching digital photo files. Clients included Calvin Klein and Bed, Bath & Beyond. "They were spending millions of dollars to feature their products in digital photography. The stakes were huge."
So was the pressure. "I was young, but I was aging very quickly on the job," he said. "I knew I needed a change and decided to move to San Francisco."
Sanchez left New York City and moved to San Francisco in 2000. He came to the West Coast without a job or a place to live. He found an apartment and began working freelance touching up photos. He was in San Francisco in 9-11 and remembers watching the neighborhood where he worked come under attack. "I used to work in downtown New York City. I wasn't in the towers, but I was in that neighborhood. I can only imagine how frightening that would have been."
In 2004, he began working at UCSF. He currently lives in Oakland where he and his girlfriend freelance their photography skills for non-profits. "We've shot photography for the Oakland East Bay Symphony and most recently we've worked for an event called Art and Nature." The event brings artists together to show their work along a creek that runs through the Oakland Redwood Park trails. The event is free and there is no exchange of money.
"I really enjoy the creative atmosphere in Oakland and the neighborhoods in the city are thriving," Sanchez said. "It's a great place to live."
When he started working at UCSF, Sanchez said he was spending most of his time as a graphic designer. Now, he spends 75 percent as a photographer and 25 percent in design. "The photography business is growing," he said. "We do some portraits but most of the photos we shoot are on location."
He said he shoots doctors conducting medical procedures, campus events, fitness and recreation, the chancellor, and more. It's all over the scale.
Sanchez said he misses New York but said his home is firmly on the West Coast. He does, however, remember another East Coast job that had him rubbing elbows with some of the biggest names in music and film.
While attending Queens College, Sanchez was going to school full-time and driving for a limousine company on the weekends. The limo company served many movie stars and musicians. "The company was used during the MTV Awards, VHI Awards and Emmy's. I was driving a lineup of stars who would get in one door of the limo and out the other."
Sanchez said it was a crazy kind of job. "I saw tons of celebrities and paparazzi. The cars all had tinted windows and we drove customers to red-carpet events."
On one of his first days on the job, he was called to pick up a client at one of New York's finest hotels. The company sent him in one of the older cars, without tinted windows and no privacy. "You could hear the muffler rumble as I drove through the streets," he said.
When Sanchez showed up at the hotel, out came actress Julia Roberts. "I quickly called the company and told them I was picking up Julia Roberts in one of our oldest cars. They hadn't realized that the call was for Julia Roberts because the caller had used her manager's name. The company told her they would dispatch one of the newer models immediately. She smiled and said, let's go."
Roberts jumped into the older car with a couple of bodyguards and they took off to a red-carpet destination. Leaving the red-carpet event the bodyguards immediately saw several paparazzi cars tailing them. "They followed us through New York City," he said. "She was just recently divorced from Lyle Lovett so she was big news. I was able to lose them as the bodyguards told me to run right, turn left, and zigzag through the city. The bodyguards were also feverishly scratching down the pursuers license plate numbers."
Of course, when they arrived at the hotel, they discovered the paparazzi waiting for Ms. Roberts.
"That was one of the most interesting days I had in New York City," he said.