Lorna Bernardo: Building a Strong Foundation
---
Published on March 24, 2015
---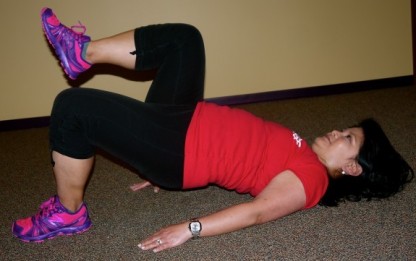 As a personal trainer and group exercise instructor at UCSF, Lorna Bernardo works with a large number of Baby Boomers.
"Most of my clients are over 40 years old and they aren't ready to slow down," she said. "They aren't ready for the rocking chair."
In fact, the majority of Lorna's clients want to maintain a high fitness level to they can travel the world, keep up with their friends and families, and lead an active life as they age.
"I have clients in their 70s and 80s who aren't about to slow down," she said. "To keep them active, I work with them to design a fitness plan that meets their needs."
Lorna said the Bakar Fitness Center and Millberry Fitness Center are perfect gyms for her clients. "We don't have the booming music and singles scenes you find at some clubs. The gyms at UCSF are less about networking and social climbing. Our fitness facilities are perfect for older clientele who want to come in regularly to maintain their fitness."
When Lorna meets with new clients one of the first steps is to assess how they move. "From there, I can develop an exercise plan," she said. "My goal is to build a strong foundation. Traditional strength training programs are not always appropriate. The fundamentals are the key."
Key exercises often include:
The squat – This is an exercise that trains primarily the thighs, hips, buttocks, quadriceps, and hamstrings. In addition, it strengthens the bones- great for osteoperosis prevention. It's one of the vital exercises to help develop core strength. "We squat everyday as we sit and stand up," Lorna said. "As you get older and lose your core strength, it becomes more difficult to bend down and stand back up."
Leg Press – This is another exercise that works the quadriceps, hamstrings, and glutes. Like the squat it is designed to help increase lower body strength. The squat is a total body exercise. The leg press only targets the lower body.
Balance Work and Agility – Lorna will often start with simple exercises such as walking a straight line heel-to-toe; grapevines; knee marching; and stepping exercises. "As we get older and lose our strength we also find it more difficult to maintain our balance," she said. "This makes it more difficult to complete simple tasks such as walking up and down stairs."
Lorna specializes in post rehab and corrective exercises with an emphasis in the correction of muscle imbalances due to repetitive motion syndrome, sports injury, surgery, post natal rehab and postural deviations. "Coming back from an injury can be difficult," she said. "I try to show my clients that you can still live your life. You can carry your groceries up the stairs. You don't have to be left behind on long walks or hikes."
Lorna said she has worked with clients to help them gain strength prior to vacations. "I had a client who had gone through some intense physical therapy as she recovered from an injury and she was preparing to go on vacation with her family. She was worried that her lack of physical strength would mean she would be left behind during most of the activities as they were going to be doing a lot of walking. I worked with her to develop the total body strength and endurance necessary for her to keep up and she attended the World Cup."