From Laotian Refugee to UCSF: Lisa Gee's Story
---
Published on September 29, 2014
---

From the mid-1970s to the early 1980s, after a Communist government came to power in Laos, more than 300,000 Lao sought asylum in Thai refugee camps. Five of those refugees were Lisa Gee; her father, Sa; mom, Kim; sister, Sue; and younger brother, Dean, who fled their homeland in 1980.
"It happened so fast," said Gee, a reprographics supervisor in Documents and Media. "My sister and I were home from school for lunch when my older brother, Joe, came to the house and told us we had to leave. I was still in my school uniform. My concern was going back to school."
Instead of packing her books to return to the classroom, Gee, then 11, and her 14-year-old sister climbed on the side of a modified 4 x 4 pickup for the journey to Thailand. A year later, Dean joined the family in Thailand.
They were not alone.
According to research, the total number of Lao, or Hmong, refugees in Thai camps in March 1980 was 48,937 with nearly 1,000 new arrivals that month. Despite departures for resettlement in other countries, there were still 46,218 Hmong registered for support by the United Nations High Commission for Refugees in five camps in Northern Thailand in February, 1981.
Her brother told Sue and Lisa to follow instructions from the man in the 4 x 4 pickup. He said the man would take them to their mom and dad in Thailand. Her father and mother had fled Laos earlier to get treatment for a lung condition experienced by her father.
The girls (photographed with Lisa on the left) held on to the side of the pickup with other passengers, primarily farmers and sales people, as they sped along a narrow roadway to the Thai border. Gee and her sister did not have the proper paperwork to legally cross into Thailand. As they approached the border, the man gave them specific instructions. "He told us that when the truck stopped to just keep walking up the road," she said. "We were kids so the border guards didn't pay attention to us. We walked right past the guards and kept walking as they looked at everyone's paperwork. Eventually, the man came and picked us up and took us to our parents."
The girls' father did not want the family to stay in a refugee camp. It was too dangerous for a teenage girl and her older sister, so the family stayed with people outside the camp. Eventually, though, they were forced to join the thousands of Laotian refugees making their way into camps.
"The first camp we stayed in was Ubon Ratchathani in the northeastern province of Thailand (approximately 600 km from Bangkok)," Gee said. "We were there for a little over a year. Then, one day in November of 1980, our family name was called and we moved to a new camp, Phanat Nikhom in Chonburi Province (located about 100 km east of Bangkok), for 40 days as we prepared to leave for the United States."
"The camps were the worst living conditions I've ever experienced," she said. "We received five gallons of water per day, per person. We had to use the water sparingly because we had to both drink and bathe with it. There was no shower room. As a young female, I would cover myself with a cloth and bathe but the cloth was not even wet when I finished."
Gee said they ate rice in the camp – if they could find some that was edible. "Most of it was undercooked or overcooked," she said. "We could only eat a very small amount. They would not allow us to cook on our own."
After 40 days in Phanat Nikhom, the family was transferred to a third camp in Bangkok. They arrived at the Bangkok camp at 11 pm and found running water and showers. "It's the first thing me and my sister did – we took a long shower," Gee said. The stay in Bangkok, however, would be short-lived.
Within six hours, the family was ushered to the airport where they boarded a Pan Am commercial flight to San Francisco. While the family had experienced a harrowing year, another shock awaited when they landed in the Bay Area.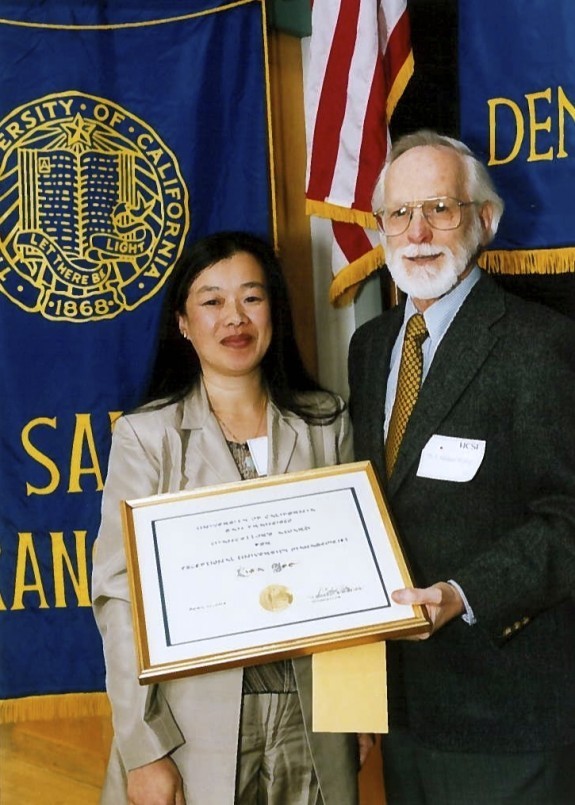 "When we arrived in San Francisco our sponsor had already rented an apartment on Leavenworth between Eddy and Ellis for us," she said. "This was 1981 in the middle of the Tenderloin. We had come from Laos and Thailand. We had never seen African-Americans before. We were told not to leave the apartment after 6 pm."
Over the next two days, the family's lives were about to take a change for the better. They visited San Francisco General Hospital where they met a young translator who would eventually become Gee's future brother-in-law. "He immediately moved us out of the apartment into a new apartment on Sutter near Jones. It was a much better neighborhood."
Seven years after arriving in San Francisco, Gee was hired to work at the old UCSF Quick Copy print shop in the Nursing Building. She has remained with the university ever since. In 2003, she was recognized for her superior customer service when she received the Chancellor's Award for Exceptional University Management. A photo of Gee receiving the award (left) still stands in her office.
"I'm very proud of the award but more importantly, I feel very blessed to work at the university," she said. "After experiencing everything I have, I am very appreciative for my life in San Francisco, my job, and my family."