Ladle & Leaf's locally sourced fare breathes new life into old UCSF gathering place
---
Published on January 19, 2016
---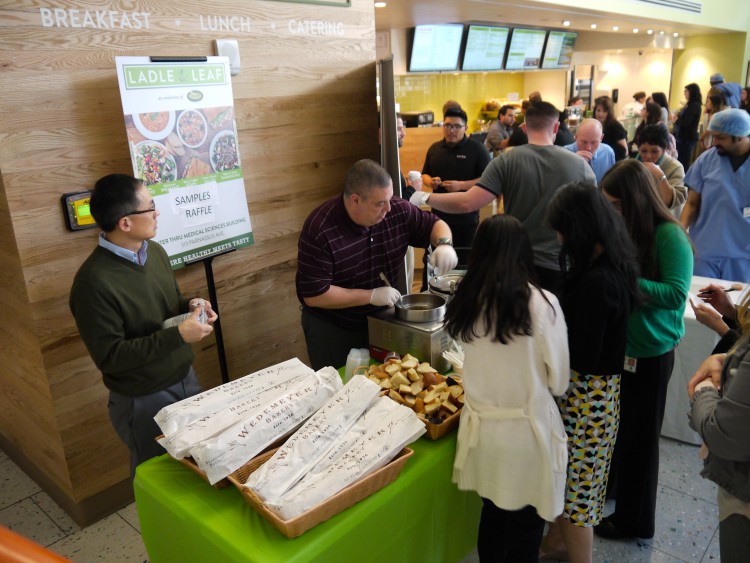 Ladle & Leaf, an evolution of San Francisco Soup Company, has opened its doors at UCSF's School of Nursing in the former location of Courtyard Caffe. The restaurant is open weekdays from 7 am to 4 pm offering a seasonal menu of globally inspired, locally sourced, farm-to-table food. Their catering options bring new and creative foods to the UCSF community at both Parnassus and Mission Bay.
Like its predecessor in this UCSF space, affectionately remembered as the Nurseteria, Ladle & Leaf is a family-owned business, and has set out to provide a convenient and economical option for healthy, sustainable food, and a friendly social hub for a vibrant part of the UCSF campus.
Owners Steve and Jennifer Sarver are excited to bring their new inspiration to UCSF, making this their second UC location.
"After more than fifteen years serving the Bay Area, we hope we'll see some familiar faces who have frequented us elsewhere in the city at Ladle & Leaf's new UCSF location," says Steve Sarver. "We also look forward to winning over new friends with the help of made-from-scratch soups, made-to-order sandwiches and custom-tossed salads." The owners are also excited about their full breakfast menu featuring premium items like house-made granola, free-range eggs, and local favorite - Equator Coffees and Teas.
Those who have been at UCSF for several years will be reintroduced to a space where employees, students, and locals alike met for more than 28 years to take a break or to get in some studying. The location has been vacant for more than two years, and Associate Vice Chancellor for Campus Life Services Clare Shinnerl explains that the changes to the space are dramatic.
"What I'm most excited about is the social space that surrounds Ladle & Leaf," she says. "It looks very inviting and I'm sure it will become a popular gathering place for friends and colleagues to meet for breakfast, lunch and afternoon snacks."
For more information on opening hours and location, visit ladleandleaf.com.