Keeping Campus Safe From Fire Requires Dirty Work
---
Published on October 27, 2014
---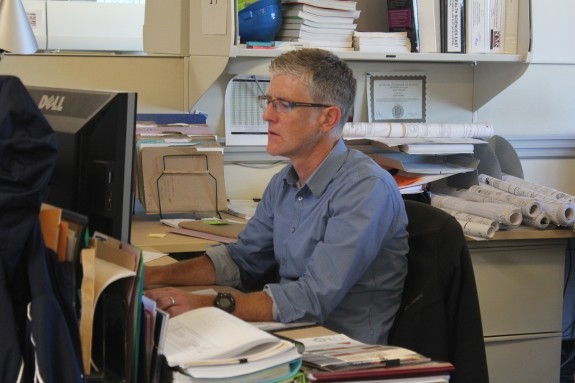 Conor Neville has spent the better part of the past two years combing through the heating, ventilation and air conditioning ducts in the ceilings above classrooms, labs and other rooms around campus making sure we're safe.
Conor, a project manager with facilities, has been assessing and replacing approximately 2,000 fire dampers in all the buildings across UCSF.
"It's been a major project," said Conor, who joined UCSF Facilities Services in 2012. "Over the past two years we've inspected and replaced thousands of fire dampers around campus. We've worked with the fire marshals and engineers. It's been a collaborative effort that's helped improve the safety of everyone on campus."
In the event of a fire, dampers are used to help prevent the spread of fire and smoke through ducts in a building. When a rise in temperature occurs, the fire damper closes, usually activated by a thermal element that melts at a certain temperature. Dampers can also be closed by an electrical signal from a fire alarm system.
Conor said testing every fire damper on campus was a challenge.
"We were working in confined spaces above labs, classrooms and offices," he said. "We had to be very careful not to impact any of the work being conducted in the labs and to make sure we didn't cause a major disruption for people working in the offices."
Conor and the inspection team assessed and tested approximately 800 fire ducts in Genentech Hall alone. "Having tested each damper on campus over the past two years, we're in much better shape regarding ongoing maintenance and testing in the future."
Conor moved to San Francisco from Ireland in 1993 and worked for a construction management firm prior to joining the university. He currently resides in the Mission and spends some of his free time training for marathons.
"It is always a privilege to have a team member like Conor," said Winnie Kwofie, Associe Director, Engineering Services. "He's dedicated, focused and result oriented. I'm very proud of him and all he is doing here at UCSF."
As a project manager, Conor is often overseeing multiple projects simultaneously. "This includes design, construction, hiring general contractors and coordinating with the end-users," he said.
Conor said his project list is developed through the Facility Investment Needs program. It identifies deferred maintenance projects and funding sources and then prioritizes each project. "We roll out projects on an ongoing basis," he said.
A current project was improving the fan rooms in the Medical Sciences Building at Parnassus. "That is a challenging project for a variety of reasons," he said. "We had to perform the work while minimizing impact to the ventilation in the building. We also had to be aware of the noise that was generated by the work."
Conor said coordinating outside vendors and contractors and working around the schedule of building users is a challenge on most projects.
"I enjoy working with the campus community and improving the working environment for everyone," he said. "The projects can be challenging but, in the end, our goal is to improve the workspace for everyone at UCSF."