Jon Goodman Loses 30 Pounds with UCSF Group X Classes
---
Published on April 07, 2016
---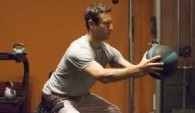 Two years ago, San Francisco's Jon Goodman returned from vacation to his South of Market home weighing more than 185 pounds and feeling like it was time to get in shape.
"I was ready to make a change," he said. Goodman had received a mailer from the Fitness & Recreation Centers at UC San Francisco and decided to tour the Bakar Fitness & Recreation Center at the Mission Bay campus. "I heard a lot of positive things about the fitness center at UCSF. I had always driven by the building but didn't even know how to get in. I finally found my way into the parking lot and got a tour. I was definitely impressed by everything the gym had to offer."
A New Fitness Lifestyle
Goodman had never taken a fitness class in his life, but as a new member he took advantage of the gym's offer for one-on-one work with a personal trainer. Now, two years later, Goodman is hitting the gym three times per week to participate in Group X classes working with a variety of instructors.
Goodman learned that Bakar Fitness Center is more than a gym, it's a fitness lifestyle, and this new lifestyle helped him lose 30 pounds. Goodman said you can take fitness classes at any gym but the instructors at Bakar Fitness Center make the difference. "They set the tone and energy for the classes," he said. "It's one of those situations where you really feed off the energy and the person next to you. You can look around the room and emulate what everyone else is doing. It's really a built-in program for you."
Goodman has a busy career as a spirits supplier and appreciates that the Group X classes at Bakar Fitness Center are efficient. "I attend the GRIT® Strength class on Monday night, Athletic Conditioning on Wednesday night, and a BODYPUMP® class on Tuesday or Thursday. Most classes are an hour and that's all I need to keep fit."
Pedro Ortiz, a trainer at the gym, has tailored a stretching routine specifically for Goodman. "It takes seven minutes every day but I do it first thing in the morning and it makes a big difference."
Joining a Community
Goodman said he also enjoys the social aspect of the gym. "I like meeting new people and sharing the experience in the classes and connecting with the instructors and afterward feeling really positive and good. I've even changed my diet, eating more salads and lean proteins and staying away from heavy carbs at night."
Now that he's been a regular at the gym for two years, what advice would Goodman give newcomers? "Give it a chance. Take a one-on-one course with a personal trainer and attend an athletic conditioning or BODYPUMP® class to get your feet wet."