Healthy Beverage Initiative Welcomed by Ali Keshavarz at Peasant Pies
---
Published on July 08, 2015
---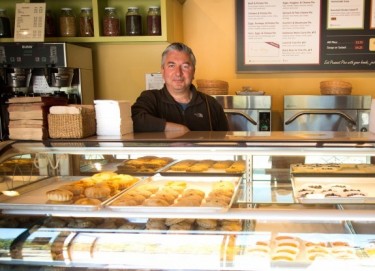 Ali Keshavarz at Peasant Pies was serving healthy drinks long before the science showed the negative health effects of added sugar in our diets.
"Serving healthy food and drinks is our core concept for Peasant Pies," he said. "We provide homemade, healthy fast food that is not expensive and is convenient to eat on the go. It's working-class food you can eat with your hands."
In July, UC San Francisco started phasing in a program to sell only zero-calorie beverages or non-sweetened drinks with nutritional value, such as milk and 100 percent juice, and will phase out the sale of sugar-sweetened beverages in its onsite cafeterias and food vendors, vending machines, campus catering and retail locations. The program began at UCSF's Mission Bay campus site, where UCSF Medical Center piloted the project when it opened its three new specialty hospitals in February. It rolled out across further campus sites throughout the summer, culminating at the Parnassus campus site in October.
When Ali opened his first Peasant Pies shop in Noe Valley in 1993, he learned the importance of offering beverages with his savory pies. "Customers always want something to drink. Originally, we didn't offer sodas. We had a variety of waters, juice with no added sugar, and unsweetened teas. Eventually, we added sodas because of the demand but I would estimate that out of 100 drinks we sold, only 10 or so were sodas."
When Ali's daughter was born at UCSF Medical Center at Parnassus in 2004, he inquired about adding a second store in Millberry Union. "I talked with Jen Dowd (Vendor Services Manager) but there were no openings at the time but Jen told me about the plan for the new Mission Bay campus."
Jen said Ali's business model of offering healthy, fast food, fit with the university's vision of a mix of different vendors at Mission Bay. "Peasant Pies was a perfect fit for our Mission Bay location," she said. "Ali has supported our new campus from the beginning."
At the time, there was very little development at Mission Bay but Ali said he could see the potential. "I signed an agreement and we began construction and opened in 2008. We were one of the first stores to open in Mission Bay.
Ali brought his healthy, fast food concept to the new location. "We offered a wide selection of healthy beverages but we also offered some sodas."
When Jen told Ali that the university was considering a Healthy Beverage Initiative that would eliminate the sale of sugary drinks on campus, Ali was supportive. "I'm a big fan of the Healthy Beverage Initiative. My business is built around a healthy concept."
Leeane Jensen, UCSF Wellness Program Manager, spearheaded the university's Healthy Beverage Initiative. She said partnering with the university's vendors is essential to the initiative's success. "We truly appreciate our vendors and their willingness to see the importance of this initiative. They are true partners and it's a great example of how every single one of us contributes to UCSF's mission of advancing health."
Ali, who has a degree in organic chemistry, said there are times people need help making the right decisions about what to eat and drink. "Look at the epidemic of obesity in this country. I have seen young children eating a bag of chips and soda for breakfast. That's not healthy. The university is showing its commitment to healthy living and I'm willing to be an ambassador supporting the Healthy Beverage Initiative."