Gus Del Toro: Pedaling For a Cause
---
Published on March 30, 2015
---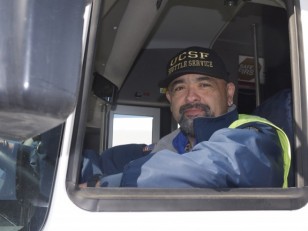 When Vallejo's Gus Del Toro isn't behind the wheel of a UCSF shuttle you can often find him on the seat of his bicycle pedaling across the Carquinez Bridge to Pinole.
The bridge is one of his main routes as he trains for the American Diabetes Association's Tour de Cure. The annual fundraiser has special meaning for Gus.
"Seventeen years ago, my mother died of diabetes at the age of 51," he said. "Soon after, I was diagnosed with diabetes. Later, my younger brother died of the disease at the age of 45."
For the past two years, he's been raising money on the ride. In 2013, Gus rode 25 miles in the Tour de Cure. "I had never ridden a bike a mile," he said. "A 25-mile ride was difficult for me." Last year, Gus rode 50 miles. This May, Gus is going to ride 80 miles.
"I've raised more than $7,000 the last two years," he said. "My goal is to ride 100 miles before my 51st birthday because my mom was 51 when she died of the disease."
Gus uses weekends and some weeknights to train for his ride. "I'll usually ride 15 to 20 miles," he said. He rides with Team Red during the Tour de Cure. "It's a team of diabetics. It's important for me to be part of that team."
Gus controls his diabetes through diet, exercise and medication. "My regular rides have really helped in that regard."
Gus said riding his bicycle helps him understand how to work with bicyclists when he's driving a shuttle. "It's made me think differently," he said. "I can anticipate better what bicyclists are going to do because I ride my bike regularly."
He began driving shuttles 26 years ago. He started in Napa as a driver for paratransit. He worked his way up to operations manager before the service closed. He was soon hired by UCSF as a part-time shuttle driver. "I was part-time for two weeks before they hired me full time."
Erick Villalobos, Associate Director of Transportation Services, said Gus' experience as a driver shows. "He cares about his craft and I routinely receive positive comments regarding his superb customer service skills from his passengers. He's the only person I know that has routinely walked from Mission Bay to Parnassus and back as part of his exercise program. Awesome!"