Ernie Wohlauf Helps Keep the MCB Running Like a Finely Tuned Motor
---
Published on March 30, 2015
---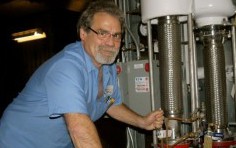 Ernie Wohlauf is easily recognizable when he pulls into the Mission Center Building parking lot in his beloved bright red 2012 Dodge Challenger. And while he's proud of his new car, he's equally proud that MCB employees know him by his first name when something in the building needs to be fixed.
"Our primary goal is to take care of our customers in the building and I'm glad people know me by my first name and know they can call me to fix their problems," Ernie said.
Since joining UCSF in 1989, Ernie has risen through the ranks. After working as an auto mechanic at several dealerships on the Peninsula, Ernie was hired to operate the now closed Parnassus incinerator. "I worked at the incinerator until they closed it in 1993. I worked at the campus storehouse for a while and I also worked as a fire alarm technician."
Twelve years ago, Ernie became a senior building maintenance worker at the Mission Center Building, working for Millicent Magiera. His supervisors encouraged him to complete the training to become a building engineer. He's now one of three building engineers at MCB working for Able Services, the San Francisco company that provides building services for UCSF.
"I have known Ernie for 27 years…or is it more?" said Millicent. "He is the 'hardest working man in show business!' Ernie is the ultimate team player; for him, there is never a task too big or too small. In addition to his stellar work ethic, Ernie has a heart of gold, and shows great respect and empathy for others. All of these qualities have earned him the respect of everyone he works with. I'm very proud of his achievements, and especially happy that he is still part of the east zone team!"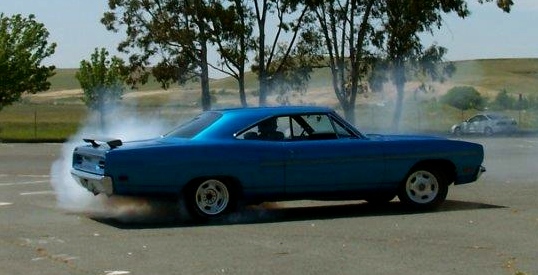 "I'm very grateful to everyone in facilities for their support," he said. "They never questioned whether I could make the transition from a building maintenance worker to an engineer. They encouraged me through the process and continually reinforced to me that I could do the job."
As an engineer, Ernie focuses on the building systems at MCB. "I'm working on fans, pumps, chillers and other systems. MCB contains a number of labs and offices and has its own special needs. It's also an older building and it can be difficult to find parts to replace the older pumps. As building engineers, we know just about everything in MCB but it can still be a challenge."
Ernie was born and raised in San Francisco and enjoys working on cars, fishing, and hunting in his spare time. He has a restored 1970 Roadrunner (pictured above) that he enjoys taking to car shows. His newest pride and joy, however, is his Challenger.