Enjoy the Bay Area With These Outdoor Activities
---
Published on October 21, 2014
---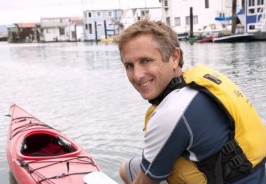 Steve Siskin, general manager for programing at UCSF Fitness and Recreation, looks forward to outdoor activities in the Bay Area.
"The weather is generally good and we can take advantage of the many outdoor activities the region offers," he said. Siskin, a Marin resident, said one of the easiest things to do is go hiking. "Hiking is great. You can go alone, or with family, and friends," he said. "All you need is a pair of running shoes and you can easily experience world-class hiking right in your backyard."
Siskin directed UCSF Outdoor Programs for years and said the university makes it easy to take advantage of the fun opportunities just outside our back door. "We offer everything from kayaking trips after work to Tahoe cabin rentals."
Here are some of Siskin's top picks for easy outdoor adventure in the Bay Area.
• Kayaking in Sausalito. "It's a really nice location and you can see lots of wildlife including migrating birds and sea lions." Richardson Bay, a protected inlet of San Francisco Bay, features harbor seals, sea lions, pelicans, cormorants, scoters, terns, and herons. UCSF Outdoor Programs offers kayaking expeditions in Richardson Bay.
• Stand Up Paddling in Mission Creek. Mission Creek is one of San Francisco's hidden gems. Paddle near AT&T Park where the creek is a bird nursery. You'll find belted kingfishers, anna's hummingbirds, western gulls, mockingbirds, robins, house finches, great blue herons and pelicans.
• Point Reyes. Whether you are searching for a half-day hike or just a half-hour walk, Point Reyes offers something for everyone. It has close to 150 miles of hiking trails. "If you are lucky, you can see the grey whales migrating," Siskin said. The half-mile Earthquake Trail is great for beginners and explores the San Andreas Fault Zone. The 9.4-mile Estero Trail to Drakes Head offers spectacular views and, on a clear day, it's possible to see bat rays and leopard sharks swimming just below the water's surface.
• Muir Woods. Muir Woods National Monument contains six miles of trails suitable for both beginners and seasoned hikers. "If it rains, Muir Woods is an excellent place to hike because it has a large Redwood canopy that keeps you relatively dry," Siskin said.
• Mt. Tamalpais. Just North of the Golden Gate, Mt. Tam has more than 50 miles of hiking trails that connect to a larger, 200-mile long trail system. There are also mountain bike trails. Nestled in the forest is the Tourist Club, a private facility that promotes nature appreciation, outdoor activities, conservation, and international friendship and understanding. On certain weekends, the club is open to guests and offers a menu of authentic German/Austrian foods, and of course, excellent imported and domestic beers.
• Tennessee Valley. "This is a great hike for beginners," Siskin said. This offshoot of the Marin Headlands is easily accessible on the Marin side of the Golden Gate Bridge. The 1.7-mile trail is mostly level and travels to Tennessee Beach. Coordinate your visit with low tide and seasonal sand alignments to see the engine of the shipwrecked SS Tennessee. The area is rich in wildlife including deer, coyote and even bobcat.
"If you have more time, I would also suggest a trip to Big Sur or Yosemite," Siskin said. "The large crowds are gone and the weather is spectacular in the fall. It's a great time to go camping and tide pooling."