Darrick Lo: Making Sure Mission Hall Meets Specs
---
Published on October 27, 2014
---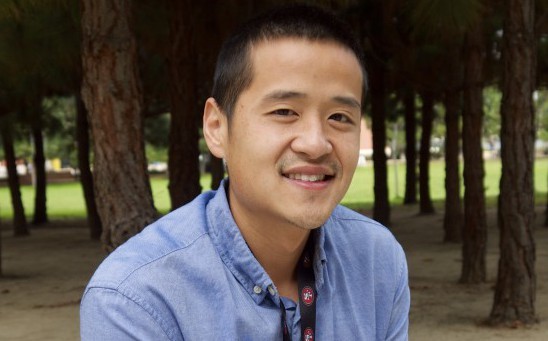 Darrick Lo has worked in construction management representing both the builder and the customer. That experience came in handy the past few months as he worked with the Facilities Services team combing over Mission Hall to make sure contractors built the university's newest building according to specs.
"The contractors are handing the building over to the university and we are responsible for making sure they've built it according to the agreed to specifications," said Darrick. "In my role, I've been attending commissioning meetings and working with our engineers to understand the systems at Mission Hall."
This is the kind of work Darrick, a graduate of Cal Poly, envisioned when he left the private sector to join UCSF three months ago. "I was working with a contractor in San Jose," he said. "We had built dental offices and high-tech facilities, including Western Digital. I decided I also wanted to experience the owner's side of the construction projects. Working for a private contractor constructing new buildings, I was involved in meeting the owner's needs but I wanted to experience it from the other side."
He was hired as a facilities analyst at UCSF and now works with Benjamin Bower to coordinate a variety of small projects. "We hire subcontractors to handle small construction projects such as repurposing labs or rooms and other construction projects under $50,000."
Millicent Magiera, Facilities Services Associate Director, East Campus/Mission Bay, said Lo's education and experience in construction management bring a valuable perspective to the East Zone facilities team.
"He hit the ground running, literally, when he started with us," she said. "I assigned Darrick to Mission Hall almost immediately, and that project has been full steam ahead since then. Because of Darrick's calm demeanor and professionalism, he is quickly adapting to the uniqueness that we all know as UCSF. We are happy to have him on our team!"
Darrick said he enjoys reviewing the punch lists with contractors at Mission Hall to make sure the work is done right. "We work with the architects and contractors to review every aspect of the building. With my past experience as a contractor, I know what customers are looking for."
He said the Mission Hall project has been challenging because the timelines have been tight and floors need to be inspected multiple times. "We'll tour the floors with the punch list but, at times, there were areas that were still incomplete so we'll have to come back and review them at a later date."
Darrick said it's nice to see people moving into the first, second, third and sixth floors. "We're now working with the end users to show them how the lighting control works, controlling individual air floor at each desk, and adjusting the thermostat during non-business hours."
Darrick grew up in Daly City and attended City College of San Francisco before transferring to Cal Poly. "I'm a Bay Area native," he said. "I really enjoy my new role at UCSF and the valuable perspective I'm gaining from the other side of construction projects."