CLS Staff Learn the Reality of Reality TV
---
Published on August 05, 2015
---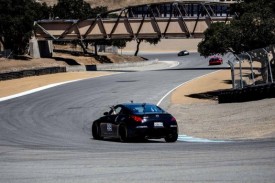 Two UC San Francisco Campus Life Services employees had a shot at fame and fortune on reality television – one as a racecar driver the other as a ninja warrior.
Kyle Kim, a senior clerk in Fitness & Recreation, appeared on American Ninja Warrior earlier this year. Raymond Yip, a shuttle supervisor at Transportation Services, participated on Spike TV's auto racing show, GT Academy, in 2013.
Both agreed the experience was fun but very different from what you see on television.
Kim (photographed above on the show's set) said American Ninja Warrior is carefully edited to bring out the drama. The experience for athletes is nothing like what viewers see on television. "It's really all about making good TV. People spend years training to compete on the obstacle course and then do a lot of waiting at the qualifiers."
American Ninja Warrior is based on the Japanese show Sasuke. It is a sports entertainment special in which 100 competitors attempt to complete a four-stage obstacle course. Kyle was one of the athletes trying to advance to the American Ninja Warrior finals out of the Houston qualifier. He stood around all night waiting for his shot and finally got it – at 5:30 in the morning. "It's tough to run the course after waiting that long."
Yip's big break came via a video game. "I spent hours playing Gran Turismo on PlayStation. The game simulates real-world race cars. I have a steering wheel at home that hooks up to my computer and I race different cars and tracks."
In 2013, Yip (photographed racing on the left) entered GT Academy, a partnership between Nissan and Sony that gives gamers the chance to go from virtual to reality. Players begin with virtual racing on Gran Turismo and progress to national finals before the winner of each region competes for real in Nissan cars at Race Camp.
"There were 400,000 entries and I finished in the top 32 so they flew me to New York for a week," Yip said. Once in New York, he joined other finalists at Monticello Motor Club, North America's premier automotive country club and private racetrack. "They put us in identical Nissan cars and had us turn laps on the track. They believe if you are good at driving in the video game you can become a race car driver."
Legendary racers Danny Sullivan and Boris Said coached YIp. "Looking back on it, I didn't take the nationals serious enough. I thought I would go out for a week's vacation and see what transpired. Now it looks like a lost opportunity."
Kim continues to train at a gym in Concord that features American Ninja Warrior inspired obstacles while Yip still loves racing and is a SpeedSF high performance driving event instructor. "I work with novice drivers during open track days at Northern California raceways including Laguna Seca and Sonoma. It helps pay for my track time."
By keeping in shape, Kim keeps the door open to another reality TV appearance. "I would do it again."