Celebrating Our Retirees, 2020
---
Published on June 16, 2020
---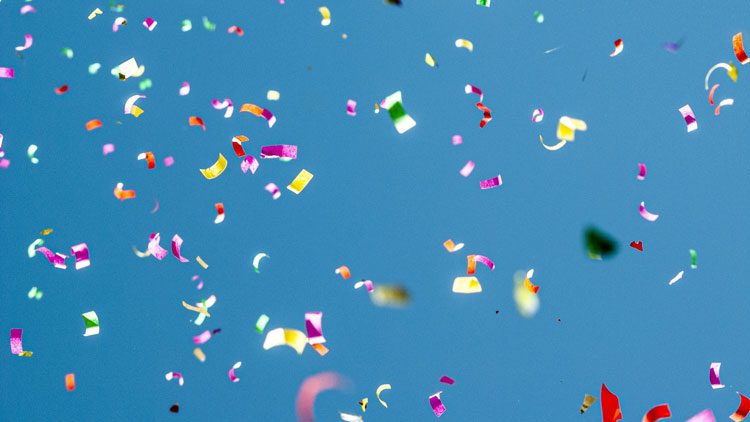 Congratulations from Clare
I am constantly amazed at the professionalism and dedication of our Campus Life Services staff and that is emblematic of the 12 people who are retiring from our organization this year. They have given a combined 222 years of service to CLS and UC San Francisco. That is an amazing accomplishment.
This group has provided an enriching environment for our employees and visitors at the fitness centers, kept our shuttles running and parking areas operating efficiently, and maintained the safety and cleanliness of our buildings. We can't thank them enough for their contributions to our organization. On behalf of CLS, I want to personally thank each of you for your dedication, professionalism and the joy you've brought to all of us as your coworkers. Enjoy your retirement from the CLS Family!

Gail Mametsuka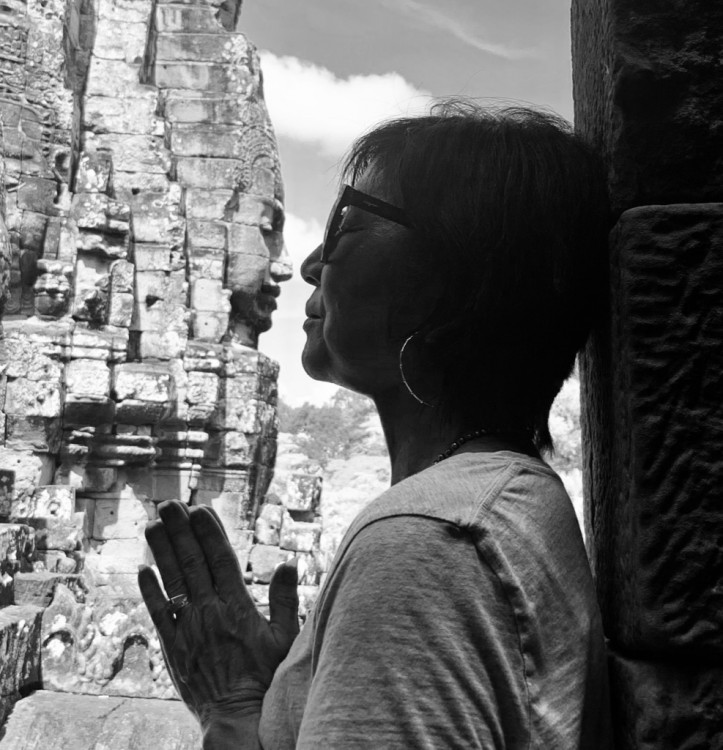 Fitness & Recreation
Gail Mametsuka, the director of Fitness and Recreation, started at UCSF as a program assistant, right out of college. Are you doing the math?
She's devoted 37 years, three of which were part-time, to the University and Campus Life Services.
After four years as a program assistant, she pioneered the idea of an employee focused program whose purpose was to build campus community and improve staff morale. Empact!, true to its mission, stands for employee activities and is currently known as Wellness & Community. It was the first program dedicated to "prescribing fun" at work and paving the way to wellness activities we enjoy today.
Some of her most cherished Empact! memories were the UCSF-exclusive events – UCSF Day at Water World, attended by 7,000 people, The Black & White Gala with performances by Tower of Power and Con Funk Shun and, yet-to-reach-the-current-fame, comedian Margaret Cho and ukulele master Jake Shimabukuro.
It's not a coincidence that Gail ends her career in Fitness and Recreation. Clearly, the director of Fitness and Recreation leads and encourages an active, healthy lifestyle. For Mametsuka, that will continue to be a high priority into retirement. In fact, on her first day of retirement she plans to hike with a purpose¬. The purpose being…how to prioritize all that she wants to accomplish and of course her "honey-do list" for husband Bob.
Already on the list is a getaway to a foreign countryside. The perfect day starts with an energized workout, allocating plenty of time for stretching. Flowing from one pose to the next. Soon followed by a walk down to the local open market for fresh produce and delicacies. Spending the day relaxing, taking in the fresh air, the native beauty, and the serenity. In the evening, cooking a delicious, fresh meal alfresco, to share with family and friends.
Until travel is allowed, Mametsuka will keep busy tending to her garden, refreshing the house by painting a few walls and volunteering. As an art enthusiast, she plans to take art classes and maybe even learn to play the ukulele.
Most of all, after thoughtlessly dedicating her work life to UCSF, Mametsuka will certainly miss the great people, who've become her second family.
Workeneh Babu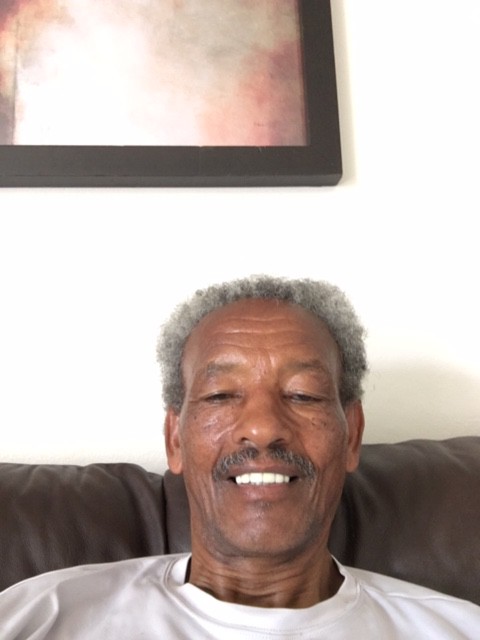 Transportation
Workeneh Babu, the Transportation Services shuttle maintenance coordinator, whom many know by his last name, dedicated almost 34 years of service to UCSF. In this time, he witnessed UCSF evolve from shuttles with push door handles to the automatic, well-oiled machines they are now.
Babu belongs to the group of the few, who have seen the campus before the break of dawn. His work maintaining shuttles, starts at 4am; which fortunately fits his active lifestyle. Nevertheless, he's looking forward to turning off his alarm.
One of his most cherished memories is the feeling of the morning rush. Getting to campus at what seems like the middle of the night, inspecting the fleet, attending to malfunctions, and at the end, approving the vehicle for service. Taking breaks to connect with the crew–share some laughs, address concerns, and exchange words of encouragement.
Although his original retirement plans changed due to the pandemic, he's eager to travel when it's safe. Until then, his plans to focus on his tennis skills and advance to the pro level. Helping him get there will be his wife, son, daughters, and tennis buddies; while his two beautiful grandchildren are cheering on the sidelines.
Lastly, as he gets ready to start a new chapter in his life, Babu is grateful to his amazing coworkers, supervisors, manager Ricky Williams, and director Amit Kothati. They've all made Babu's time at UCSF special and unforgettable.

Scott Beyer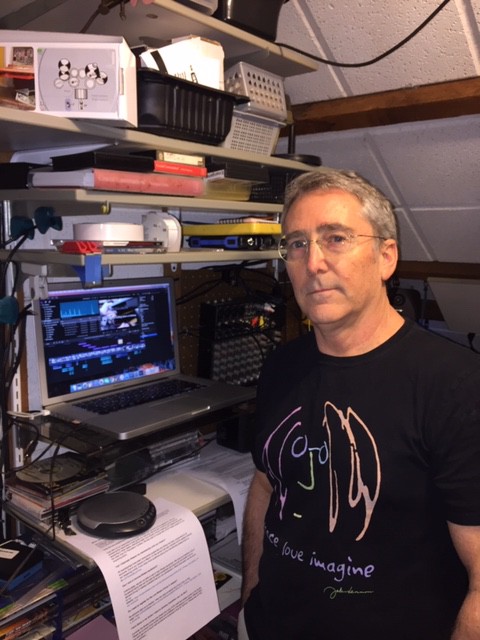 Fitness & Recreation
Scott Beyer, known as the building maintenance wizard, for Fitness and Recreation, served UCSF for 30 years, including two years as a contractor. In this time, he's filled a variety of roles and is currently in his 13th position within Campus Life Services. We get it, being part of CLS is pretty cool!
Besides missing the great people of CLS, Beyer will retire longing for the variety of sweet treats his coworkers and customers have spoiled him with. To balance out the indulgences, Beyer plans to keep working out to challenge and advance his fitness abilities.
His perfect day in retirement is busy. He's connecting with friends, sharing stories, and planning for the future. He's also daydreaming about a political system he can support. One unexpected and envious activity is improving his psychic spying skills. Are you looking for a sidekick or a mentee?
As a man of the arts, he'll devote time to music–playing guitar, writing songs, and performing with his band Ticket to Ride. Yes, you guessed it. It's a quintet covering the great Beatles. When music is just not jiving, Beyer could be found on his YouTube channel offering DIY, video editing, and comedic skills.
Jose Rodas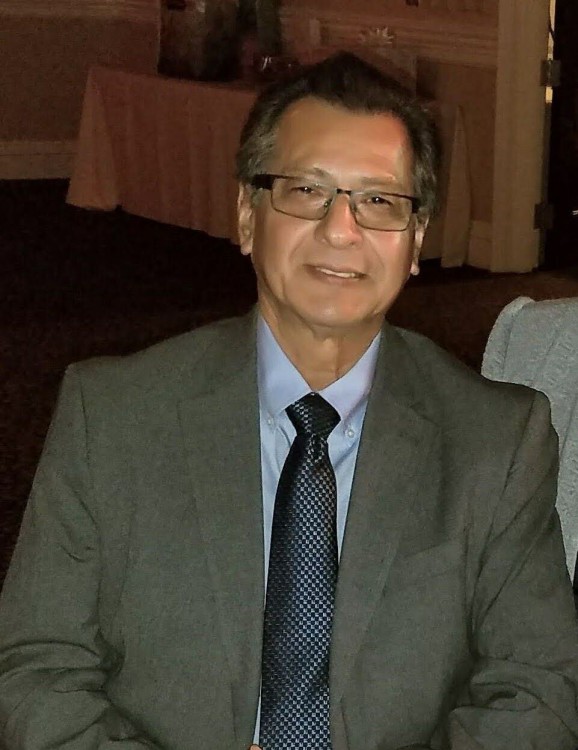 Transportation
Rodas, spent 19 years behind the wheel of UCSF shuttles. He's driven all the routes and still knows them like the back of his hand.
Although Rodas admits to having many great memories, one of his favorite moments is a random act of kindness. When he drove the Red route, there was a passenger who went the extra mile to connect with him and spread joy. She always greeted him with sincerity and care in her tone; she would also bring him coffee and sit near him to chat while other passengers boarded. During the winter Holidays, she even surprised him with a box of chocolates and a card.
As Rodas retires, he's looking forward to having time to do whatever he wants. Because many things are closed right now, his plan for the first day in retirement is simple – rest, practice self-care, and spend time with his wife. Eventually, he's hoping to adopt a dog, which surely will keep him busy and on his toes. When travel is safe, he's looking forward to visiting the beaches of Central and South America, but until then, family and home projects will keep him busy.
Caridad Lacson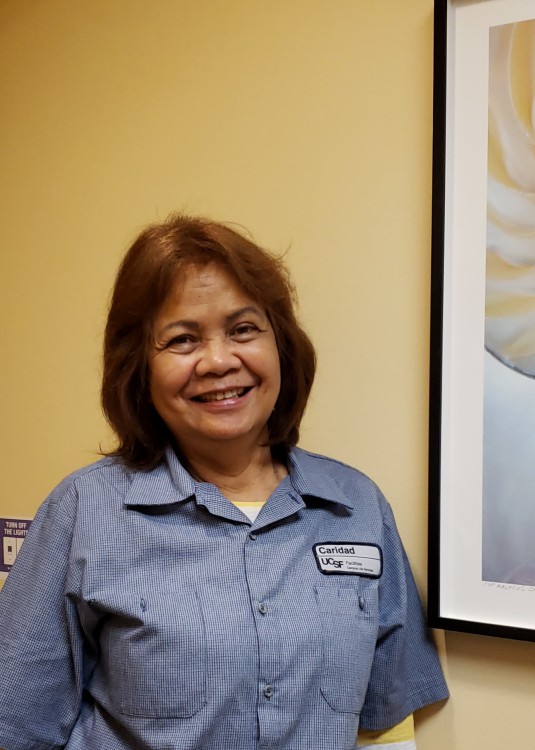 Facilities

Caridad Lacson, a senior custodian, dedicated almost 16 years to UCSF and its people. Like most, she felt overwhelmed by the sheer size of our University, but with the help of her supportive colleagues, she quickly adjusted and never looked back. She remembers the feeling of community and collegiality, heightened by group gatherings and parties, acting skits, and weekly group walks.
Her job gives her an opportunity to spend time with a variety of UCSF units, including the child care center. She'll dearly miss working there and seeing all the children play, learn, smile, sometimes shed a tear, but most of all spread joy.
Lacson's plans for the first day of retirement are simple and envious–sleep and go shopping. Working hard for so long, merits all and any wishes.
Although Lacson is retiring from UCSF, she's not done working and staying busy. After taking some time off to rest and gain new energy, she will continue her atelier business of sewing bridal gowns and doing alterations.
Vicky Sliger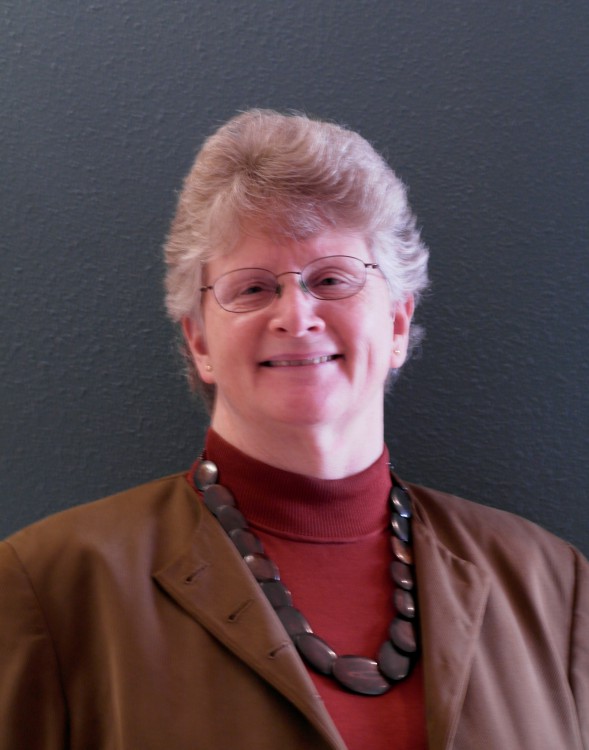 Facilities
Vicki Sliger, a senior fire systems monitor with Facilities, has dedicated over 15 years to UCSF. In her role, Sliger is the first step to fire safety for about 100 buildings. She monitors the fire alarm systems, updates inspection records, reports replacements and repairs, and tests buildings for fire safety.
As she retires, she will take along countless fond memories she had shared with her wonderful co-workers. As much as she will miss them, she will definitely enjoy sleeping-in on her first day of retirement.
She looks forward to staying busy by taking road trips to national parks. Besides the obvious beauty and the serenity the parks offer, she's an eager birdwatcher. The plan is to find and observe birds she has never seen before or those that are not native to California. With the rest of her free time, she plans to enjoy exercise and enrichment programs offered by the Continuing Care Retirement Community. The bottom line is that she's thrilled to fill her time with, "whatever may cross my path or catch my fancy."
Jorge Segovia
Transportation, 15 years of service
Not available for the interview.
Guillermo Zaldana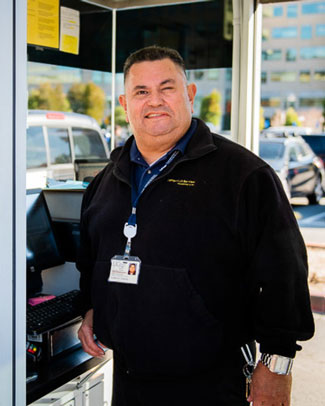 Transportation
Guillermo Zaldana, a UCSF parking attendant at Mission Bay, has dedicated more than 13 years to UCSF and its visitors. In this time, he feels lucky to have seen UCSF grow and Mission Bay take shape into the force it is now. On top of assisting in all parking matters, like collecting payments and checking on parking fee machines, Zaldana directed rushing and lost patients to their appointments.
When he retires, he plans to spend quality time camping with family. As an avid fisherman, the campground must have a nearby body of water with an abundance of fish. Outside of camping, his perfect day is lounging on the beach of the Dominican Republic with his wife on one side and a cold beer on the other.
Lastly, on his first day in retirement Zaldana has one goal: to remember he's retired and not to fall into old habits of putting on the uniform and heading to work.
Rodrigo Marcelo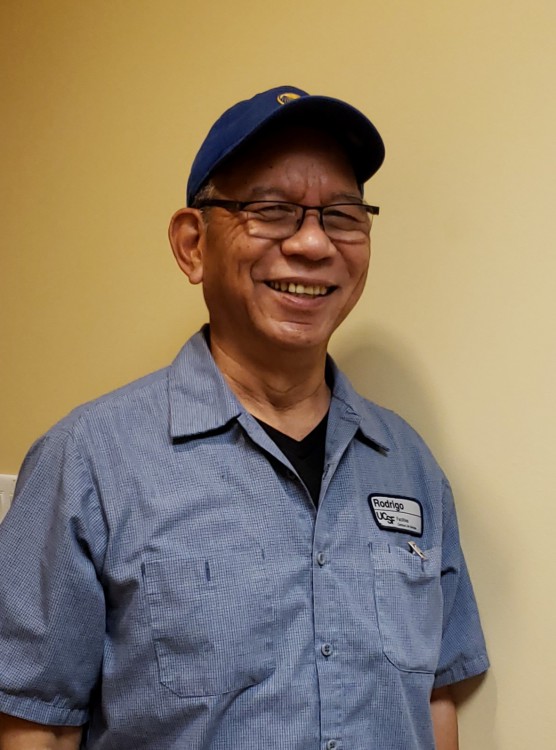 Facilities
Rodrigo Marcelo, a senior custodian, dedicated nearly 13 years to UCSF. Remembering his first day like it was yesterday, he clearly and joyfully recalls his then new coworkers. They welcomed him with open arms and as the years working hard side by side progressed, many became his best friends.
Needless to say, when Marcelo retires, he will dearly miss his coworkers and the companionship they have built.
When preparing for retirement Marcelo planned to take a trip to the Philippines, but due to the current travel limitations and safety concerns, he's decided to postpone the trip. Despite of the unexpected, Marcelo is looking forward to spending time with his wife. He plans on keeping busy by waking up early, taking in the fresh air, and walking for hours.
Tse Kwong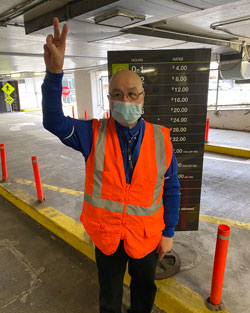 Transportation
Tse Kwong, with transportation's parking unit, has dedicated over 13 years to UCSF. His favorite work memories are from the years he was a cashier. Working the register gave him a chance to meet new and interesting people.
While Kwong enjoys watching the news as a way to learn about the world, he prefers to travel and see it in its glory himself. When he travels, besides appreciating local delicacies and culture, he loves collecting memories through pictures and reliving them years later.
As he retires, his first course of action is to take it easy. Kwon wants to relax, unwind, and focus on himself. He's looking forward to spending time at leisure and doing spontaneous activities. Additionally, he's certain his family and friends will keep him busy. Last but not least, he would like to learn a new hobby, something he hasn't had the time for.
Man Bahn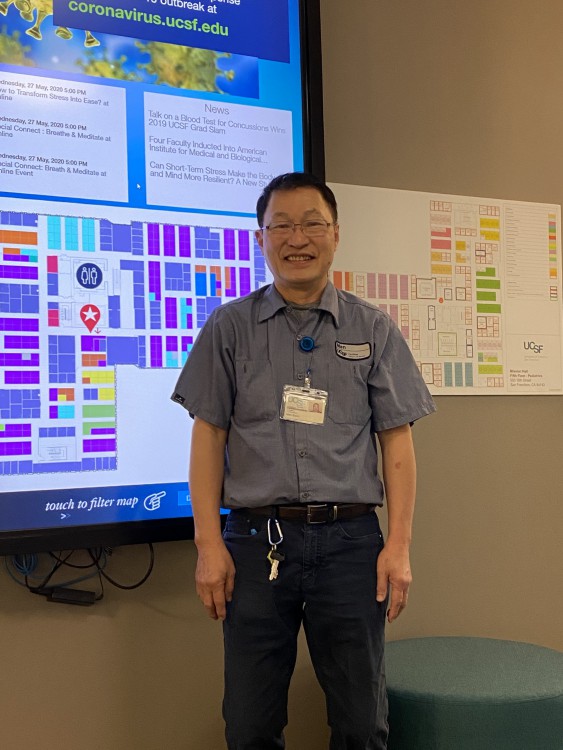 Facilities
Man Bahn, a senior custodian with Facilities, spent over a decade taking care of UCSF. In that time, he spent three years working the graveyard shift. Doing everything so that those who start work in the morning come to a clean space.
In a testament to the great people of UCSF, most of all Bahn will miss spending lunchtime with his coworkers. They entertained their break with conversations about work, life, experiences, and shared jokes to keep the day going.
Retiring from working diligently for a long time comes as a big change to Bahn's lifestyle, so his first course of action is relaxing and adapting to the new way. He hopes to stay busy by taking care of the many accumulated home projects. Cooking great food, maybe even trying new recipes and broadening the horizons of flavors and cuisine. Well of course, food tastes better when it's shared with the loved ones, which is exactly what Bahn plans on doing.
Most of all, when Bahn retires, he's looking forward to having free time. Time to spend with family, get lost in books, and build puzzles.
Glena Quintano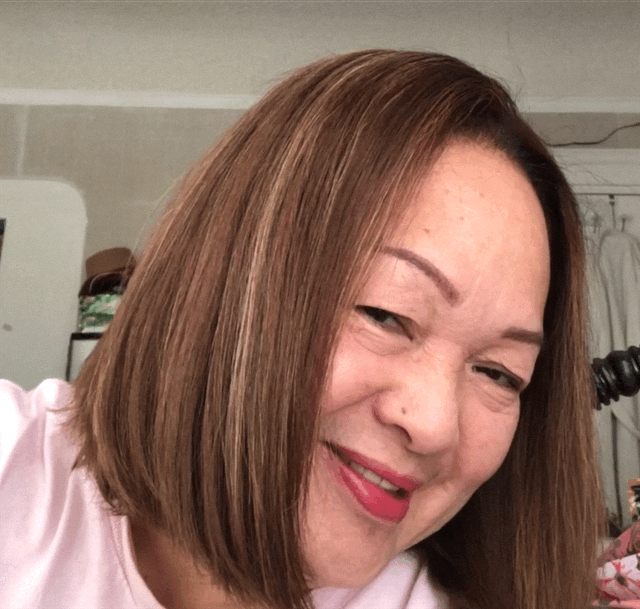 Facilities
Glena Quintano, a senior custodian with Facilities, has dedicated a decade to UCSF. She's enjoyed her work and is proud of all the accomplishments she's achieved. She's gotten to know wonderful people, many of whom became her dear friends.
Retiring gives one an opportunity to catch up and reconnect with friends, family, and get the much needed and well-deserved time-out. Time-out to do anything and everything you want. Quintano plans to spend time doing just that–resting, relaxing, enjoying great company, and being spontaneous, if she wants.
What's a retirement without getting away in celebration, right? Well when travel is deemed safe once again, she's planning a vacation cruise trip to Europe, with her son. They'll spend time basking in the sun, enjoying the plethora of amenities, while seeing new countries, cultures, and trying new food.