Carla Ayala is Making Life Better For Mission Bay Housing Residents
---
Published on July 08, 2015
---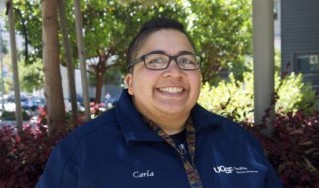 When residents in student housing at Mission Bay need their stove fixed, a light bulb changed, or the toilet repaired their first call is to Carla Ayala.
Ayala is the senior building maintenance worker at Mission Bay housing and is the only female building maintenance worker at UC San Francisco. She has been solving problems for tenants for the past 10 years.
"I love helping the residents," Ayala said. "You get to know the tenants because you see them all the time. They are usually happy to see me because I can fix their problems."
Girod St. Martin, Assistant Facilities Superintendent in the East Zone, said the building maintenance workers are integral to the culture that Facilities Services is creating in the Mission Bay housing community.
"While our building maintenance workers are the first people tenants call when they need something repaired, they do so much more than that," he said. "They are emergency responders, they are problem solvers, they are a friendly face to our tenants that see them day in and day out."
St. Martin has been supervising Ayala for about a year and said she shows up every day with a great attitude and ready to work. "Carla is a very good person. I have not seen her in a bad mood or upset. It would be a nice world if everyone came to work in a mood like Carla's."
Ayala and Manny Ramirez share the workload at the Mission Bay housing complex. "It takes time to learn each building and they each have their own personality, so to speak. We receive the most calls from residents in the north building. It's the longest building in student housing and seems to have the most random issues."
Leslie Santos, Director of Housing Services, said Ayala is a pleasure to have on staff. "She comes to work ready to 'get 'er done' and that is exactly what you want in a team member. When you talk to her you know she is intelligent, interesting, and an open, caring person. I see a bright future for her."
Ayala was born and raised in San Francisco and currently lives near Grace Cathedral in the Nob Hill neighborhood. She makes the daily trip to Mission Bay on her scooter.
"I was born at St. Luke's Hospital in the Mission and went to elementary school at St. Charles on 18th Street," she said. Ayala also attended high school in the city.
Her allegiance to San Francisco extends beyond the neighborhoods to the city's beloved sports teams. "I'm no bandwagon fan," she said. "I'm 49ers and Giants all the way. I'm also a big Warriors fan. It was fun watching the Warriors win this year after all those years when they weren't very good."
She attends several Giants game each year with her coworkers. "I really enjoy hanging out with my coworkers. They make it fun to come to work."
When she's not working she's practicing the Filipino martial art of Eskabo Daan. "It's the martial art they use in movies like Daredevil, the new Frankenstein, and Bruce Lee films. It combines stick fighting, boxing and other elements of basic self defense." She attends classes two or three times per week and said she enjoys the exercise, other students, and her dojo. "They are like family for me."
Ayala is also an amateur photographer and artist. "I enjoy photography and use some of my photos to create resin art for jewelry and magnets."