CLS People Month 2018
---
Published on March 01, 2018
---
April is CLS People Month!
Welcome to People Month from Elicia Rozic, Manager, Great People Development
CLS People Month is a time for employees to think about their professional development, and work collaboratively with their supervisor to create a Career Development Action Plan in order to strive for professional greatness! (Already started an Employee Development Plan with your supervisor during Performance Evaluation season? Learn how to view your EDP.)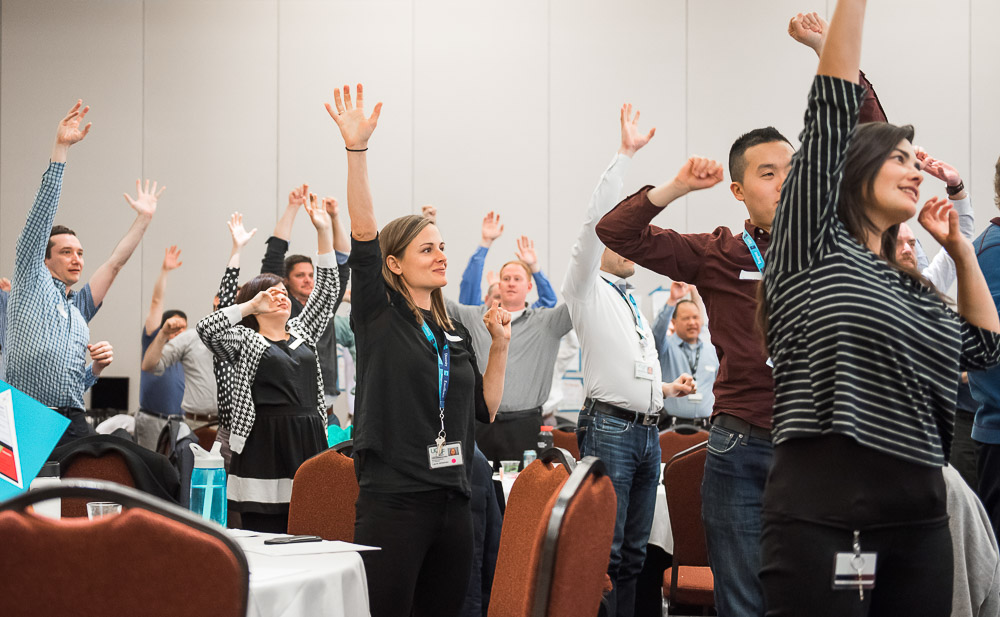 The below calendar suggests/offers a variety of events and self-initiated activities on each day during the month of April. We hope employees will take advantage of some 'bite-sized' development opportunities (most events take place from noon – 1pm; bring your lunch!) as well as do some planning for the year and longer-term. RSVP as soon as possible to reserve your spots! Downloadable calendar
—Week One—
Monday, April 2 Do you know what resources are available to you? Start out People Month by browsing the various career development resources at CLS Development & Training.
Tuesday, April 3 Check out a Toastmasters for Health meeting, an open club that provides a forum for public speaking to support personal growth in a safe environment. Mission Hall-2107, noon – 1pm. More info. If you can't make it today, visit one of the Toastmaster groups at UCSF another time – UC Oracles, Toastmasters for Health, or Toast of the Mission.
Wednesday, April 4 Visit and explore Learning & Organization Development, whose purpose is to enhance the success of UCSF by supporting the growth and development of its most valuable resources, its people, and create a continuous learning environment.
Thursday, April 5 Give thanks to a coworker! Have you recognized someone lately? UCSF Recognize is an organization-wide recognition platform that allows us to thank each other for a helping hand and acknowledge our colleagues for a job well done.
Friday, April 6 People with high emotional intelligence (EI) have strong professional relationships, manage difficult situations well, and are likely to be resilient in situations of adversity. Take an emotional intelligence quiz to find out more.
—Week Two—
Monday, April 9 [CLS FEATURED ACTIVITY] "Building Your Network with LinkedIn" with Erik Wieland, IT. Join in-person at Mission Center Building-Room 126 or via Zoom, noon – 1pm. Watch the recorded session "Building your Network with LinkedIn".
Tuesday, April 10 View the webinar "Take Charge of your Success…", which demonstrates how to maximize your own and your staff's development and provides an overview of the numerous learning and development resources at UCSF.

Wednesday, April 11

Keeping compliant at UCSF helps ensure that all staff are equipped with the knowledge they need and that we are doing our best to mitigate risk for the University. Are you compliant? Log into UC Learning Center and click on the "Self" icon. Under "Development" and "Training Analysis", look to see what trainings you need to take, if any. Questions? Contact .(JavaScript must be enabled to view this email address).
Thursday, April 12 [CLS FEATURED ACTIVITY] "How Sustainability Can Build Your Leadership Skills" with Gail Lee, Office of Sustainability. Join in-person at Mission Hall-2109 or via Zoom, noon – 1pm. Download the PowerPoint.
Friday, April 13 Take a short walk today. Healthy and active employees are better employees! Walks are not only good for our health, they may increase creativity, productivity and performance, and decrease illness and staff turnover.
—Week Three—
Monday, April 16 We all have things we are good at – our strengths. Write them down on a piece of paper. Next, write down the things you are interested in/passionate about. The intersection of these two categories is where you are in your "flow" and when you are in this place, time flies! Do you have a chance to be in your "flow" even more at work? Think about how you can increase these opportunities and discuss with your supervisor.
Tuesday, April 17 [CLS FEATURED ACTIVITY] "Understanding Career Tracks for Development and Career Planning" with Annette Wheeler & Marilyn Cimahosky, Human Resources. Join in-person at Parnassus CL-220 (Campus Library 220) or via Zoom, noon – 1pm. 
Wednesday, April 18 Start a gratitude jar or gratitude journal today! Once a week, write down three things that you are grateful for. Whenever you are facing challenges or having a difficult time, pull out that jar or journal and read through it. This is a great thing to review and celebrate at the end of the year, too! Keeping track of what we are grateful for can have an effect on our resiliency and happiness!
Thursday, April 19 [CLS FEATURED ACTIVITY] "Career Development Plans: You Owe It To Yourself To Do One!" with Jon Giacomi & Joyce Hammel, Facilities Services. Mission Hall-1406 or via Zoom, 12:15pm – 1:15pm. Attendees who would like a copy of the PPT should email .(JavaScript must be enabled to view this email address).
Friday, April 20 [CLS FEATURED ACTIVITY] Did you know that our very own Development & Training unit has a library full of books? Bring your lunch and come on over to browse various publications on marketing, financial management, leadership, strategic management, customer service, etc. Mission Center Building-230 conference room, noon – 1pm. No RSVP needed!
—Week Four—
Monday, April 23 [CLS FEATURED ACTIVITY] "Finding Your Numbers" with Bernard Jones & Leonard Moon, Finance Services Center. Join in-person at Mission Hall-2105 or via Zoom, noon – 1pm. 
Tuesday, April 24 Try a Lynda.com free trial. Lynda.com provides online video tutorials on a variety of topics. Learn new business, creative, and tech skills through expert-led video tutorials.
Wednesday, April 25 Practice work-life balance by attending The Chancellor's Concert and listen to Beethoven's "Piano sonata No.15 in D major, Op. 28 (Pastorale)". There will be free food while supplies last (first come/first served). Parnassus - Cole Hall, at noon – 1pm. More info.
Thursday, April 26 Want to learn more about diversity initiatives at UCSF? Attend the 11th Annual Chancellor's Leadership Forum on Diversity and Inclusion. Parnassus - Cole Hall, at noon – 1:30pm. More info.
Friday, April 27 Try meditating for 5 minutes. Meditation can increase self-awareness, improve concentration, reduce stress and encourages a healthy lifestyle. Sit in a quiet place and close your eyes. Breathe regularly and focus on your in-breaths and out-breaths. When thoughts enter your mind, gently push them away. If this seems hard at first, try it again tomorrow!
—Week Five—
Monday, April 30 [CLS FEATURED ACTIVITY] CLS People Month grand finale training event: "Accomplishing More with Less & The Perfect 15-Minute Day" with Pierre Khawand. Parnassus – Kalmanovitz Library, 8:30am – 4:30pm (this is an ALL-DAY event). *****NOTE: Registration required as class size is limited. Spots will be assigned on a first-come/first-served basis. A confirmation email will be required to participate.*****
HAPPY PEOPLE MONTH!
Questions? Please contact Elicia Rozic at .(JavaScript must be enabled to view this email address) or at (415) 502-2828 with any questions.