Campus Life Services Celebrates 2017/18 Goals Presentation
---
By Robert Hood on August 30, 2018
---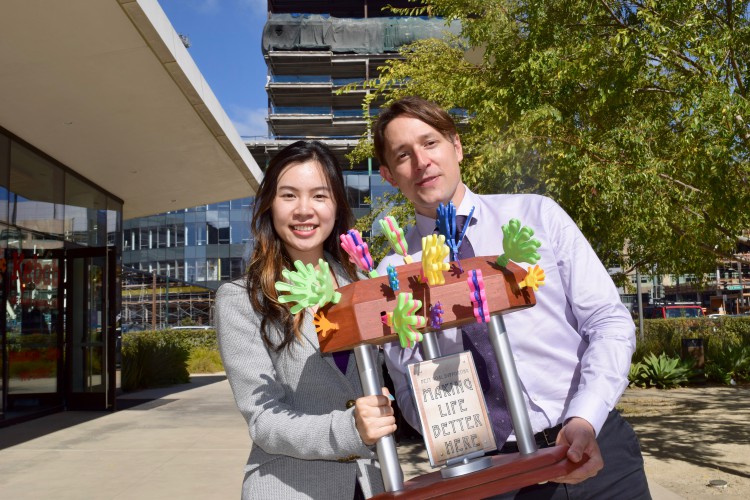 Eight teams vied for the coveted "Making Life Better Here Award' at this year's annual Campus Life Services 2017/18 Goals Presentation but when the dust settled, it was the Facilities Services team of Linda Yu and Bryan Garza that took home the trophy.
Bryan and Linda's presentation, "Campus Renewal - Better Than Botox", focused on renewal efforts at the UCSF Parnassus Heights Campus. Chancellor Sam Hawgood, MBBS, described the university's plan to reimagine the university's oldest and largest campus during his State of the University address last October. The Facilities Services Infrastructure Programs team has already met with leadership at the UCSF Dental Center at Parnassus and University Library to discuss renewal plans for both buildings.
A panel of three judges from outside of CLS determined this year's winner. They included Vice Chancellor, Student Academic Affairs, and Dean of the Graduate Division, Elizabeth Watkins; UCSF Chief of Police, Mike Denson; and Senior Director, Strategic Communications, Lisa Cisneros.
"This year, I was particularly proud because we invited a team of judges from outside of CLS to select the winners," said Associate Vice Chancellor for CLS, Clare Shinnerl. "Having outside judges was a chance for some of our most important customers and partners to let us know which presentations inspired them most." You can read more from Clare about this year's Goals Presentation event on Inside CLS.
Other presentations honored at this year's event included "Meet CLS's Bundle of Joy…Weighing 42 tons and Spanning 1.4 Acres," by Suzie Kirrane & Adam Schnirel. It detailed construction of the new 24,000-square-foot University Child Care Center at Mission Bay; and Gil Lorenzo's "UCSF Recognize: Turning Frowns Upside Down Since 2017," which described the success of the new UCSF Recognize website.
Here is a full list of AchieveIt Goals, presenters and departments, and the True North Pillars they align with. You can also view event photos at Inside CLS.
| AchieveIt Goals | Presenters | Departments | True North Pillars |
| --- | --- | --- | --- |
| It's Golden (1), You Can Bank On It! | Jen Dowd & Tamara Villarina | Retail Services | Customer Experience |
| Campus Renewal – Better Than Botox | Bryan Garza & Linda Yu | Facilities Services | Resource Mgmt./Stewardship |
| We Were Together; I Forget the Rest | Jen Mannix & Robbie Kenyon | Wellness & Community & Facilities Services | Our People |
| Meet CLS's Bundle of Joy…Weighing 42 Tons and Spanning 1.4 Acres | Suzie Kirrane & Adam Schnirel | Family Services & Facilities Services | Customer Experience |
| Home Should Be Where the Heart Is | Jessica McGowan-Vanderbeck | Housing Services | Customer Service |
| UCSF Recognize: Turning Frowns Upside Down Since 2017 | Gil Lorenzo | Wellness & Community | Our People |
| EV Chargers & Parking: Paving the Way to an EVen Better Life at UCSF | Wayne Kwan & Pat Dwyer | Transportation Services & Facilities Services | Innovation |
| Construction Impacts: Cranes, Trains and Automobiles! | Monica Mapa & Dani Cambier | Marketing & AVC Office | Customer Experience |