Campus Life Services 2018-19 Goals Presentation Contest
---
By Robert Hood on August 29, 2019
---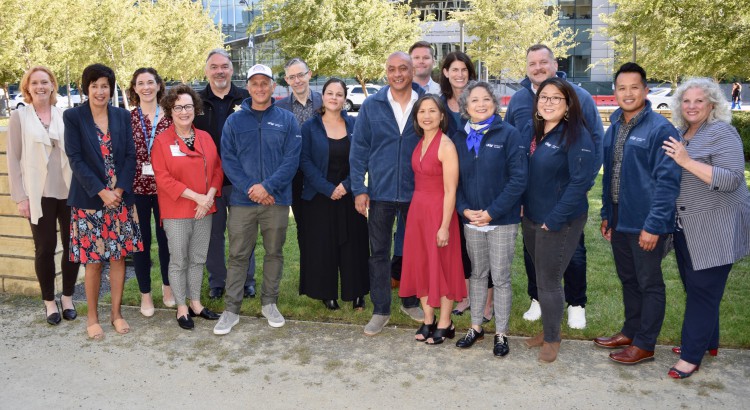 Helping the UCSF community rock their commute with the new ETA website took top honors at this year's Campus Life Services FY 2018-19 Goals Presentation Contest.
Seven teams vied for the coveted "Making Life Better Here Award" at this year's contest, which celebrates the innovative ways Campus Life Services makes life better for the UCSF community by highlighting major CLS initiatives. Past winners include a pair of Transportation Services initiatives to expand the number of electric vehicle charging stations across campus and reduce the number of single-occupancy vehicles traveling to campus and a Facilities Services building renewal program.
This year's winning project honors the new Transportation Services web application and communication hub designed and developed by The Studio, which is part of Documents & Media, ETA.ucsf.edu. The site was created to help the UCSF community proactively plan their commute and navigate the increased traffic congestion during large events at the new Chase Center located adjacent to the UCSF Mission Bay Campus.
People, Progress, Parnassus: The Story Continues, a presentation by Monica Mapa and Andre Thelemaque, received runner-up honors. People Progress Parnassus is a new Financial & Administrative Services (FAS) campaign launched in January to amplify the good work that FAS units are collectively undertaking at the Parnassus Heights campus to positively impact buildings and infrastructure and improve the every-day-life of the Parnassus Community.
A panel of four judges from outside of CLS determined this year's winner. They included Cynthia Chiarappa, UCSF Health; Lisa Cisneros, University Relations; Chief Mike Denson, UC Police Department; and Terri O'Brien, Chancellor's Office.
Here is a full list of AchieveIt Goals, presenters and departments, and the True North Pillars they align with. You can also view event photos at Inside CLS.
| Goals | Presenters | Departments | True North Pillars |
| --- | --- | --- | --- |
| F45: Team Training, Life Changing | Steve Siskin | Fitness & Recreation | Innovation |
| People, Progress, Parnassus: The Story Continues | Monica Mapa & Andre Thelemaque | CLS Marketing/Documents & Media | Customer Experience |
| When the Sun Shines, We All Shine | John Rosendo | Facilities Services | Resource Management & Stewardship |
| Tidelands Housing: It Takes a Village to Create a Village | Colette Ono-Ko | Housing Services | Resource Management & Stewardship |
| We, The People | Denny Nguyen | Facilities Services | Our People |
| Rock Your Commute with ETA | Brian Cosgrove & Arleen Bandarrae | Documents & Media/Transportation Services | Customer Experience |
| Enterprise Ecommerce…Live! | Suzie Kirrane & Arti Sharma | CLS Tech | Our People |