Bakar Fitness Center Helps Nancy Stoller Climb Mountains
---
Published on July 02, 2015
---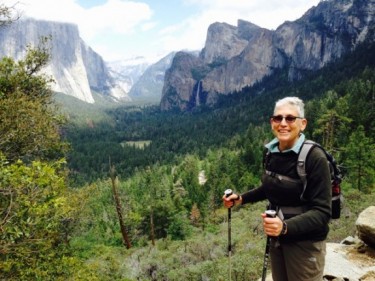 San Francisco's Nancy Stoller realized her workout routine at Bakar Fitness & Recreation Center at UCSF Mission Bay was paying big dividends on a recent hike to Yosemite.
"In the past, I had a hard time keeping up with my hiking buddies, especially at higher altitudes" she said. "I'm in my early 70s and many of my hiking partners are 15 or 20 years younger. It was great to have the strength and the breath to not only keep up, but actually be stronger than some of my friends. We had a 2,000-foot elevation gain and I had no problems."
The Bernal Heights resident has been a member at the Bakar Fitness Center since it opened but a pair of recent health issues had Stoller reevaluate her workout routine. She was diagnosed with a mild case of osteoporosis, a disease that decreases bone strength and increases the risk of broken bones and, three years ago, she tripped and broke her pelvis while running.
"That's what motivated me to improve my overall fitness," she said. "Since then, I've focused on my diet and building muscle strength."
The former college professor enrolled in the Women on Weights class last December that meets twice a week at Mission Bay. It's designed to increase muscular strength and endurance.
"The instructors are fabulous and the class meets on Tuesday and Thursday in the mornings which fits my schedule," Stoller said. "It's different every week and we have two instructors with different styles who provide a lot of individual attention."
Lorna Bernardo, one of the two trainers in the class, said participants do a variety of exercises from traditional strength training, to functional strength, core strength and balance training for fall prevention.
"I always tell my clients to think of the gym as your body's physical lab. We will condition your body so the muscles continue to respond to life's daily activities or sport efficiently for injury prevention. We address your cardio needs as well as flexibility and we'll make it fun!"
Bernardo said it doesn't matter how old you are. "We all have some sort of issue that could slow down or stand in the way of physical activity such as a bum knee, back pain, or shoulder injuries," she said. "Classes like Women on Weights help you continue to take part in hikes, gardening, kayaking, travel, etc. because you get the guidance of a personal trainer. It's the next best thing to one-on-one personal training. Who wouldn't want that?"
The class is also comfortable, Stoller said. "The students all know each other and are very supportive. "We work hard and really sweat but there's no group pressure like you get in a large class. If one of us can't perform a certain exercise, the instructor adjusts it."
Stoller applies the lessons she learns in class at home. "Balance is very important to me," she said. "I have a vegetable garden I tend and I like to hike so learning how to squat properly and strengthen my hips, thighs, and calves helps me every day."
Now that she feels healthier and has more energy, Stoller said she's eager to continue hiking with friends and spend time with her daughter and grandchildren. "It's great to be able to keep up."