Adrienne Chambers Offers Advice for New Runners
---
Published on October 02, 2014
---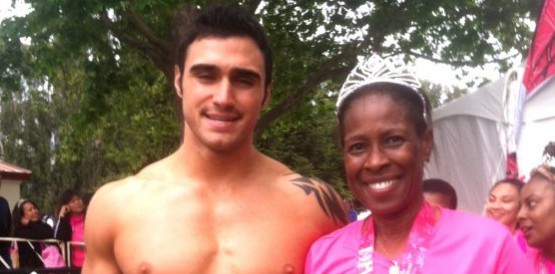 Adrienne Chambers, the group fitness manager at the Bakar Fitness and Recreation Center, has been running since high school.
"I rank track and field growing up in New Jersey," she said. "I ran the 100 meter, 220, and 440 races. I enjoyed sprints."
Now Adrienne is focused on distance running. After leaving New Jersey and moving to Tucson, Arizona, she entered a few local 10k races. "I thought anything more than three miles was a long distance. Now, anything less than six miles isn't quite enough."
Adrienne's life-long love of exercise and her foray into distance running hit their stride when she decided to leave her job with the State of Arizona and move to California to pursue a career as a personal trainer.
"I had a good job," she said. "It paid well and it was stable." She was active at her local gym in Tucson and soon became a step instructor. "I was teaching part-time, for fun, when a friend told me that I could make a living as a fitness professional in California. I was skeptical because fitness professionals in Arizona aren't paid well. I did some research and discovered she was right."
Adrienne moved to the Peninsula to be closer to her mother in Belmont, and was soon working as a personal trainer and fitness instructor. It was then she discovered her love of distance running.
"I entered my first half marathon when I moved to California," she said. "I really enjoyed that distance. I tried a marathon but it seemed to go on forever. It was more about survival. The half marathon was a distance where I could train to become faster and improve my time." There was also the additional perk of being photographed with firemen at the finish of the Diva Half Marathon (photo above).
She said improving her time was a big motivator because she's a competitive person. "I like to compete. I like to pass people."
While her running was improving, Adrienne's professional life was also taking off. She was hired as part of the team that opened the Peninsula Jewish Community Center in Foster City in 2004 and soon after was hired by UCSF as part of the team that opened Bakar Fitness and Recreation Center in 2005.
"As a fitness professional, it was so exciting to be part of both openings," she said. "I was able to build the class schedules and programs from the ground up."
Adrienne is still running eight to 10 miles on the weekend and helping introduce new runners to the sport
"The first thing I tell people who are beginning to run is understand how to run properly," she said. "Runner's World Magazine has some excellent YouTube training videos. New runners should get a gait analysis when they first start running so they can be fitted for the proper shoes and correct any technique problems."
It's also important to remember that running isn't enough. "Runners need to pay attention to their strength training," she said. "It doesn't have to be an hour a day but you need to take the time to do some squats, lunges, calf raises, and upper body work at least a couple of times a week. Having a strong core will help you avoid injuries and make you a faster runner."
Finally, Adrienne suggests finding a run club. "When you run long miles, it's more fun when you are running with people," she said. "There's also the peer pressure to get out the door and meet your friends for a run. A club will not only help you keep a schedule but you'll meet new friends."