Adel Folly Has Seen San Francisco's Streets Change Over the Past Nine Years
---
Published on March 26, 2015
---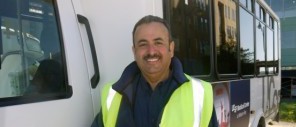 If you think it's getting more difficult to navigate the crowded streets of San Francisco, you're not alone. Adel Folly, a UCSF shuttle driver with nine years of experience, agrees with you.
"The streets are more crowded – with people, bikes, and automobiles. There is simply more traffic on the streets today than there was even a couple of years ago," he said.
The city's transportation policies haven't made it easier for shuttle drivers, he said.
"We don't have as much space on the roads as we used to, so our margin for error is shrinking. The city has widened the sidewalks for pedestrians and added more bicycle lanes which narrowed the driving lanes. It's really noticeable around Oak and Fell near Broderick. As a driver, you have to stay alert. It doesn't matter if you are driving a car or a bus."
Folly said the toughest UCSF shuttle lines to drive are the Blue and Gold. "Both routes run through midtown where the streets are always busy. On those routes, you expect congestion most of the day."
Despite the challenges, Folly said he enjoys driving UCSF shuttles. "I see many of the same riders each day. They often say hi when they climb on the bus and thank me when they get off. That's always nice."
Folly moved to San Francisco from Yemen as a young man and has lived in the city since. "I've literally grown up in San Francisco. Now my kids are growing up in San Francisco. It's my home."
Erick Villalobos, Director of Transportation Services, said Folly is a conscientious driver who consistently provides feedback to help improve service.
"Adel is acutely aware of the issues facing bicyclists sharing the road with vehicular traffic in San Francisco. He commutes on his bike to work every day!"
Raymond Yip, Interim Shuttle Supervisor, said Adel sets a positive example for other drivers. "He's always willing to help out."
When traffic gets congested and the shuttles are late, Folly said he has this piece of advice for riders. "Bear with us," he said. "Please be patient. We're trying our best to get you to your destination as quickly and safely as possible. We face different conditions every day."