A Positive Attitude is the First Step Toward a Good Day for UCSF Shuttle Driver Janet Johnson
---
Published on March 30, 2015
---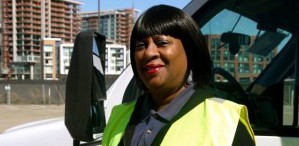 Janet Johnson understands she's in the customer service business. Eight hours a day, she's negotiating the busy streets of San Francisco with a shuttle full of customers.
"If you start each work day with the right attitude, it makes the day go by faster," she said. "It's a lot easier to work with people and drive the shuttles when you are in a good mood."
Janet has been driving UCSF shuttles since 1999 and today drives the Gold line in the morning and the Blue line in the afternoon.
"My regular passengers know me," she said. "I had one passenger tell me he likes starting the day on my shuttle because I'm always pleasant to him and it starts the day off right."
Her fellow employees also notice Janet's infectious attitude. "I often see Janet as she reports to work at 6:15 in the morning and she always has a smile on her face," said Erick Villalobos, Associate Director, UCSF Transportation Services. "She is quick to laugh and very professional and courteous with her passengers."
UCSF Parking Supervisor, Nelson Lum, described Janet this way. "Her warm and affectionate personality can douse anyone's hot anger down to a smoldering cream puff."
Negotiating a shuttle safely through the city's streets is challenging, Janet said. "The Gold line is tough because traffic around Geary and Hyde can be heavy."
Having bicyclists and motorcyclists split the lanes between her shuttle and cars in adjacent lanes is just one of the challenges. "That's really dangerous," she said. "There are blind spots in these big shuttles and we simply can't see riders when they pull alongside us like that."
Janet started driving for SamTrans, taking passengers from San Francisco to Palo Alto. She soon learned through a friend that UCSF was looking for drivers and she was happy to trade her long trek down the Peninsula for a job driving a shuttle in the city.
A resident of Sacramento, Janet work four, 10-hour shifts, and stays with her mother in San Francisco during the week. On the weekend, she'll pick up her grandkids when she leaves work and take them back to Sacramento. "I have four granddaughters and a grandson and I spend every spare minute I have with them. I'll pick them up on my way home and drop them off again when I come back to San Francisco for work."