Short-Term Lodging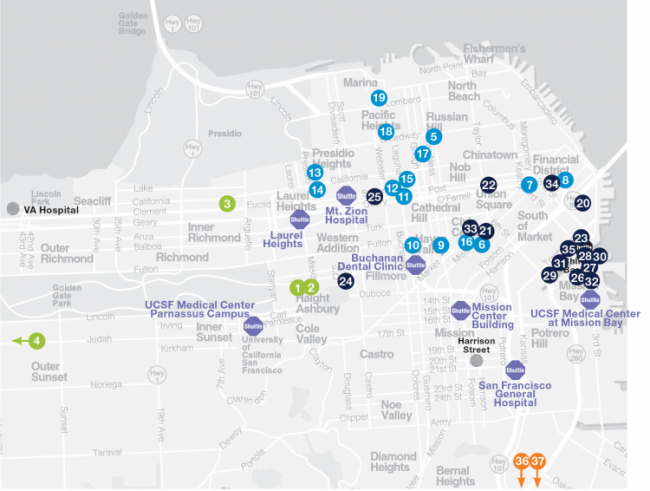 Housing Services provides this Short-Term Lodging Guide to assist visiting professors, hospital patients, returning alumni, conference attendees and students' families with temporary lodging, and to help new students who need temporary housing until they find permanent accommodations.
These listings are based solely on information provided by the managers and owners of the guest apartments and houses, bed & breakfasts, hotels and motels listed in this guide. These listings are not affiliated in any manner with UCSF. Moreover, Housing Services does not investigate, endorse or guarantee the accommodations listed. It is advisable to make reservations in advance and, if possible, to visit the unit prior to making final commitments.
Please inquire about UCSF discounts or special rates that are available at some of these establishments.
If you would like to list your property on our guide, please visit this page for our criteria.

---
Parnassus Campus
The Harper House
The Herb'n Inn
Home Away From Home
Rodeway Inn & Suites Ocean Beach
The Metro Hotel
Beck's Motor Lodge
Mount Zion Campus
Castle Inn
Hotel Kabuki
The Kimpton Buchanan
Laurel Inn
The Monte Cristo Inn
Queen Anne Hotel
Trinity SF (Multiple Locations)
Holiday Inn, Golden Gateway
Hotel Emblem
Mission Bay
AMSI
Bei Hotel
Synergy Global Housing (Multiple Locations)
Mission Bay by Windsor
Hotel Via
Airport / Extended Stay Hotels
Residence Inn by Marriott – SFO
Staybridge Suites- San Francisco Airport-SFO
Homewood Suites by Hilton - SFO
Larkspur Landing South San Francisco - SFO
---
Parnassus Campus
The Harper House
1562 Waller Street, San Francisco, CA 94117
Phone: (415) 522-1560
Website: http://www.harperhouseb-b.com/
District: Haight Ashbury
Description: Four Units. Two with private bath. Two with shared bath. No parking available, no pets, no smoking, fresh linens and cleaning bi-weekly.
Rates: Units with private bath - $1,670 a month, plus security deposit. Second Unit with private bath - $1,270 a month plus security deposit. Two units with shared bath - $1,070 a month plus security deposit. Utilities and cleaning are included. Free Wi-Fi DSL internet access.
Remarks: The Harper House rents apartments monthly, to fulfill short-term housing needs, especially for UCSF medical center staff. The furnished rooms are very quiet and comfortable. Walking distance to Parnassus campus. A refundable security deposit of $250 is required for a reservation.
Access: Walking Distance: 10 blocks to Parnassus. MUNI: 1 block to #6 to Parnassus/Buchanan and 1 block to #43 to Parnassus/Laurel Heights.

The Herb'n Inn
525 Ashbury Street, San Francisco, CA 94117
Phone: (415) 553-8542
Email: .(JavaScript must be enabled to view this email address)
Website: http://herbninn.com/
District: Haight Ashbury (near Golden Gate Park)
Description: Fully furnished private bedrooms for those who seek lodging for 30 nights or more. Most bedrooms share a bathroom on the hwallway with 2 other guestrooms. We have one private bedroom with a private bathroom. There is a spacious fully equipped kitchen with 6-burner stove and 2 ovens, 2 sinks, 2 refrigerators, 2 tables, and ample counter space so it is easy to share. Each guest has personal food storage space in both dry food storage area and the fridge. We provide and launder your sheets & towels. The laundromat is an easy walk from the inn for your personal items. Cable TV and Wi-Fi included.
Rates: $1,400/month single occupancy with shared bathroom; $1,600/month single occupancy with private bathroom (double occupancy add $300). VISA/MC accepted as deposit. 30-day minimum stay required. Monthly lodging available.
Remarks: Guests can enjoy a quiet deck and backyard. Your hosts, SF residents for over 40 years, have been hosting since 1988. Great running trails are in nearby Golden Gate Park. Restaurants, grocery stores, and extensive public transit available a block away. We hope you will be our guest!
Almost exclusively, our guests are UCSF-affiliates, which creates a friendly internationally revolving extended family atmosphere; yet solitude and quiet is easily achievable as the house is quite large.
Access: Walking distance 9 blocks to UCSF Parnassus and access to all campus shuttles & loaner bike may be available. MUNI: 1 block to #43 to Parnassus/Laurel Heights. 1 block to #6 to Parnassus and 1 block to #33 to ZSF General Hospital.

Return to top

Home Away From Home
210 Fifth Avenue, San Francisco, CA 94118
Phone: (415) 386-0623
Email: .(JavaScript must be enabled to view this email address)
District: Inner Richmond
Description: Located just steps from the Clement Street corridor (famous among locals for top-notch restaurants and unique shopping), we offer fully furnished, sunny and bright 1- and 2- bedroom NON-SMOKING apartments. Restaurants abound in our neighborhood, ranging from Turkish to Japanese, and other flavors of the world. Farmer's market on Sundays. Queen beds, fully-equipped kitchen areas, bathrooms with shower/tub, flat screen TVs and complimentary Wireless internet.
Rates: Seasonal rates start from $3,500 a month (approximately $116 per day). Garage parking is available for an additional fee. We offer flexible short or long-term rentals. Rates subject to change without notice. DISCLAIMER: Home Away From Home is the Originator of the Rate description provided here. We are NOT affiliated with any other lodging establishments listed with UCSF, neither has authorization or consent been given by Home Away From Home for its use, to those listing who have similar descriptions included in their advertisement.
Remarks: Extremely clean, quiet and well-maintained apartments on a tree-lined street. Friendly residential neighborhood. One block away to Clement and California Streets for shops, restaurants, cafes, etc. No smoking. No pets.
Access: Walking Distance: 7 blocks to UCSF Shuttle located at 3360 Geary to Parnassus / Mt. Zion Campus or a 7-minute drive. MUNI: #1 California to Mt. Zion and Laurel Heights and #38 Geary to Mt. Zion, Laurel Heights or to VA hospital.

Rodeway Inn & Suites Ocean Beach
1234 Great Highway, San Francisco, CA 94122
Phone: (415) 731-6644 Fax: (415) 731-5309
Email: .(JavaScript must be enabled to view this email address)
District: Sunset
Description: 59 rooms with private baths, cable TV, phones and wireless internet (AT&T 1GB Fiber). All guest rooms are equipped with a mini refrigerator and microwave. Free on-site parking. Complimentary coffee and pastries in the morning. Not pet friendly.
Rates: Daily: $99-$209. (Call for UCSF discounted rates). Visa, MasterCard, American Express & Discover cards accepted.
Remarks: Rodeway Inn & Suites Ocean Beach offers countless activities within a five-mile radius including hiking, biking, surfing, and shopping. There is a gas station, laundromat and a Safeway grocery store just a mile away.
Access: MUNI: 2 blocks to N-Judah train to Parnassus/China Basin.

Return to top

The Metro Hotel CURRENTLY CLOSED due to COVID-19
319 Divisadero Street, San Francisco, CA 94117
Phone: (415) 861-5364
Website: http://www.metrohotelsf.com
District: NOPA/Lower Haight
Description: We are a charming, family run, boutique hotel. We offer 24 comfortable, clean, non-smoking, cozy rooms, each with a private bathroom. Wireless Internet and Cable TV are complimentary. We offer a tranquil garden for your enjoyment. Pets are not allowed; service animals are welcome. We do not offer parking. You may park at the UCSF garage and take public transportation to our hotel.
Rates: $130 - $240 per night (15.3125% city tax not included). UCSF Parnassus and Mt. Zion patients and families receive a discount for all reservations arranged by phone (415-861- 5364). All major credit cards are accepted.
Remarks: It is an urban oasis in the middle of the metropolis. We are centrally located, and nestled between several vibrant neighborhoods: Lower Haight, NOPA, Alamo Square, Golden Gate Park and the Castro. We are affordable European-style pensione, with easy, one bus access to either Parnassus or Mount Zion. All rooms are up a flight of stairs (22 stairs for first flight, 44 stairs for second flight). If mobility is an issue, we may not be your best choice. What we lack in square footage, we more than make up with our friendly and helpful staff. The Metro Hotel has been awarded Trip Advisor's certificate of Excellence for years and outstanding with Yelp.
Access: Walking distance: Yes, if you like walking: Parnassus 1.6 miles, Mt. Zion .9 miles. MUNI: 1 block to #24 to Mt. Zion. 1 block to #6 Parnassus/ Buchanan.

Beck's Motor Lodge
2222 Market Street, San Francisco, CA 94114
Phone: (415) 621-8212 Text: (415) 319-9300
Website: https://becksmotorlodge.com/
District: Castro
Description: Our 58 room motor lodge is minutes away from UCSF and offers a clean, comfortable stay with free on-site parking! All rooms have private bathrooms, mini refrigerators and all the necessities you need for your stay. Our neighborhood is a wonderful place to walk around, with many restaurants and shops. Our sundeck is a lovely place to have a cup of coffee or glass of wine and take in the site of the city. Wherever you are from, we make you feel at home while visiting UCSF. All rooms are elevator accessible.
Rates: Rates vary based on availability. We offer a $10 plus tax discount for hospital related stays. All major credit cards are accepted.
Remarks: We are proud to be amongst the top 15 hotels in San Francisco on TripAdvisor. From the free parking, to the unique neighborhood, to the close proximity to UCSF - guests love staying with us.
Access: MUNI: 2 blocks to N-Judah train to Parnassus. 7 minute drive to Parnassus.

Return to top

---
Mount Zion Campus
Castle Inn
1565 Broadway, San Francisco, CA 94117
Phone: (415) 441-1155
Email: .(JavaScript must be enabled to view this email address)
Website: https://www.castleinnsf.com
District: Nob Hill/Russian Hill
Description: 25 rooms; all with private baths, FREE parking,
free continental breakfast, direct dial phone w/voicemail and cable TV in rooms, free highspeed wireless internet access, mini-fridge, microwave, in-room coffee, free HBO.
Rates: $89-$319; all major credit cards accepted; UCSF affiliates discount.
Remarks: Newly renovated clean comfortable rooms with many amenities. Great location, 20 restaurants within walking distance. Public transportation nearby. Compassionate and understanding staff.
Access: MUNI: #19 to ZSFG.

Hotel Kabuki CURRENTLY CLOSED due to COVID-19
1625 Post Street, San Francisco, CA 94115
Phone: (415) 922-3200
Website: http://www.hotelkabuki.com
District: Japantown/ Pacific Heights
Description: Situated at Post Street by Buchanan Street, within a pleasant walk to UCSF Mt. Zion, UCSF shuttles and public transport. Where San Francisco's authentic Japantown meets the upscale Pacific Heights neighborhood, conveniently surrounded by diverse dining options and stores.
Earn or redeem World of Hyatt guest rewards at this full-service Joie de Vivre hotel. Relax in the abundant daylight and re-designed décor featuring natural elements, with modern urban design. Energize or decompress in the exceptional 4000 sq-ft Gym featuring extensive Life Fitness equipment, Peleton bike, boxing studio, fitness/yoga classes, indoor-outdoor meditation area, accessible 24/7. Refresh at The Bar at Kabuki with creatively-crafted cocktails, Japanese whisky selection, and views of the Zen garden, to inspire your evenings. Home of Nari restaurant by Michelin-starred Chef Pim Techamuanvivit.
Rates: UCSF rates are from $275 for Queen or King rooms, from $299 for Deluxe City-View King rooms. Rates fluctuate seasonally.
Discount: Book UCSF discount by calling Reservations & requesting the UCSF discount, or adding the unique UCSF Corporate discount code to the website drop-down field: 60243 (Waived nightly Destination Fee for UCSF-booked rates).
Remarks: Valet $50 and Self-Parking $32 available*. Dog-friendly under 30 lbs with $75 fee & agreement. UCSF rates include: guest rooms with 55" TV, WiFi, bicycle rental*, in-room coffee & tea and mini-fridges, unlimited filtered water on tap (still, sparkling, hot), local in-room calls. *Subject to availability
Access: Walking distance: 6 blocks to Mt. Zion. MUNI: #2 and #38 to Mt Zion, Laurel Heights and VA Hospital.
Return to top

The Kimpton Buchanan
1800 Sutter Street, San Francisco, CA 94115
Phone: (415) 921-4000
Website: http://www.kimptonhotels.com
District: Japantown
Description: Located at the nexus of three of San Francisco's beloved neighborhoods - Japantown, the Fillmore and Pacific Heights - The Kimpton Buchanan offers 131 oversized, airy rooms appointed with Japanese elements. The hotel's design draws on dynamic local influences and iconography, while celebrating urban culture and artistic virtuosity. Fantastic shopping and authentic Japanese cuisine are all within walking distance. Enjoy morning coffee or tea in the lobby - daily from 6:00 to 9:00am - before venturing out for the day. In the evening, unwind with a glass of wine or sake during the hotel's nightly wine hour from 5:00 to 6:00pm.
Rates: Season rates from $225-$282 based on dates of stay and availability. Blackout dates apply. Must mention UCSF rate to access. Visit this website for UCSF-specific information: https://www.thebuchananhotel.com/ucsf/
Remarks: The Kimpton Buchanan is a local gem with a bustling wine hour and located only steps away from some of San Francisco's best shopping and restaurants. Enjoy the perks of IHG Reward membership with special rates that qualify you to earn nightly points. Use for future stays at The Kimpton Buchanan or other hotels in the IHG family. Amenities include: fitness center, outdoor courtyard, onsite self-parking ($40), onsite resturant (Mum's) available for breakfast, lunch, and dinner, laundry service, press reader service and newspaper, ten-person boardroom, complimentary WiFi with IHG membership, in-room refrigerator, yoga mat and robes, and hotel is pet-friendly (no fee required).
Access: Walking Distance: 6 Blocks to Mt. Zion. MUNI: #2 to Mt. Zion Hospital and Laurel Heights, #38 toVA Hospital.

Laurel Inn
444 Presidio Avenue, San Francisco, CA 94115
Phone: (415) 567-8467
Email: .(JavaScript must be enabled to view this email address)
Website: http://thelaurelinn.com
District: Presidio Heights
Description: 49 units with private baths including 18 Jr. Suites, with wet bar, microwave, refrigerator, Illy Espresso/Coffee Maker; 40" Flat screen cable TV. Parking $39 per day, plus tax. Non-smoking hotel. Discounted access to nearby fitness club; special discounts for Extended Stay Reservations and inclusions such as a daily fitness pass. Complimentary lobby coffee/tea + morning pastry, newspaper and high-speed internet.
Rates: $249-$529; all major credit cards accepted. UCSF Discount: Seasonal rates: January-April rates start at $249, May and June rates start at $289, July thru October start at $309 and November & December rates start at $259. Must mention "UCSF LODGING" to receive this preferred rate and complimentary upgrade, if available at check-in.
Remarks: Beautiful neighborhood with shops and restaurants to suit all tastes and budgets. Near parks, excellent public transportation, spacious studio-feel rooms, friendly staff, UCSF shuttle stop nearby at Laurel Heights.
Access: Walking distance: 1 block to Laurel Heights, 7 blocks to Mt. Zion. MUNI: 1 block to #43 to Parnassus/Laurel Heights. 2 blocks to #1 to Laurel Heights, #2 to Mt Zion Hospital.

Monte Cristo Inn
600 Presidio Avenue, San Francisco, CA 94115
Phone: (415) 931-1875
Website: https://www.BedandBreakfastSF.com
District: Mount Zion
Description: All rooms with private bathrooms. Smart LCD TVs, hair dryer, iron, alarm clock radio. Complimentary breakfast, Wi-Fi/internet. Additionally, there is a public computer available for you.
Rates: $199 and up- Mention UCSF and receive complimentary room upgrade when available.
Remarks: Old World Charm & Modern Amenities. Upscale neighborhood. Dine with locals at top notch restaurants nearby. Every room has hardwood floors and Persian rug. Marble lined bathrooms with rain shower, electric toilet/washlet/bidet. Rooms are furnished with American or European antiques. All rooms have en-suite bath. Winner of top 10 urban B&Bs worldwide. Extended stays are available. Self-catering apartments available for extended stay.
Access:Walking distance: Laurel Heights Campus is across the street. Take advantage of the free UCSF Black/Tan shuttle to access other campuses. 6 blocks to Mt Zion. MUNI: #43 to Parnassus. On #2 to Laurel Heights/Mt. Zion
Return to top


Queen Anne Hotel
1590 Sutter Street, San Francisco, CA 94109
Phone: (415) 441-2828
Toll-Free: 1 (800) 227-3970
Website: https://www.queenanne.com
District: Pacific Heights/Japantown
Description: Relax & unwind at San Francisco's most charming boutique hotel. The fabulous Queen Anne features 48 elegant rooms & suites and a friendly/helpful staff to assist you 24/7. Nearest to Mt. Zion but convenient to all UCSF locations. Complimentary town car service available (M-F mornings) to all San Francisco hospitals. (Free UCSF Shuttle returns you to Mt. Zion). Stay includes deluxe continental breakfast, morning newspaper, WiFi, and our popular afternoon tea & sherry service with freshly baked cookies. Parking guaranteed at $30 per night. Many restaurants & shops nearby on Fillmore Street, Polk Street, Van Ness and in Japantown. Queen Anne Hotel has an elevator, is wheelchair accessible, has some accessible guest rooms.
Rates: $139.00 & up low season, $179.00 & up high season. All major credit cards accepted.
Remarks: Please request UCSF RATE at Queen Anne Hotel,
the #1 choice of hospital guests.
Access: Mt. Zion, 7 blocks. MUNI: #2 to Laurel Heights and Mt. Zion.
Return to top


Trinity SF – 1188 Mission
1188 Mission Street, San Francisco CA 94103
Phone: (833)324-5863
Email: .(JavaScript must be enabled to view this email address)
Website: https://www.trinitysf.com/
District: SoMa/Mid-Market
Description: Fully furnished and accessorized studios, Jr 1 bedrooms, & 1 bedrooms centrally located; features fully equipped kitchen, flat screen TV, bike storage, resident lounge & fitness center; Covered parking is available at an additional fee. Unfurnished apartments also available.
Rates: Subject to change. 30-day minimum stay. Mention UCSF Guide
Remarks: With views of downtown San Francisco, 1188 Mission is just steps from MUNI, BART, and shuttles.
Access: MUNI: 0.2 miles to Civic Center MUNI. N-train to Parnassus or China Basin. KT line to Mission Bay.

Trinity SF – Clay Park Tower
1890 Clay Street, San Francisco CA 94109
Phone: (844) 849-7117
Email: .(JavaScript must be enabled to view this email address)
Website: https://www.1890clayapts.com/
District: Lower Pacific Heights
Description: Fully furnished and accessorized studios, 1 bedrooms & 2 bedrooms centrally located; features fully equipped kitchen, flat screen TV, bike storage, resident lounge & fitness center; Covered parking is available at an additional fee. Unfurnished apartments also available.
Rates: Subject to change. 30-day minimum stay. Mention UCSF Guide
Remarks: With views of downtown San Francisco and the surrounding bay, 1890 Clay has quick access to Transportation at Franklin and Clay Streets.
Access: MUNI: #1 bus to Mt. Zion and Laurel Heights

Trinity SF – 2000 Broadway Street
2000 Broadway Street, San Francisco CA 94115
Phone: (844) 859-6176
Email: .(JavaScript must be enabled to view this email address)
Website: https://www. 2000broadwayapts/
District: Pacific Heights
Description: Fully furnished and accessorized studios, 1 bedrooms, Jr. 1 bedrooms, & 2 bedrooms centrally located; features fully equipped kitchen, flat screen TV, bike storage, resident lounge & fitness center; Covered parking is available at an additional fee. Unfurnished apartments also available.
Rates: Subject to change. 30-day minimum stay. Mention UCSF Guide
Remarks: With views of downtown San Francisco and the surrounding bay, 2000 Broadway has quick access to Transportation at Union and Laguna Streets.
Access: MUNI: #24 bus to Mt. Zion

Trinity SF – Marina Cove Apartments
1550 Bay Street, San Francisco CA 94123
Phone: (844) 859-6170
Email: .(JavaScript must be enabled to view this email address)
Website: https://www. 1550bayapts/
District: Marina
Description:Fully furnished and accessorized studios, 1 bedrooms, Jr. 1 bedrooms, located in a beautiful neighborhood; features fully equipped kitchen, flat screen TV, bike storage, resident lounge & fitness center; Covered parking is available at an additional fee. Unfurnished apartments also available.
Rates: Subject to change. 30-day minimum stay. Mention UCSF Guide
Remarks: Located next door to Fort Mason and the Marina Green, these apartments are easy to access and feature beautiful bay views.
Access: MUNI: #43 bus to Parnassus

Holiday Inn, Golden Gateway
1500 Van Ness Ave, San Francisco, CA 94109
Phone: (415) 447-3046
Website: Holiday Inn website for UCSF
District: Nob Hill
Description: Rising 26 stories, Holiday Inn Golden Gateway offers guestrooms with Free Wi-Fi and outstanding San Francisco views. Located centrally in the city, our hotel is one of the closest to UCSF campuses (Mount Zion 1.2mi, Laurel Height 1.7mi, Parnassus 3.5mi, and Mission Bay 2.9mi). Public transportation and the cable cars are conveniently located right outside the hotel. Parking is available on site with in & out privileges for a discounted rate of $30+tax per night. On site Restaurant & Bar with room service available and up to 50 local restaurants within walking distance.
Rates: Please use the discounted booking link (UCSF-Holiday Inn Golden Gateway) to book the special negotiated rate starting from $139 and up. For special requests, please contact Cecile Xian at .(JavaScript must be enabled to view this email address) or (415) 447-3046.
Remarks: Each room includes a mini refrigerator, coffee maker with coffee & tea, and a safe. Additional amenities: 24/7 Fitness room, rooftop outdoor pool, business center with complimentary printing service, laundry room.
Access: MUNI: Mt. Zion and Laurel Heights: Bus #1

Hotel Emblem
562 Sutter Street, San Francisco, CA 94102
Phone: (415) 433-4434
Website: http://www.hotelemblem.com
District: Union Square
Description: Hotel Emblem is a 4-star 96-room boutique hotel by Viceroy Hotel Group situated at the foot of Nob Hill and along the historic Powell Street Cable Car line, just steps from Union Square and public transportation.
Rates: UCSF rates start from $195 for Queen rooms. Subject to availability, blackout dates may apply. Discount: Access the UCSF discounted rate on our website by selecting "Corporate" code and entering "UCSF" in this field.
Remarks: For every paid room at the UCSF rate, the hotel will offer a discount of 50% off to UCSF hospital workers through its "Contribution Without Compromise" program. The amenity fee of $29 per night will be waived for all UCSF visitors and staff.
Access: MUNI: Mt. Zion and Laurel Heights: Bus #1. 4 blocks to Powell Street Station: KT line to Mission Bay and China Basin. N line to Parnassus.
---
Mission Bay Campus
AMSI
201 Harrison Street, San Francisco CA 94115
Phone: (415) 447-2045
Toll free: (800) 747-7784
Email: .(JavaScript must be enabled to view this email address)
Website: https://www.amsires.com
District: South Beach
Description: Fully furnished studio, 1- and 2-bedroom rentals in modern high-rise. Fully equipped kitchen with dishes and linens, TV, WiFi, cable.
Rates: $125-$215 per night with 30 day minimum stay. Accept Visa, MasterCard and AMEX.
Remarks:Fitness center, outdoor pool, racquetball court, covered parking, washer/dryer, front desk. Walk to The Embarcadero, grocery stores and restaurants. AMSI has other furnished monthly rentals in a variety of neighborhoods throughout San Francisco.
Access:MUNI: N train to Parnassus and China Basin and KT train to China Basin and Mission Bay.

Return to top

BEI Hotel CURRENTLY CLOSED due to COVID-19
50 8th Street, San Francisco CA 94103
Email: .(JavaScript must be enabled to view this email address)
Website: https://www.beihotelsf.com/ucsf/
District: Civic Center
Description: BEI, located in the heart of San Francisco's SoMa district, offers contemporary hotel amenities for you to stay, work, and play during your visit to San Francisco. BEI is a 396-room 4-star hotel property that sits in the center of the city with exceptional ease for all destinations in the Bay Area and transportation to all major UCSF campuses/transportation routes. An ideal place for both short-term and extended stay options with modern comfort of an in-room refrigerator, on-site guest laundry, state of the art fitness center, wellbeing program and gourmet restaurant, café and bar.
Rates: The hotel offers 3 options that suit all types of travelers. Visit the website for more details. UCSF Corporate travel with set seasonal rates start from $170 + tax, exluding groups, convention dates apply. UCSF Extended Stay travel is ideal for 30 days + travelers with rates starting from $159 + tax, excluding convention dates. UCSF Friends & Family hotel discount - receive up to 15% off best available rates.
Remarks: UCSF Employees can fill out a tax-exempt form at the time of check in to receive tax exemption on occupancy tax.
Access: MUNI: 1 block away from Civic Center station. KT line to Mission Bay and China Basin. N line to Parnassus

Hotel Via
138 King Street, San Francisco, CA 94107
Phone: (415) 200-4977
Email: .(JavaScript must be enabled to view this email address)
Website: http://www.hotelviasf.com
District: Mission Bay
Description: Hotel VIA was opened in 2017 and is situated approximately 0.5 miles for UCSF Mission Bay Campus. The hotel has 159 chicly appointed guest rooms located directly across the street from Oracle Park. Guest rooms include complimentary high-speed internet access and exclusive access to the rooftop lounge.
Rates: Rates start at $249 per night, please inquire to .(JavaScript must be enabled to view this email address) for special long-term room rates of 7+ nights.
Remarks: The Rooftop at VIA, Hotel VIA's 3,000 sq ft rooftop lounge delivers some of the most stunning and dramatic scenery in San Francisco. The rooftop is designed with fire pits, private cabanas and a food and beverage offerings that create unparalleled experiences for hotel guests and private events.
Access: MUNI: KT train to Mission Bay & Walk to China Basin, N-train to Parnassus and Buchanan Dental Clinic.

Synergy @ Channel Mission Bay
185 Channel Street, San Francisco, CA 94158
Phone: (800) 600-1115 or (925) 807-1155
Email: .(JavaScript must be enabled to view this email address) and mention UCSF Guide
Website: http://www.synergyhousing.com/
District: Mission Bay
Description: Fully furnished studio, one-bedroom apartments walking distance from UCSF Mission Bay campus
Rates: Studio: $205-$241/night; 1 Bedroom: $231-$291/night
Remarks: Newly constructed Channel Mission Bay Apartments are located near renowned eateries and the San Francisco bay-front. The unique features and amenities include a fresh water pool, a 3-level fitness club, outdoor terrace, and a media theater.
Access:: Walking distance: 6 blocks to Mission Bay campus. 2 blocks to China Basin. MUNI: KT line to Mission Bay, N train to Parnassus and Buchanan Dental.

Return to top

Synergy @ Mission Bay by Windsor
360 Berry Street, San Francisco, CA 94158
Phone: (800) 600-1115 or (925) 807-1155
Email: .(JavaScript must be enabled to view this email address) and mention UCSF Guide
Website: http://www.synergyhousing.com/
District: Mission Bay
Description: Fully furnished bedroom apartments with access to Mission Bay Creek waterfront trail.
Rates: 1 Bedroom: $214-$243/night; 2 Bedroom: $270-$380/night
Remarks: Your home apartment at Eviva Mission Bay is well-designed with standard-setting, luxury amenities, such as walk-in closets, keyless entries, outdoor grilling terrace, enclosed parking garage, and state-of-the-art fitness enter. Smoke-free community.
Access:: Walking distance to Mission Bay campus. MUNI: KT to Mission Bay, N to Parnassus.
Synergy @ Strata Mission Bay
1201 4th Street, San Francisco, CA 94158
Phone: (800) 600-1115 or (925) 807-1155
Email: .(JavaScript must be enabled to view this email address) and mention UCSF Guide
Website: http://www.synergyhousing.com/
District: Mission Bay
Description: Fully furnished bedroom apartments with bay views in select homes.
Rates: 1 Bedroom: $214-$279/night; 2 Bedroom: $269-$419/night
Remarks: You'll find a host of amenities, such as an outdoor fireplace, resident business and fitness centers, barbecue and picnic areas, bocce ball court, and a beautifully designed courtyard with outdoor seating. Located in the heart of Mission Bay, you'll find the beat of the Bay Area right outside your door with outdoor attractions, shopping, dining, nightlife, and entertainment close by.
Access: Walking distance: 8-minute walk to Mission Bay campus. MUNI: KT to Mission Bay.

Synergy @NEMA
8 10th Street, San Francisco, CA 94103
Phone: (800) 600-1115 or (925) 807-1155
Email: .(JavaScript must be enabled to view this email address) and mention UCSF Guide
Website: http://www.synergyhousing.com/
District: SoMa
Description: Fully furnished studio, one- and two- bedroom apartments approximately 1.8 miles from UCSF Mission Bay campus
Rates:Studio: Studio: $209-$269/night; 1 Bedroom: $219-$279/night; 2 Bedroom: $269-$419/night
Remarks: NEMA is the next generation's luxury rental and a Synergy Exclusive community. Crafted to fit your lifestyle, NEMA is all about comfort, community, and easy access to what you need. A state-of-the-art fitness center, rooftop terrace, and in apartment washer and dryers are just a few examples of amenities NEMA has to offer.
Access: 1 block away from Civic Center MUNI: KT to Mission Bay/China Basin and N to Parnassus.

Synergy @33 Tehama
33 Tehama Street, San Francisco, CA 94105
Phone: (800) 600-1115 or (925) 807-1155
Email: .(JavaScript must be enabled to view this email address) and mention UCSF Guide
Website: http://www.synergyhousing.com/
District: SoMa
Description: Fully furnished studio, one- and two- bedroom apartments approximately 1.8 miles from UCSF Mission Bay campus
Rates:Studio: Studio: $209-$269/night; 1 Bedroom: $219-$279/night; 2 Bedroom: $269-$419/night
Remarks: 33 Tehama is a coveted SoMa address that puts you in one of the most connected, walkable, and cultured locations in San Francisco. 33 Tehama is a defining new residence with a collection of modern apartments that bring truly cosmopolitan living, sophisticated design, and unrivaled amenities in an incredible SoMa location.
Access: 3 blocks away from Montgomery MUNI: KT to Mission Bay/China Basin and N to Parnassus.
Mission Bay by Windsor
360 Berry St. San Francisco, CA 94158
Phone: (781) 899-5100
Email: .(JavaScript must be enabled to view this email address)
Website: https://www.missionbaybywindsor.com/
District: Mission Bay
Description: New building offering unfurnished 1 + 2 bedroom apartments with furnished package options available. (60-day minimum lease term). Quick walking access to Caltrain, MUNI, restaurants & more. Our homes have been carefully and thoughtfully appointed with the most modern, top-of-the-line comforts. Nine-foot ceilings, open concept kitchens, Energy Star stainless steel appliances, full-size washer and dryers, walk-in closets, keyless entry.
Rates:We require a 60-day minimum stay. Please contact us for pricing and availability. Garage parking is available for an additional fee. Rates subject to change without notice.
Remarks: Our community amenities include state-of-the-art inside/outside fitness center, enclosed parking garage with controlled access, bicycle storage, valet waste service, 24-hour secure package pick-up, laundry lockers, and outdoor terrace with grilling areas and stunning city views. Pet-friendly, we are just a two-minute walk to Mission Bay Dog Park and are surrounded by numerous waterfront walking, jogging & biking paths. We are proud to be a Smoke-free community.
Access: MUNI: KT train to Mission Bay & China Basin, N train to Parnassus and Buchanan Dental Clinic.

Return to top

---
Airport/Extended Stay Hotels
Residence Inn by Marriott - SFO
1350 Veterans Blvd, South San Francisco, CA 94080
Phone: (650) 837-9000
Website: http://www.residenceinnoysterpoint.com
Email: .(JavaScript must be enabled to view this email address)
Description: Expect comfort at Residence Inn San Francisco Airport/Oyster Point Waterfront. We position you by the glimmering Oyster Point Marina near downtown and South San Francisco Bay. Each spacious suite provides a residential experience featuring full kitchens and separate living, working, and sleeping areas. Our fully equipped kitchens provide refrigerators, microwaves, stovetops and dishwashers. We provide both flat-screen TVs and ergonomic workstations to suit all your travel needs. Suites with mobility accessible, roll in showers, and hearing accessible rooms with visual alarms and visual notification devices for door and phone available upon request.
Rates: To book the UCSF rate, please visit http://www.marriott.com/sfori and use corporate/promotional code UC0 or call (650) 837-9000.
Remarks: Guests can enjoy a variety of amenities including outdoor spaces with our swimming pool, Sport Court, fire pits and grills. The RI Mix®, a complimentary evening event where guests can socialize and enjoy premium beer and wine; as well as complimentary grocery delivery service, complimentary "Red Carpet Shuttle" to and from downtown Burlingame every hour, breakfast, self-parking ($9.99 daily), shuttle from/ to SFO Airport and Wi-Fi. From multiple cardio machines to an assortment of free weights, work up a sweat in our hotel's fully equipped fitness center. We provide complimentary towels. Enjoy a waterfront walking, jogging & biking trail right behind our hotel.
Access: Hotel provides complimentary van rides within a 2-mile radius from the hotel every 30 minutes. Minutes away from San Francisco Bay Ferry, Cal Train, BART, and Sam Trans. Located 5 miles from the SFO airport.

Staybridge Suites-San Francisco Airport
1350 Huntington Ave., San Bruno, CA 94066
Phone: (650) 588-0770
Website: http://www.staybridgesuites.com/sfoairport
E-mail: .(JavaScript must be enabled to view this email address)
Description: 92 units with full-size kitchens and living rooms. ADA/wheelchair accessible. Free Laundry facilities, pets welcome (pet fee charge), flat screen TVs in rooms with cable. Free Parking available.
Rates:1-Bedroom Suite- 1-29 nights- $205* a night, 30+ nights- $199 a night; 2-Bedroom/2-Bathroom Suites- 1-29 nights $235* a night, 30+ nights $229* a night. *All rates are subject to a daily 12% hotel tax and a daily $.58 tourism charge. For reservations that are longer than 30 days, from the 31st day on the 12% hotel tax is waived.
Remarks: Complimentary daily breakfast buffet. The Social evening reception Monday-Wednesday nights. Courtesy airport and BART shuttle. Free high-speed internet, full-size kitchens and living room. Near shopping and restaurants.
Access: Located 2 miles from the SFO Airport.
The Homewood Suites by Hilton
San Francisco Airport North
2000 Shoreline Court, Brisbane, CA 94005
Phone: (650) 589-1600
Website: sfoairportnorth.homewoodsuites.com
Email: .(JavaScript must be enabled to view this email address)
Description: All-suites hotel adjacent to the beautiful San Francisco Bay will be your home-away-from-home. All suites include a fully-equipped kitchen with a microwave, 2 burner stove, sink, dishwasher, refrigerator, cutlery, and cookware. Additionally, all suites include a work desk, TV, alarm clock, and an additional pull-out sofa bed. Enjoy our high Hilton standards while earning points with the Hilton Honors Rewards Program. Various room categories are available.
Rates: Seasonal rates starting at $173.00 based on availability and length of stay. Rates are not inclusive of taxes. ADA rooms are available upon request & availability at no additional cost. Please call and ask for rates and availability and mention the "UCSF Local Negotiated Rate" to receive your discount.
Remarks:We offer complimentary self-parking, internet, airport shuttle, and grocery-shopping service to help you save on costs during your stay. Additionally, we serve a delicious daily breakfast buffet (with hot & cold items) and a dinner reception from Monday-Thursday nights including beer, wine, and soft drinks. A relaxing heated indoor pool, 24- hour fitness center, 24-business center, and all-day coffee and tea are also provided complimentary for your comfort. The hotel also has a laundry room, ATM, and Suite Shop.
Access: Hotel is located right off of Highway 101. Hotel offers complimentary shuttle to and from SFO every day.
Larkspur Landing, South San Francisco
690 Gateway Blvd., South San Francisco, CA 94080
Phone: (650) 827-1515
Email: .(JavaScript must be enabled to view this email address)
Website: www.larkspurhotels.com/south-san-francisco
Description: With an extensive array of complimentary services and amenities, Larkspur Landing South San Francisco hotel is a comfortable, convenient, and inviting place to stay and will soon become a second home to you! Feel relaxed in our renovated suites with a fully equipped kitchen featuring a full-size refrigerator, 2 burner stove top, microwave, dishwasher, pots/pans, dishes, and utensils. We also offer suites with separate sleeping and living spaces and accessible suites. You will feel genuinely taken care of with such thoughtful touches as our free grocery shopping service, coffee and cookies, served up fresh daily, and complimentary self-laundry facility.
Rates: Studio Suite with queen bed and full kitchen start at $159, Executive Suite with King bed in bedroom and separate living room with sofa- bed start at $179. Executive Suite with King bed in bedroom and queen murphy bed in living room are also available. Grand Suites with 2 queen beds are also available, subject to availability. Special rates provided for 2+ weeks. Rates fluctuate with season and are subject to availability.
Remarks: Parking, wifi, daily Quick start breakfast are complimentary. We also have a complimentary outdoor firepit and barbeque and fitness center. We are pet friendly ($75 non-refundable fee).
Access: For your convenience, we provide complimentary shuttle to the San Francisco International Airport, less than three miles away. We are easily accessible by both Hwy 101 and Hwy 280.