Faculty Housing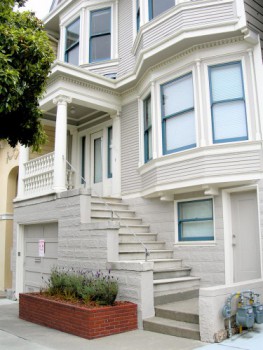 As a focus of UCSF Faculty recruitment and retention, houses, flats, and apartments are available to Faculty at the Parnassus or Mission Bay campuses (including Tidelands). The accommodations and amenities vary significantly. We recommend that you contact Housing Services directly to discuss options and availability.
Assignments Timeline
Priority for Housing is based on the move-in date of the applicant (housing need date). For example, those who apply for August will have priority over those who apply for September. When the date of housing need is the same, priority will go to those with the earliest application date.
Eligibility
Faculty are eligible for the following unit types:
* 5th Avenue (Parnassus) 2- & 3-Bedrooms
* Mission Bay 1-, 2-, & 3-Bedrooms
* Tidelands Efficiencies, Studios, and 1-Bedrooms
View our Campus Housing Eligibility page here.
Parking Information
Faculty Houses at Parnassus: some, but not all, apartments have a garage space assigned to them. If so, the cost is included in the rent. Tenants in the units that do not have an assigned space may apply for garage parking that is assigned by seniority (length of time living in UCSF Housing). Street parking may be available but permits must be arranged through the City of San Francisco SFMTA. Apply for a garage space at the Parnassus Housing Office: 415-476-2231 or .(JavaScript must be enabled to view this email address).
Mission Bay: Parking is available at the adjacent parking garage or surface lots. Permits are available for purchase at Parking and Transportation Services office located on the first floor of the 1625 Owens Street Garage. The monthly cost is dependent upon your university affiliation and when you use the parking lots.
Tidelands: No parking is available for Tidelands tenants. Nearby public transportation makes it easy to get around and the Mission Bay shuttle system is less than one block away.
UC Home Loan Program
Housing Services provides resources for rental properties. If you are a faculty member and need home loan information, please contact Academic Affairs.
.(JavaScript must be enabled to view this email address)