International Students & Scholars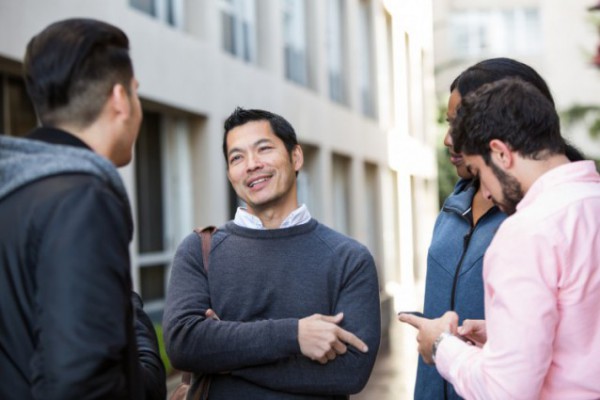 For chinese 中文 translation of this page, click here.
Welcome to San Francisco, California, USA!
We hope to provide some guidance on issues such as how to obtain housing, how to arrange for telephone service, gas and electricity, and where to shop for furniture, groceries, and other essential items. Some people visit San Francisco ahead of time to search for housing, sometimes several months in advance. We realize that this may be difficult for most of you, so we are providing you with information to ease your transition.
UCSF Housing offers a variety of living spaces at or near our Parnassus, Mount Zion, and Mission Bay campuses for Students, Postdocs, Residents, Clinical Fellows, and Faculty. We have options for singles, couples or families with children.
How to Detect a Rental Scam
•Rental amount is unusually low in comparison to the average rates for the area
•Landlord is unable to show you the rental
•Landlord claims to be out of town, state, or country
•There is a sense of urgency
•There are requests made of advanced payments through wiring, cashier's check, money order, escrow service, Western Union, or MoneyGram
•Landlord does not ask for rental application or reference check
•A third party is involved
•Ad and/or correspondence has misspellings
•Excessive use of capitalization
How to Avoid a Rental Scam
•Never wire money, nor pay money in advance of seeing the rental
•Always meet the landlord or property manager in person before signing rental documents or sending money
•Never give out bank account information
•Contact the county assessor's office to look up property ownership: http://www.sfassessor.org/
•Do a web search of the landlord's name
How to Report a Rental Scam
•Call the Federal Trade Commission Consumer Response Center toll- free hotline: 1-877-FTC-HELP (1-877-382-4357)
•FTC online complaint form: https://www.ftccomplaintassistant.gov
•Internet Crime Complaint Center: http://www.ic3.gov
Support from UCSF ISSO & Your Department

UCSF Housing Services works closely with UCSF International Students & Scholars Office (ISSO) to provide you with maximum support for an easy move to the United States. ISSO has several helpful web pages to assist you.

A Letter of Reference from Your UCSF Department
When looking for an off-campus rental property, you will increase your chances of securing housing if you have a strong reference. Your department or supervisor can provide this reference letter for you. You may download a Sample Letter here and give it to your department or supervisor to use as a guide for their letter.
Utilities, Furniture, and Moving
Once you have found an apartment, you will need to set up utilities like electric, gas, water, garbage, recycling, internet, and phones. You may also need to rent or buy furniture, then get help with your move.
Tips to Assist with Setting up Utilities and Cable without a Social Security Card/Number
Some tenants have obtained services by going to the cable office in person and presenting the Housing Agreement (lease) and passports. This may also require a security deposit to be held in the event a customer gets behind on payment.
If you have permission to work in the USA, you can apply for a social security number (SSN). This link has information for SSN for noncitizens. Visit SSN Website.
If you do not have a work permit, you may use the TIN that the UCSF Registrar has for you in their records. This is the number that you may have used on your financial aid application.
If neither of these work, we recommend that you contact the International Students office for guidance. Visit ISSO Page.
Renters Insurance
Protect yourself and your personal property with insurance for UCSF affiliates. Click here to view rental insurance information.
For other language assistance, please contact UCSF International Students & Scholars Office.