New Applicants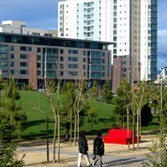 Welcome to UCSF Housing Services
We provide quality on-campus housing and related services to UC San Francisco students, post-docs, residents, clinical fellows, and faculty. If you prefer off-campus living, browse ads from private landlords or potential roommates. Short-term visitors may view a wide selection of hoteliers near campus locations.
Our latest Housing Options brochure explains the basics of our on-campus housing program and provides an overview of each property's amenities. Check our Eligibility Requirements to see if you qualify for on-campus housing. To learn about the on-campus options we have to offer, please look at Our Communities.

How do I apply?
Please click on the following link: Apply Now
Please Note: We are processing hundreds of offers between April and August. Please be patient – we will email you if we have a space to offer you. Email us with questions (do not call) at .(JavaScript must be enabled to view this email address).
Do I have to pay a deposit?
When you sign your Housing Agreement, you will need to make an initial rent payment of one full month's rent. This amount is applied to your pro-rated first month's rent. Any remaining balance will be credited to your account for the following month's rent. We do not hold a security deposit throughout your stay with us.

Return to top

Do you run a credit check on prospective tenants?
No. Your affiliation with UCSF negates the need to run a credit check.
When does my contract begin?
All contracts, or "Housing Agreements," begin on a weekday (Agreements cannot begin on University holidays or weekends). You can pick up your keys on the Occupancy Date listed on your Housing Agreement. Our weekday business hours are:
Aldea Center Housing Office: 8:00 am-5:00 pm
Mission Bay Office: 8:00 am-5:00 pm
Please arrive at least 45 minutes prior to closing for a brief orientation. Be sure to watch the Tenant Orientation Videos prior to your arrival.
Is my first month of rent prorated?
If your Housing Agreement does not begin on the first day of the month, your first month's rent is prorated. You pay rent only for the nights covered by your Housing Agreement. Your initial rent payment is applied to beginning of your agreement. Any remaining balance will be credited to your account for the following month's rent.
How long does my Housing Agreement last?
All non-faculty Housing Agreements begin on the first date of occupancy and end on the following July 1st. If you wish to continue past July 1st, you will sign a Housing Agreement for a full year to the following July 1st .
Faculty Housing Agreements are for six months and then go month-to-month thereafter.
All tenants are limited to 2 years in campus housing.

Return to top

Where can I find apartment rental rates?
Please see the Rate Sheet.
I applied for housing, now what should I expect?
Once you have submitted your application and eligibility documents, you have done what you need to do. Please pay attention to your email for updates, offers, and information about your application status. If you do not hear from us, we do not have a space to offer to you.
Moving Trucks and Containers
In general, large moving containers create a problem at move in. They do not fit into our parking space and require more space than we have available. At Aldea San Miguel you may use a one smaller container up to 257 cubic feet that must be parked in your tenant parking space. At the Avenues and Mission Bay, city streets cannot accommodate shipping containers. Moving trucks require a permit from the City of San Francisco. Mission Bay tenants who are moving out may obtain special 2-hour Parking Passes for temporary street parking for moving vehicles. Obtain one of these passes at the MB Housing office. The Mission Bay neighborhood is unable to accommodate moving pods or other large shipping containers.

Return to top