Maps & Directions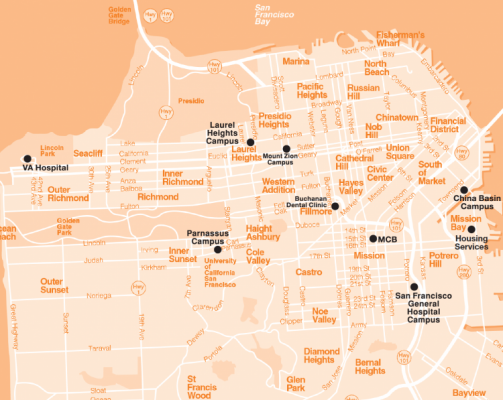 Campus and City Maps
UCSF Campus Maps
San Francisco Bicycle Map
Aldea Housing
The Parnassus Housing Office at Aldea San Miguel is located on Mt. Sutro, in the Twin Peaks neighborhood, just off Clarendon Drive.
The Bronze Shuttle provides service to Aldea San Miguel and the Aldea Center on Mount Sutro.
Bronze Route: Aldea — ACC — Library — 6th — Dental — LPPI
Please note that we have a satellite office located at the Aldea San Miguel complex. The Aldea Center Satellite Housing Services office is located at 155 Johnstone Drive San Francisco, CA 94131.
Click here for a google map
Aldea San Miguel Map
Mount Sutro Trail Map


Avenue Housing
Avenue Housing is located adjacent to the Parnassus campus along 3rd Avenue, 5th Avenue, Kirkham Street, and Irving Street. The campus is in the Inner Sunset / Cole Valley neighborhoods, just south of Golden Gate Park.

Mission Bay
The housing complex is located in the Mission Bay neighborhood of San Francisco, just off Third Street.
Click here for our Mission Bay office map
Click here for a google map


To find more campus maps, events & holiday calendars, and much more, visit UCSF Life.