Construction Impacts at Mission Bay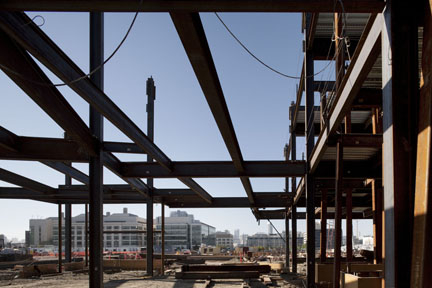 We are providing known and potential impacts that construction may have on parking, commuting, shuttle stops, pedestrian routes, and general living conditions (dust and noise) at Mission Bay. We will make every effort to communicate regularly (via our weekly Tenant Update emails) to keep you informed of neighborhood construction activity.
For the latest information on construction impacts at UCSF, we encourage you to visit this website. Here you can also learn about the projects, such as their purpose, costs, design, etc.
View a map of the impacted area around Mission Bay here.
UCSF CONSTRUCTION PROJECTS
Joan and Sanford I. Weill Neurosciences Building
Location: Gene Friend Way and 4th Streets, directly across from UCSF Housing (greatest impact on odd numbered units in 550 Gene Friend Way, and units ending in –01 and –02 in 1560 3rd Street.)
Projected End Date: 2020
Potential impacts: Noise, potential light pollution
Website
UCSF Wayne and Gladys Valley Center for Vision
Location: 3rd Street, directly facing UCSF Benioff Medical Center.
Potential impacts: No direct construction noise is expected to impact UCSF Housing tenants.
Projected End Date: Late 2019
Website
NON-UCSF CONSTRUCTION PROJECTS
Uber Headquarters
Location: 3rd Street, directly facing UCSF Housing (greatest impact on odd numbered units in 1560 3rd Street, and units ending in –01 through –06 in 525 Nelson Rising Lane)
Projected End Date: TBD
Contact: Terezia Nemeth, Senior Vice President, Development & Community Relations
Alexandria Real Estate Equities Inc.
1700 Owens Street, Suite 590
San Francisco, CA 94158
415-554-8847.
E-mail: .(JavaScript must be enabled to view this email address)
Website
ADDITIONAL INFORMATION
Construction work in San Francisco, in general, is allowed during the hours of 7:00 AM and 8:00 PM. For more info, go to this site.
UCSF's construction hours include Saturdays (noisy work allowed between 9:00AM and 4:00PM), and earlier/ later than 8:00AM to 5:00PM on weekdays if considered "not noisy" work: 80 decibels or lower 100 feet from the property line. Night time activity may occur without permitting when the noise does not exceed 5 decibels (dBA) above the average ambient noise in the neighborhood for nighttime hours (8:00 PM to 7:00 AM).
The UCSF Housing Agreement has a provision regarding construction:
CONSTRUCTION ACTIVITIES
UCSF is not liable for any inconveniences to Tenant's property due to construction activities. Construction activities will not be regarded as a reason to terminate this Agreement or a reason to receive a rent reduction.
If you have questions or concerns regarding the impact of Mission Bay construction on your living situation, please contact UCSF Housing Services: (415) 514-4550, or .(JavaScript must be enabled to view this email address).
You may also wish to bookmark this website for the latest information.
SAFETY
Please use caution when traveling around or near areas of construction. Please be particularly attentive to children and do not allow them to play on or near areas of development, including non-landscaped areas.