Current Tenants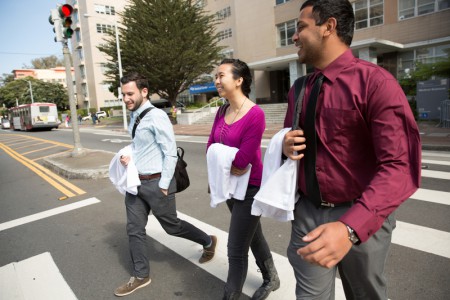 We strive to make your experience at UCSF Housing as pleasant and easy as possible. Here, you will find general information on policies, eligibility, contracts, summer housing, and more.
Need to submit a work order?
Visit Our Maintenance Request Page Here
For Housing Facilities Emergencies, please call Facilities Services at (415) 476-2021 . Let them know this is an urgent issue that needs immediate attention.
Quick Links
Eligibility Requirements to find out if you're eligible for housing at UCSF.
Agreements & Contracts to see what our agreements (leases) include.
Move In Checklist to see what you need to do if you're moving in.
Visitor Housing if you are having visitors come into the city.
Renter's Insurance if you need renter's insurance.
Check the "Forms" tab in your Tenant Portal if you want to find a specific Housing form.
Move Out Checklist if you are moving out.
Tenant Release Authorization Form Sample
Additional Occupant Addendum Sample
Parnassus Parking Form Sample
Aldea Motorcycle Form Sample
Mission Bay Bicycle Storage Application Sample
Need to log into your tenant portal?
Access the portal here.
Need to contact us?
Mission Bay & Aldea Housing Office Hours and Contact information:
Phone: 415.514.4550
Email: .(JavaScript must be enabled to view this email address)
Hours: Monday through Friday 8am - 5pm
Need to know what construction activity is going on around Mission Bay?
Click Here for information about construction impacts on UCSF Mission Bay Housing Tenants.
Please read everything Security and Safety related here.
General Information
Lock Out Policies
If a tenant is locked out, the tenant or additional occupants on the lease may check out a temporary key at no cost from Housing Services during regular business hours. If the tenant fails to return the temporary key within 2 business days, the key will be considered lost, and the tenant will be charged accordingly. During non-business hours, Parnassus tenants may contact UCSF Police at (415) 476-1414 and Mission Bay tenants may contact the Mission Bay security desk at (415) 317-7899. UCSF Police charge a fee for this service that is billed through Housing Services, and a $25 fee will be added to the tenant's account for each lockout incident. The lock-out fee will be waived a maximum of two times during the entire period of the tenancy.
Information on Bed Bugs
California Assembly Bill 551 requires landlords to provide this information to prospective renters and current tenants. The availability of this information to you does not imply that any specific property has had a bed bug infestation; this information is provided as general information in compliance with state law.
Accessible Housing and Disability Accommodations
Applicants with disabilities should indicate this on their Housing Application. Housing Services attempts to make accommodations for qualified applicants.
Please see our Accessible Housing Policy.
Teen & Youth San Francisco Programs
Being a teen in San Francisco can be an exciting experience full of opportunity. Here are some resources to help you navigate San Francisco's many offerings.
Bike Policy for Current Tenants
Housing Services has implemented a bicycle policy that was designed for the overall safety and protection of your bicycle here on the UCSF Housing property.
Parnassus Parking Regulations for Current Tenants
Housing Services enforces parking regulations at all Parnassus Campus Housing facilities.
Need a Reference for your Off-Campus Landlord?
If you have been a tenant in UCSF Housing, we can provide your prospective landlord with a reference. Many tenants find this useful, as future landlords will want this to support your application. As part of a U.S. educational institution, UCSF Housing Services is bound by some federal privacy laws (FERPA). This law requires that you give permission before we can release information about you. Sign into your Tenant Portal and fill out the Tenant Information Release for Rental Reference form.
Maps
Click here to see maps of our communities.
Living Green
Everyone who comes to UCSF can do their part to help us reach our goal of being a more sustainable campus. Watch our video and find out how we can all live greener.
By learning to sort your trash, you can cut down on landfill and keep our planet healthy.
Learn how to be a green citizen by properly sorting your waste.