UCSF Employees Can Now Receive Home Buying Support
---
Published on October 21, 2020
---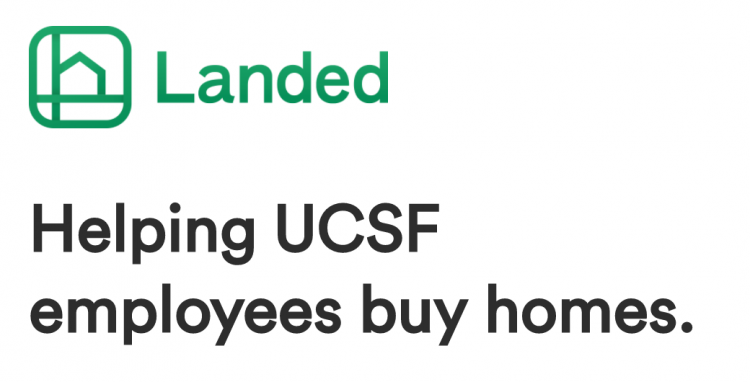 Housing Services is pleased to connect UCSF employees with Landed, a personal finance company that provides employees of health care and educational institutions, including UCSF, down-payment support and other home-buying resources.
To learn more about Landed, please review program highlights (below) and visit Landed's UCSF portal: https://www.landed.com/ucsf.
A Landed video is also available at: https://www.landed.com/how-it-works
Landed program highlights include:
Through Landed, UCSF employees can receive up to $120,000 in down-payment support to purchase a home.
UCSF employees add Landed's support to their personal down-payment contribution, for a combined 20% down payment.
In exchange for the down-payment support, Landed shares in the equity gain (or depreciation loss) at the time the home is sold or refinanced, or when the mortgage term ends.
When prospective homeowners have a 20% down payment, they typically qualify for lower mortgage interest rates and avoid costly Private Mortgage Insurance (PMI) which Lenders often apply to home loans with less than a 20% down.
Landed's program accelerates the timeline to home ownership, enabling UCSF employees to benefit from tax deductions that are not available to renters.
Landed's down-payment support is not a loan, so it does not add to an employee's debt and there are no monthly payments.
Landed's program supports the purchase of a primary residence, though the program is not limited to first-time home buyers.
What counties does Landed cover in the Bay Area?
For a list of geographic regions covered by Landed, visit: https://help.landed.com/eligibility/where
As of Fall 2020, Landed covers most of the Bay Area, including the counties of San Francisco, Marin, Alameda, San Mateo, Contra Costa, Santa Clara, and Santa Cruz.
Who is eligible?
Employees working at least 20 hours a week for UCSF are eligible to participate in Landed's program.
Employees who have worked in education or health care for at least two years (either at UCSF or elsewhere) are eligible for Landed's program.
Employees who use Landed's down payment program must agree to stay with UCSF for at least two years.
Contact Landed at .(JavaScript must be enabled to view this email address)
Landed's down-payment support program will provide an option for employees who cannot benefit from UCOP's Mortgage Origination Program (MOP), which is limited to academic senate appointment faculty and senior management group staff. The two programs will co-exist for the different employee groups.