UC San Francisco's Tidelands Housing Earns LEED-Gold Certification
---
By Robert Hood on February 12, 2021
---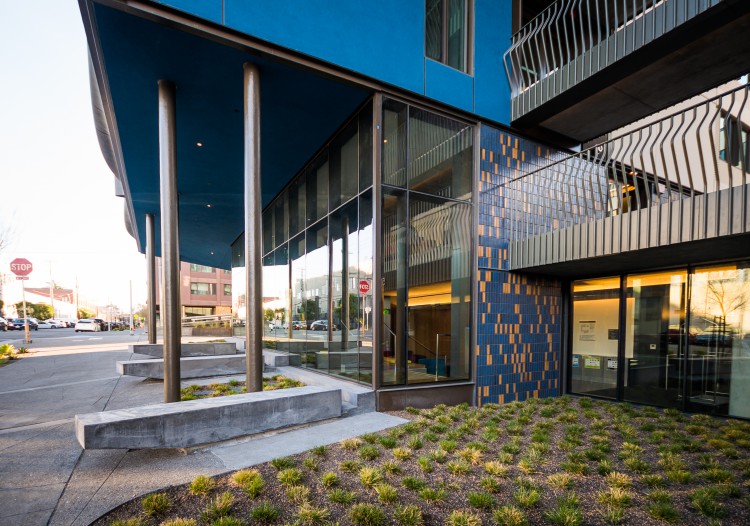 The Tidelands at UC San Francisco's Mission Bay Campus is the university's first residential development to earn LEED-Gold Certification from the US Green Building Council (USGBC). It's the 14th project on campus to earn LEED-Gold Certification from the USGBC.
The Tidelands features a pair of six-story buildings located at 590 and 600 Minnesota Street in San Francisco's Dogpatch neighborhood offering housing for up to 800 tenants. It features efficiencies, studios, one-bedroom, and two-bedroom apartments. The buildings do not use natural gas, which emits carbon. Instead, all of its systems and appliances are powered by 97 percent carbon-free electricity from Clean Power SF.
Because of its efficiencies, the Tidelands operates on 42 percent less energy than your typical residential building.
UCSF Sustainability Director, Gail Lee, said LEED-Silver is the minimum UC standard for campus housing, but the project team was determined to exceed that standard. To achieve that goal, Lee said they focused on design aspects that would result in energy savings, waste reduction, water conservation, and less chemical exposure from furnishings, flooring, wall and window coverings.
The exterior façade is made of glass fiber-reinforced concrete panels with a design that includes a small lip over sunny-side exterior windows to provide shade and to lower interior temperatures during peak daylight hours. At the center of each building is a courtyard, and carefully designed windows ensure that even interior-facing units have access to natural daylight.
The building's finishes and furnishings were also chosen with wellness and sustainability in mind. The interior materials have minimal environmental impacts, and in many cases the Tidelands' durable concrete structures serve as the final finish (without paint) for ceilings, floors, and sections of walls. Additionally, the building's interiors incorporate materials that are free of chemicals harmful to humans, animals, and/or the environment. Along this line, all paint, ceiling, and flooring products are verified as having low or no volatile organic compound (VOC) emissions.
"UCSF Housing tenants are proponents of sustainability and expect high standards from the university," said Director of Housing Administration, Todd McGregor. "When UCSF asked planners to design a LEED-Gold building, we had the interests of our community at heart."
McGregor said Housing Services understood that a LEED-Gold building would also have energy cost savings that would be passed on to students and trainees when they pay their electric bills. "Each month, this saves them money as consumers," he said. "At a small cost, tenants can upgrade their PG&E service from the 97 percent carbon-free power (provided to the building) to 100 percent Green E-certified carbon-free power by using SuperGreen service.
Mark Davis is the principal architect from KieranTimberlake, the design firm that partnered with the university on the Tidelands project. The firm's design team worked with UCSF Housing to understand who was going to live in the Tidelands, especially what their behaviors and utility-use scenarios would be like. "We used that information to cater the design to those anticipated preferences and behaviors."
Davis said earning LEED-Gold certification is always a collaborative effort. "Much of the attention falls on the design team, but coordination among client, contractors, and the architect/engineering team is critical," he said. "UCSF's strong commitment to responsibly use resources and a commitment to healthy materials and healthy buildings was essential to LEED-Gold certification."
The University of California, a national leader in sustainability, has pledged to become carbon neutral by 2025. Constructing all-electric residential buildings is an important part of UCSF's strategy to become carbon neutral. "By transitioning to all-electric buildings and away from use of natural gas, we can move closer to achieving our carbon neutrality goal," Lee said.