Miss Fix It: East Campus Housing Residents Rely on Carla Ayala and Her Team
---
By Robert Hood on March 25, 2020
---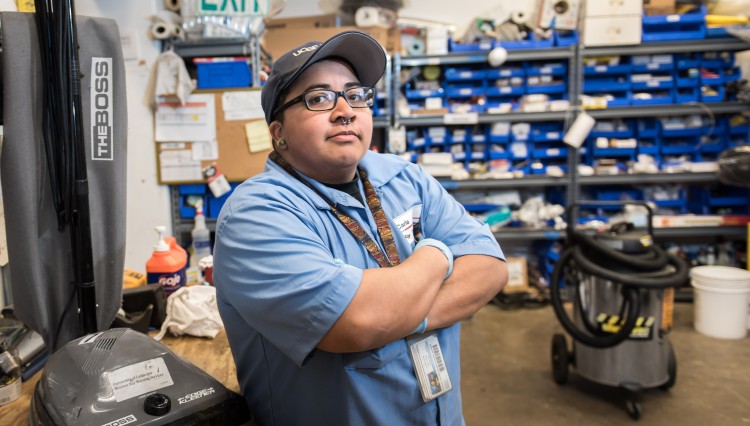 When tenants in Mission Bay Housing or the Tidelands need their stove fixed, a light bulb changed, or other repair work done in their units, they know they can rely on Carla Ayala and her building maintenance team to respond quickly and professionally.
And for Ayala, the lead senior building maintenance worker for housing on the East Campus, and her lean team of three, getting the job done is no easy task. Mission Bay has 431 units in four high rises while the newly opened Tidelands in the nearby Dogpatch Neighborhood has 595 units in two buildings.
"Both buildings keep us busy," said Ayala, who joined Facilities Services as a building maintenance worker 14 years ago. "I love helping the residents. They always have positive words for us and are grateful to see us because they know we can fix their problem. We've even had tenants make us food to show their gratitude."
Manuel Ramirez, Juan Ballesteros and Orlando Sanchez, all senior building maintenance workers, form Ayala's housing maintenance team on the East Campus. "They provide excellent customer service for our tenants," she said. "They're also a lot of fun to work with. We have great communication and we share the same goal of meeting the needs of our tenants."
And, when you have as many housing units as UCSF has, those needs vary. "The Mission Bay units are a little older, so we spend more time replacing fixtures and repairing the apartments. Pets are also allowed at Mission Bay which can add to the wear-and-tear. The Tidelands is brand new and everything is still under warranty so when something breaks our team escorts the vendors who make the repairs. My job is to balance the workload for our team to help our tenants as quickly as possible."
When Girod St. Martin became the facilities manager for Housing six years ago, he wasn't sure who he would turn to for staff direction.
"Carla stepped up and made me feel welcome," he said. "Carla showed, and is still showing me, the ropes here in housing. Having Carla as my lead has been a wonderful experience. I'd have to say Carla's positive attitude and job knowledge helps me in my position more than she will ever know. I appreciate her and how she has made me a better manager."
St. Martin said Ayala still remembers when the buildings opened and the facilities issues in each building, which helps the team address those issues 15 years later. "Carla's pride values are exactly in line with the university," St. Martin said. "Carla is a person that you would want to work side-by-side with because you know she will be there with you until the end. I don't know where I would be without Carla in my life here in housing."
Ayala is a San Francisco native. She was born at St. Luke's Hospital in the Mission and went to elementary school at St. Charles on 18th Street. She's a die-hard fan of the city's sports teams. When she's not working, she's often practicing the Filipino martial art of Eskabo Daan.
Ayala also spends time at the Bakar Fitness & Recreation Center at UCSF Mission Bay in morning spin class. "I like to exercise when I get up, and I've been consistent over the past year. I've seen improvements. I'm turning up the resistance on the spin bikes," she said with a laugh.
When she's done exercising, Ayala looks forward to meeting the housing maintenance team and getting ready for the day. "I try to keep things loose and we have fun as a team," she said. "Honestly, I can't wait to go to work. I enjoy working with the guys and helping our customers."
Is it difficult being the only woman on a team full of men? "Sometimes it can be a challenge to be a woman working in facilities and I would love to see more women join the department. The organization is very supportive. I can't ask for a better group to work with."