Campus Life Services Takes Center Stage at Sustainability Awards Ceremony
---
By Robert Hood on June 24, 2020
---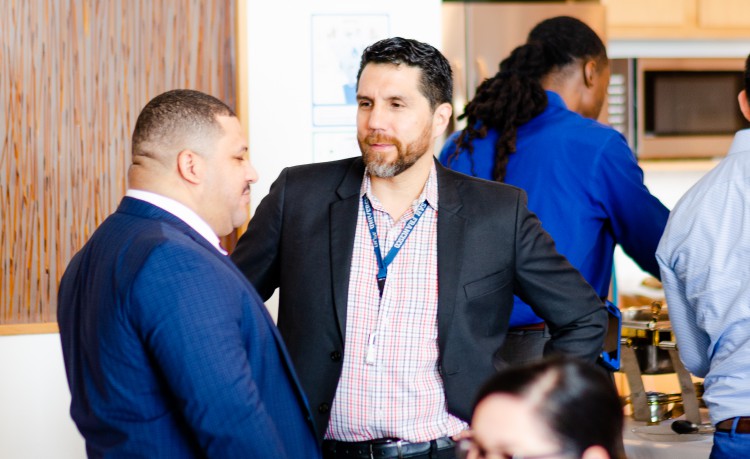 Danny De Leon, housing facilities project manager, and Ali Keshavarz, owner of Peasant Pies, both received top honors at this year's Sustainability Awards Ceremony.
De Leon (photographed above) and Keshavarz were two of the five Sustainability Awards winners. Each winner received registration to the upcoming virtual California Higher Education Sustainability Conference and a framed certificate created by a recycled materials artist. To view the full awards ceremony, visit the Office of Sustainability.
De Leon was nominated by Todd McGregor, associate director for Housing Services and was honored in the staff category. "Danny's personal goals for housing improvement projects have been two-fold: to achieve energy savings and improve services for tenants," McGregor said. "Danny has helped Housing Services save substantial resources and energy and made its buildings safer and more aesthetically appealing for tenants."
McGregor highlighted De Leon's work on Fifth Avenue housing, including lead paint mitigation and the replacement of garage lighting that achieved a 70 percent energy savings. McGregor also noted De Leon's decision to powerwash rather than replace siding at the apartment buildings at Aldea, thus diverting eight pallets of shingles from going to the landfill.
"Whether there is an improvement to window insulation, solutions for carpet renewal, or reminders for everyone to recycle - Danny advocates for best practices in a spirited way and deserves full recognition for his noteworthy, impactful achievements," McGregor said.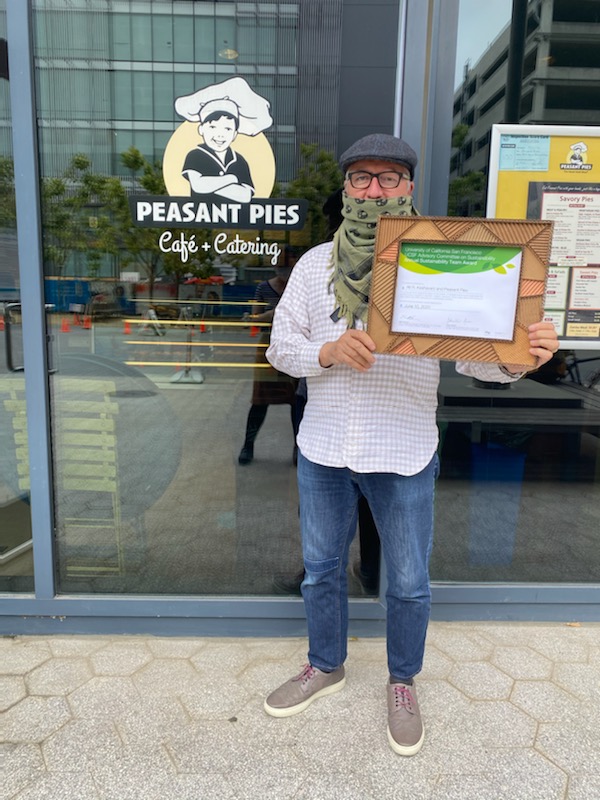 The Sustainability Award in the Team Category was awarded to Ali Keshavarz (photographed, left) and his team at Peasant Pies, a UCSF retailer at Mission Bay. Keshavarz was nominated by Jen Dowd, associate director of Retail Services.
"Ali and his team at Peasant Pies have demonstrated a strong commitment to integrating sustainability into every aspect of their business operations," Dowd said. "Ali and his team have succeeded in making sustainable food convenient."
Peasant Pies is the first and only UCSF retailer to be recognized by the City of San Francisco as a certified green business. "We changed everything from our light bulbs to our faucet heads and our cleaning supplies," Keshavarz said. "It took us about three months to complete the process."
Completing the process to earn the designation as a green business had less to do with business and more to do with Keshavarz's personal philsophy. "I practice the principles of sustainability at home so it made perfect sense to do the same at my business," he said. "The foundation of my business is built on sustainability."
Other Campus Life Services employees honored at Tuesday's virtual ceremony include:
* Ryan Coate, Conference & Event Services Manager. Coate received LivingGreen Event Planner, Gold Status.
* Elicia Rozic, Great People Development Manager. Rozic received LivingGreen Event Planner, Gold Status.
* Rebecca Klein & Marina Stamas, Aramark employees at the Mission Bay Conference Center. Klein and Stamas received LivingGreen Event Planner, Silver Status.
* Patrick Borg, Facilities Services. Borg received Living Green Event Planner, Silver Status.
* Yolanda Marquez, Administrative Assistant, Campus Life Services, received Living Green Event Planner, Bronze Status.