Maps & Directions
Bakar Fitness & Recreation Center at Mission Bay
William J. Rutter Center
1675 Owens Street
San Francisco, CA 94158
Phone: 415.514.4545
Fax: 415.514.4820
Millberry Fitness & Recreation Center at Parnassus
Millberry Union
500 Parnassus Avenue, Level B1
San Francisco, CA 94143
Phone: 415.476.1115
Fax: 415.502.5887
Traveling to the Fitness Centers
Parking
Discounted parking is offered to Fitness & Recreation members through UCSF Transportation Services. For details, visit: tiny.ucsf.edu/publicparking
UCSF Shuttles
Members can take UCSF shuttles for free with a valid membership card. The below map shows the location of UCSF shuttles providing direct service to Mission Bay.
For shuttle schedules, visit UCSF Transportation.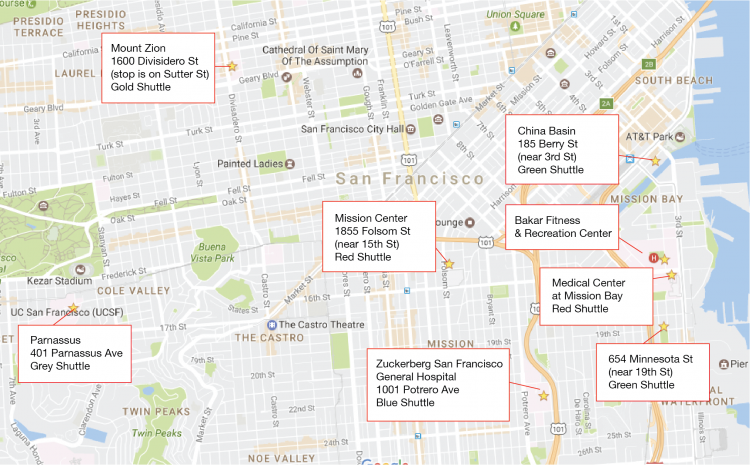 Mission Bay TMA Shuttles
The Mission Bay TMA offers free shuttles throughout the Mission Bay area. The West route stops in front of the Rutter Center on Owens Street.
SF MUNI Stops by Bakar Fitness Center
T line: UCSF Mission Bay stop (On Third Street at Gene Friend Way)
55 line: 16th Street at Owens Street
SF MUNI Stops by Millberry Fitness Center
N line: Irving St, between Arguello Blvd and 2nd Ave
6 and 43 lines: Parnassus Ave, between 3rd Ave and Hillway Ave
For help planning your route to Bakar Fitness & Recreation Center (1675 Owens Street), visit mycommute.ucsf.edu. Select the "Transit" option for shuttles and buses.


Bike Parking at Mission Bay