Underwater Photographer Keeps Fit at Millberry
---
Published on January 31, 2018
---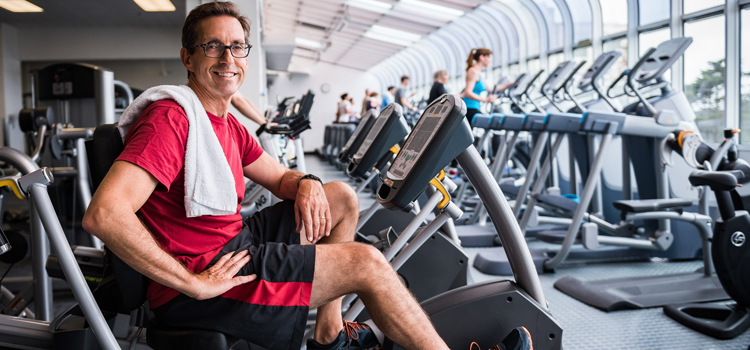 Steve Peletz has a unique hobby. He likes to swim with sharks, humpback whales, and other denizens of the deep.
"As an undergrad at UC Berkeley I worked as a dive instructor," Peletz said. "I've done thousands of dives and now I enjoy helping researchers tag sharks and photographing sharks, whales and manta rays underwater."
Swimming against strong currents underwater at depths of up to 120 feet can be a challenge but it's more difficult when you are carrying an 11-pound camera with strobes.
"You need to be fit and well trained," Steve said. "It's one reason I like working out regularly."
Three to five times a week, you can find Steve at Millberry. He lifts weights, takes a variety of Group X classes, and even swims with the fins and snorkel he uses on his dives.
"I live on 4th Avenue so it's an easy walk to the fitness center," he said. "My wife did her residency at UCSF, and I've been working out here for 15 years."
Peletz usually arrives at the gym around 6:15am. "I build it into my schedule and usually see the same people working out every morning. The gym is very informal and people are very friendly. It's really a big part of my life."