UCSF Summer Camp
---
Published on June 05, 2020
---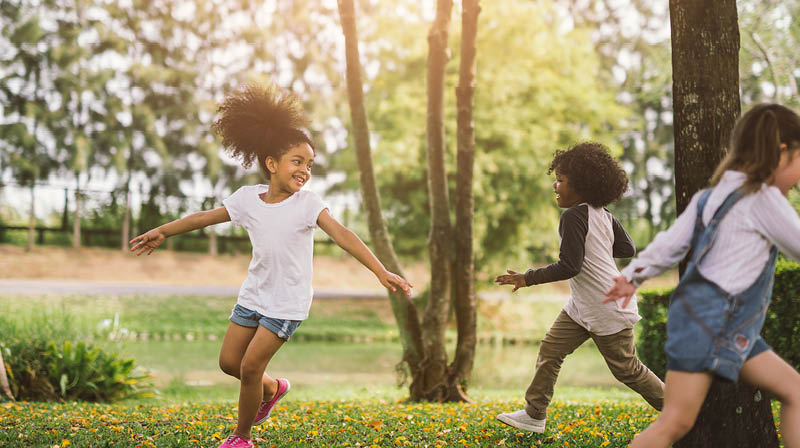 *Please note this website is being updated as more information becomes available.
Campus Life Services is offering a small "emergency" summer camp program for the children (ages 6-12 years) of UCSF faculty, staff, trainees and students in the summer of 2020. Locations include both the Mission Bay and Parnassus campuses. The UCSF camp intends to augment the summer camp supply available in the City during the Covid-19 crisis and will not be operated as an annual camp.
Enrollment Plan
Please note the lottery has closed and families that were selected will be invited to register during the week of 6/15.
UCSF affiliates are welcome to express interest in the summer camp program by entering a lottery. Summer Camp Lottery Applications received by Noon on June 13, 2020, will receive priority consideration. We will continue to accept applications until all spaces are filled. Only one lottery application is needed for multiple children, ages 6-12, within a household. Families with multiple children will be accommodated together within the same camp.
Registration
Those selected through the lottery to join a camp will be sent an email invitation to register for a specific program. The invitation will detail the specific: 1) Session A or B; 2) camp program, either the Mission Bay Sports and Recreation Camp or the Parnassus Science and Nature Camp; and 3) your session rate. All other applicants will be waitlisted and contacted via email should a space come available.

Families will be given 48 hours to register and pay the camp fee.

Session A Registration will begin no later than June 18th.
Session B Registration offers will begin shortly thereafter
Camp Design
The camp will be recreational, with activities taking place indoors and outdoors. Days will be spent doing craft/art activities, playing games/sports, exploring the outdoors, exercising, along with other activities.
Mission Bay Sports and Recreation Camp
Location: Bakar Fitness & Recreation Center
Ages 6-8 (12 campers max)
Ages 9-12 (12 campers max)
This multi-sport camp is focused on introducing campers to a variety of sports while keeping them active in a fun and safe environment. Youth will learn the importance of teamwork and develop fundamental skills in this high energy camp that capitalizes on the exceptional sports facilities for daily programming. The gymnasium, outdoor turf areas, and surrounding campus/neighborhood outdoor spaces are used for sports like basketball, badminton, non-competitive games, and more. Indoor areas are used for arts and crafts, quiet time, and other programming opportunities.
Parnassus Science and Nature Camp
Location: Aldea Conference Center atop Mount Sutro
Ages 6-12 (12 campers max)
Our Science & Nature Camp is focused on getting youth learning and playing outdoors. The camp takes advantage of the adjacent natural areas found on Mt. Sutro along with the beautiful Aldea Mt. Chalet facility. Camp programming will focus on science and nature combined with traditional camp activities such as hiking, camp crafts, reading, and educational activities. Campers will have fun exploring, creating, and learning in a safe and supportive environment.
Camp and Covid-19
The camp will strictly follow established COVID-19 control protocols consistent with UCSF policies and the San Francisco Public Health Orders for Summer Camps. Additional safety protocols are provided below.
Camp Dates
There will be two (2) summer camp sessions each lasting three (3) weeks.
Session A: July 6-24
Session B: July 27-August 14
Camp Hours
· Monday-Friday
· Staggered Drop off is from 8:30-9:00 am
· Camp Begins at 9:00 am
· Camp Ends at 4:00 pm
· Staggered Pick Up is from 4:00-4:30 pm
Important Dates
June 13 - Lottery Applications due by Noon for priority consideration
June 18 - Registration begins for Session A. Due with 48 hours.
TBD - Registration for Session B
Camp Fees
The weekly camp fee per child is $350 (meals and snacks not included). The three-week session amounts to $1,050.

Recognizing this could be a financial hardship for some, a scholarship program will be available to UCSF families with an annual household income below $120,000. Express your qualifications and interest in the lottery application.

The weekly Scholarship camp fee per child is $175 per week (meals and snacks not included). The three-week session amounts to $525.
Staffing
Camp Counselors
Each group will be led by one Manager and two counselors for up to 12 campers
Camp Manager
Serves as the camp site leader. They have oversight of the overall program, staff, policies and protocols, monitors safety and risk, emergency management, and program quality.
Counselor Training & Certification Requirements / Recruitment
· Background Check – Live Scan
· CPR and First Aid certified
· CANRA certified (California Child Abuse and Reporting Act)
· Counselors will undergo testing for COVID-19
What to Expect
UCSF Summer Camp Handbook
Contact
Nick Osano - 415-504-2878, .(JavaScript must be enabled to view this email address)