Swimming Workouts Help UCSF Grad Student Regain Her Stroke Following Back Surgery
---
Published on January 08, 2018
---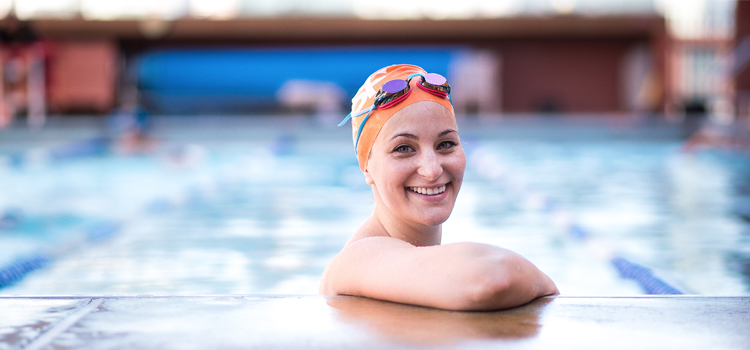 When Lindsey Jones was hit by a car while riding her bike in 2015 during her first year of graduate school at UC San Francisco, her life changed dramatically.
"I learned that an underlying injury from when I was younger was exacerbated by the bicycle accident and that I would need a spinal fusion," she said. "It was very scary, that at the age of 25, I needed major back surgery."
For months, she agonized over the decision and did everything she could to avoid surgery. But the bilateral pars defect caused her spine to slip, and the injury caused pinched nerves and muscle spasms. "I was simply having a hard time walking," she said. "I was in a lot of pain and taking medicine. It was not a good situation."
In March of 2016, Lindsey elected to have the surgery. She took six weeks off work and school and during that time began swimming. Lindsey said she chose swimming because it was low impact and would help build strength in her back.
She started swimming on her own, but eventually joined the pre-masters fitness swim program. Simply talking about it brings a smile to her face. "I wanted to actually learn how to swim for exercise," she said. "I had taken swimming lessons as a kid, but it wasn't something I did in earnest. I wanted to make sure I was doing the strokes properly and I wasn't hurting myself."
She learned through the pre-masters program that there was a way to structure swim workouts.
"I realized that having someone facilitate my workout and teach me how to swim better and help me focus on different things like endurance and speed, it was really motivating to see progress every week."
She's made friends in the class and now feels guilty if she doesn't make it to the pool for a workout. "There are a few women who have been swimming with me for the past eight months. It's been fun to get to know them a little bit more, and we encourage each other, and it's nice to have that support network."
For anyone considering taking up swimming as a regular form of exercise, Lindsey says "go for it!"