Susan Recovered Her Strength at UCSF Fitness & Recreation Centers
---
Published on November 18, 2016
---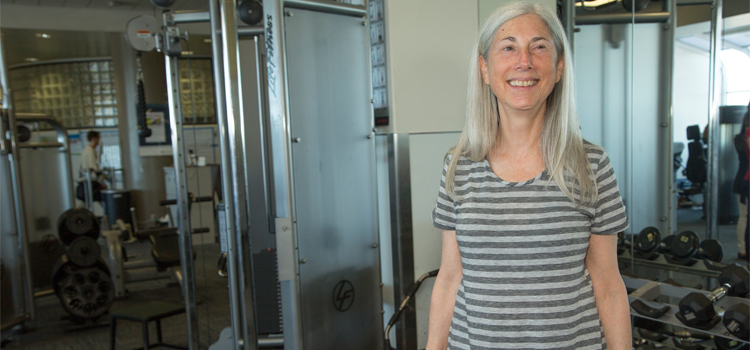 When Susan Averbach was crossing the road on her way to catch BART to work approximately 15 years ago, she didn't anticipate those steps would lead to a life-changing event.
"A car ran through the stop sign and ran me down," she said. The car hit Averbach at both of her knees and smashed her legs. She had to have surgery and still has 12 screws and plates in her legs. She was in a wheel chair for three months, and it took her five years to fully recover.
A big step in her rehabilitation was regular exercise at the UCSF Fitness & Recreation Centers at Mission Bay and Parnassus.
"I went to a private therapist who taught me a variety of exercises which I still do, and then, I went to a personal trainer at Mission Bay who gave me a regular exercise regimen," she said. "I'm in the gym four days a week."
To help strengthen her body, Averbach lifts weights and attends a variety of classes. They include a Zumba dance class, tai chi, and Feldenkrais.
"Because I have arthritis in my knees I really have to strengthen my quads, calves, and hips."
Her regular exercise routine has helped Averbach lead a normal life.
"I never thought when I was in a wheel chair that I would be walking 10,000 steps a day, taking tai chi, and doing Zumba twice a week," she said.
"The fitness centers have been instrumental in helping me achieve my goals."