Step it Up with Pedro
---
Published on October 01, 2016
---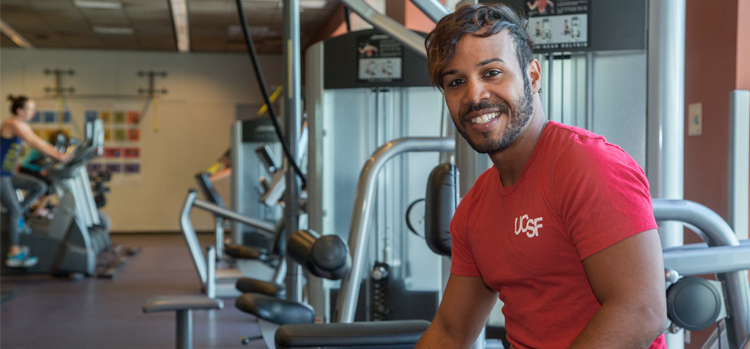 UC San Francisco Personal Trainer Pedro Ortiz has a message to all you Weekend Warriors who hit the gym regularly but don't think you need the guidance of a trainer.
"It's not until someone analyzes your workout and form and corrects you that you can then take the next step forward," Ortiz said. "When you have someone guide you through a regular workout routine and serve as both your cheerleader and psychologist then you can take it to the next level."
Ortiz has been a Personal Trainer and Group Exercise Instructor at the Baker Fitness & Recreation Center at Mission Bay since 2011. Prior to that, he worked for the New York Sports Club and was a dance coach and choreographer for more than 10 years.
Working with dancers fueled his passion for personal training
"My motivation for training came from being a dancer," he said. "I've been a dancer for as long as I can remember. Right after high school I toured as a dancer for a number of pop groups. I later became an All-Star Cheerleading and Hip Hop Dance instructor for the University of New Hampshire and the University of Maine."
Identifying the potential in dancers and helping them take it to the next level fueled his passion for personal training. "I enjoy working with clients from all walks of life and all fitness levels. I feel the most rewarded when I see change in my clients from the inside out. We work hard together and form a team to achieve life-long changes in every facet of their lives."
Focusing on the core is the key
The foundation for a successful dancer or cheerleader is a strong lower body and having the stamina to complete their routine. "To develop the lower body I focus on squats and bilateral and unilateral exercises that engage the glutes, hamstrings, and quads."
It's not much different for Weekend Warriors, Ortiz said. "The goal is to breakdown your movements and make sure your major muscle groups are performing equally."
Ortiz specializes in strength, endurance and functional training and can help clients with weight loss and sports conditioning.