Roger Underhill is UCSF's Volleyball Ambassador
---
Published on October 09, 2015
---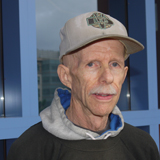 Roger Underhill may be one of the most recognizable faces in the Bay Area volleyball scene. It's not surprising, given that he's been instrumental in the sport for 35 years.
For the past 23 years, Roger has been officiating, supervising open play, and generally making sure everything runs smoothly on the volleyball courts at the UCSF Fitness & Recreation Centers. "I love volleyball. It's a fun way to exercise with a group of people. It's been a big part of my life," he said.
From beginner to expert, everyone is welcomed at UCSF

UCSF provides volleyball enthusiasts with both organized league opportunities and drop-in competition. There is a 6-on-6 co-ed league at Mission Bay that plays matches on Tuesdays and a similar league at Parnassus that plays on Wednesdays. Drop-in volleyball games are played on Fridays from 6:30 to 10:00 pm at Parnassus and from 7:00 to 10:00 pm on Mondays at Mission Bay.
"We welcome everyone," Roger said. "It doesn't matter what your skill level, you'll have a good time and meet new friends."
Sarina Tsoi, Recreation Sports Manager at UCSF, organizes the leagues and works closely with Roger. She said she sees how much he genuinely cares about the participants and the program. "He is always checking with me and letting me know right away when he feels something needs attention. Roger loves to go the extra mile to make sure all participants are having a great experience with volleyball."
Sarina said it's very evident Roger knows all things volleyball. "He does a great job working with both our drop-in and league participants and I always get great feedback from them. Roger is more than just a volleyball official, he has found a place in the volleyball community and he's become very popular and well-known to UCSF Rec Sports."
Roger began organizing SF volleyball leagues in the late 1970s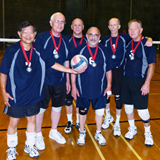 Roger began organizing volleyball leagues in San Francisco for the YMCA in 1979. "I was allowed to expand the league to accommodate different skill levels," he said. "As it became more popular, I expanded it to other gyms in the city and into four divisions. It eventually became the SF Volleyball Association, thru which I also ran periodic volleyball classes and clinics for coaches."
Roger also organized volleyball clinics and helped coach at camps. He also coached high school and pro-am teams. "I administered most of the school volleyball officiating in San Francisco from 1980 to the mid-90s." He also had an opportunity to play volleyball in the Senior Olympics held in San Diego and the California championships at Stanford.
Some of Roger's closest friendships began on the volleyball court. "I used to go to pizza every Thursday in the Marina with a group of volleyball players. We had one guy named Bill that used to tell really bad jokes. We couldn't believe he was a doctor so we started calling him Dr. Bill after Saturday Night Live's Mr. Bill character. We're still friends 35 years later."