Regular Exercise With Friends Helps UCSF Medical Student Handle Stress
---
Published on September 09, 2016
---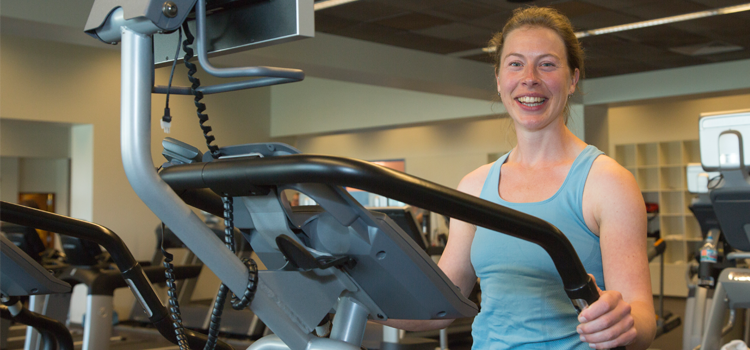 Coping with stress is part of life for medical students but UC San Francisco student Libby McNiven has some helpful advice–find some classmates to work out with.
"As a first-year student, I realized I needed help from friends to keep me 'honest' about working out regularly," she said. "I started meeting classmates at the Millberry Fitness Center and we would head to Kezar for track and sprint workouts then back to the gym for stretching and a good ab workout."
"It was great to learn new ideas for workouts from my peers. It's also an excellent way to catch up with friends, get some vitamin D and endorphins, and cope with some extremely stressful years."
Now, as a fourth-year student studying family medicine, school is easier.
"Early on, there's constant pressure to learn and improve yourself and keep your head in the books and work on your brain but it's important to work your brain in a different way and use your body."
Exercise also helped McNiven cope emotionally as her husband battled cancer. When he passed away two years ago, she became a single parent to their young son. As they both worked through difficult emotions together, McNiven made sure her son remained physically active.
"He's enrolled in swimming classes and he loves it," she said. "Even when he's not in class, I like to take him to family swim so he can splash around and practice the different techniques he's learned in class."
Even as she finishes her studies, McNiven will continue a regular workout routine.
"It keeps me sane and happy and I've found over the last few years that making time for physical activity is worth it."