Our Last Quarterly Catalog
---
Published on June 18, 2018
---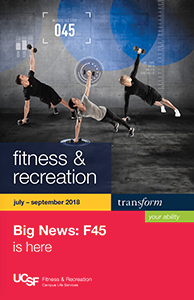 For many years, Fitness & Recreation has published a quarterly catalog. Its format has changed over time – from black and white to color, large to small.
As part of our initiative to reduce paper consumption and also provide more timely news to members, the catalog will end with this issue.
You will be able to catch the latest news about your favorite programs and special member events at fitness.ucsf.edu, Facebook, Instagram, e-mail, and signs within the fitness center.
Register and view program dates and times on our website or with the UCSF Fitness & Recreation mobile app. Download at fitnessapp.ucsf.edu.