Nine Ladow Transforms Her Life at Bakar Fitness Center
---
Published on September 02, 2015
---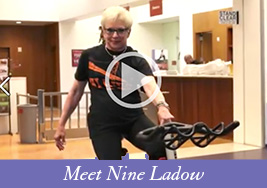 A trip to the doctor several years ago was the impetus for San Francisco's Nine Ladow to lose 50 pounds.
"She was pretty straightforward. She said if I didn't lose 50 pounds I would be feeling the end of an insulin needle," Nine said. "My health was at serious risk."
Given her marching orders, Nine changed her diet and joined Bakar Fitness & Recreation Center at UCSF Mission Bay. "I'm an active 76-year-old, but I knew I couldn't lose that kind of weight without making lifestyle changes that included diet and exercise. I started a low-carb diet and quit eating bread, potatoes, rice, and sugar. Instead, I ate protein and vegetables." There was one indulgence she didn't quit, however. "I didn't discard my martinis."
Bakar Personal Trainers Help with Transformation
Nine said Bakar Fitness & Recreation Center was the perfect place to start her new strength-training regimen. "It's close to my home, and the trainers are terrific. When I first started, I was lifting weights one day, and I was doing it wrong. Lorna (Bernardo) came up to me and corrected my position."
She later met with personal trainer Marta Fernandez, and they created a workout routine designed for Nine. "She asked me what my fitness goals were, and she designed a schedule specifically for me. At my age, I'm not going to run any marathons, so I was happy to have a training plan that I can stick with and delivers results."
Marta said she was pleased and honored to be asked by Nine to be her personal trainer. "I had seen her working out and noticed how dedicated she was to her health and fitness. It's very rewarding to be part of her endeavor to stay healthy. Nine is also a lot of fun to work with. She has a great sense of humor. I admire her commitment to exercise as well as her commitment to help the community through her generous charity work."
Not long after Nine began working out, she was diagnosed with breast cancer. Her new exercise routine helped her deal with radiation treatments. "Radiation saps your strength, but I found that if I exercised, I had more stamina and was able to remain active."
Nine Finds a New Community at the Fitness Center
In addition to her improved health, Nine discovered another benefit to her routine visits to Bakar Fitness & Recreation Center. She became part of a new community.
"There are a whole bunch of us that know each other, and I really look forward to seeing my friends at the gym," she said. Nine has even introduced her new friends to another passion, her charity work. "I connected the dots between UCSF, the Giants Foundation, and Jr. Giants to help the kids in Jr. Giants participate in the UCSF-sponsored kayaking and rock climbing programs for inner city kids. I am also working with Gail Mametsuka (Assistant Director, UCSF Fitness & Recreation) and the San Francisco Police Department to get the kids in the Police Athletic Leagues (PAL) involved in the inner city program at UCSF."