Meet Deanna Woo, Millberry Member
---
Published on June 01, 2016
---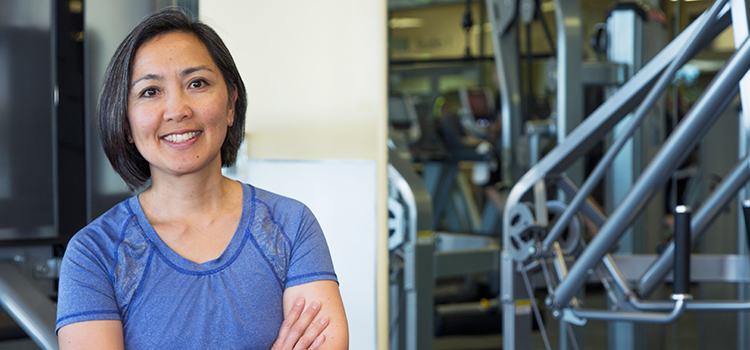 Deanna Finds Millberry a Perfect Fit for Her Active Lifestyle
As a UC San Francisco employee, Deanna Woo loves the convenience of Millberry Fitness & Recreation Center at Parnassus.
"For me, it's all about the convenience," Woo said. As the Finance Manager for the Office of Graduate Medical Education, Woo works at Millberry Union so she can begin her day with a workout at the fitness center and then go to work.
"It's close to home and fits easily into my schedule," she said. "It's not only good for my body to workout in the morning but it's good for my mind before I go to work."
Woo usually starts her day with a bike ride to campus. She'll go to the fitness center and either swim in the pool, lift light weights and do some stretching exercises, or occasionally go for a run in Golden Gate Park. "Having Golden Gate Park so close to campus is an added bonus," she said.
Woo, who earned her Bachelor of Science in Business Administration with an emphasis in Accounting from San Francisco State University, began her latest job three years ago and found it fits her active lifestyle perfectly.
"For me, working out is like breathing. I need that active time to start my day."
Woo said she's also taken advantage of some of the extra perks of being a fitness center member at UCSF.
"Last year we rented the [UCSF] cabin at Tahoe," she said. "At first it was daunting because I wasn't sure we could get 16 people to go to the cabin in Tahoe and make it cost-effective but we invited three families and it was absolutely perfect. It's close to home so the drive isn't too long and we stayed two nights and three days. It's very clean and I like it because we could bring our extended family together for quality time. We went skiing, played games, and ate meals together. It's a perfect getaway."
"Both gyms are very convenient and the outdoor pool at Mission Bay and climbing wall is fantastic. I look forward to starting each day with a trip to the gym."