Janice Finds Community at Millberry
---
Published on February 28, 2017
---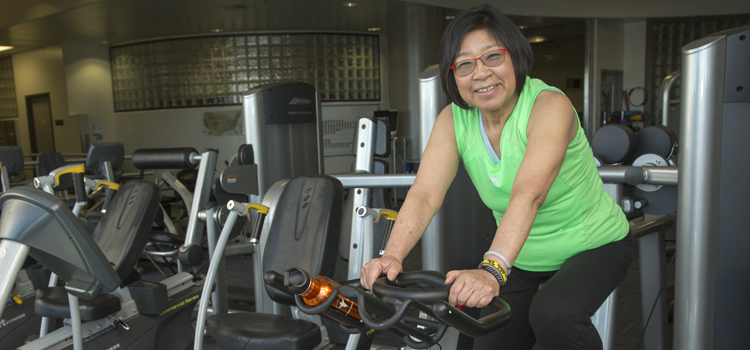 Janice Watanabe used to wonder why people felt like they had to go to the gym on a daily basis. Then, in 2007, she joined Millberry Fitness & Recreation Center.
"Now, I'm the one who feels like I have to be at the gym everyday," she said. "It's my mental, emotional, and physical support system. I feel the community support whenever I'm at the gym."
Since joining Millberry, Janice has gotten to personally know members and instructors, and they often attend events together outside of the fitness center. "We see each other every day, whether it's in classes, on the floor, or in the locker room. The people here are just wonderful."
Millberry became even more important for Janice when her husband passed away two years ago. "I had been coming to the gym regularly, but after that, it was even more important for me to be around people and have that support and keep myself healthy— physically, emotionally, and mentally. This place has done that for me."
Janice can usually be found in a Zumba® class. "There are so many Zumba classes now, and there are a wide range of instructors and styles, so you never get bored even if you take Zumba every day like I do." In addition, Janice enjoys BODYJAM™, GRIT™ Strength and Cardio, S-t-r-e-t-c-h, Pilates, H.A.B IT, Feldenkrais, and the Melt Method® to help her maintain her cardio and flexibility. She has also become more comfortable in dance classes.
"I never thought I would be able to move my hips like the instructors, but now I can do it. People shouldn't be afraid of the dance classes because the instructors are encouraging, and the music is so much fun. You get to exercise and have fun at the same time."