Helping Beginners Feel Comfortable in the Gym
---
Published on August 23, 2016
---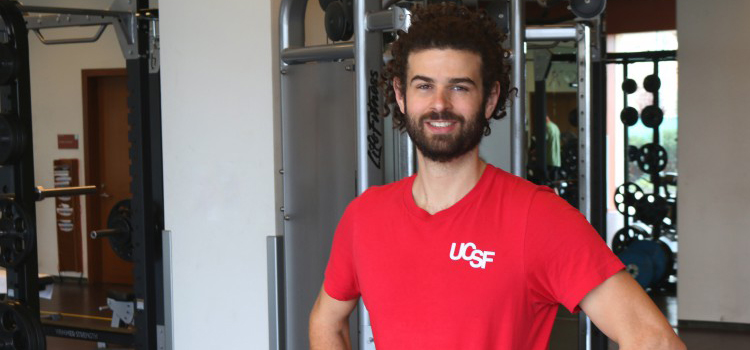 You might say UC San Francisco Personal Trainer Aaron Stewart was born into the business. His parents were both trainers and he grew up playing in gyms when he was a little kid.
"My dad was a dancer and a football player and eventually became an aerobics instructor while my mom was a personal trainer," he said. "I grew up around the industry."
Stewart was born at UCSF and played sports in high school before attending college in southern California. His focus was on the arts before making a return to personal training.
He's been working at the Bakar Fitness & Recreation Center at Mission Bay for the past six years and specializes in working with people who are intimidated by the gym.
"I like to make them feel comfortable and enjoy themselves. It's true that you can look inherently ridiculous while you exercise but I point out that everyone looks that way."
He uses self-deprecating humor to show how silly he looks when doing certain exercises. "I look stupid doing some of these exercises but it's about the results, not the aesthetics of how you get there."
Stewart wants beginners to start simple. "I don't want them to feel intimidated and I don't want them to set their goals too high at the beginning. Come to the gym a couple of times a week for 20-minutes at a time to begin with. Don't think you have to work out for an hour five days a week. Not at the start."
Stewart's exercises for beginners are also simple. "I want people to begin by moving their own body weight around. I want them to balance, to be able to pull their body weight up or push their body weight off the ground. To stand with good posture. I want them to do all of that before I add any weights because most people don't know how to move themselves around properly."
Stewart used to teach a stretch class but he found it was difficult to manage everyone's form. "I like the one-on-one instruction. I do some small group training on the basketball court, but mostly I work with one person at a time. I like working with all types, from athletes, to office workers, retirees and students." But what he does best is make even the most intimidated person feel comfortable and at ease.