Having a Goal Helped Solange Madriz Lose Weight, Gain Fitness
---
Published on April 01, 2018
---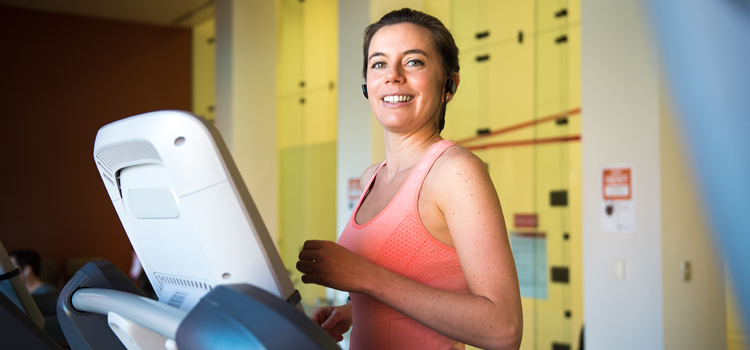 When Solange Madriz lost her grandmother to Type 2 diabetes four years ago, she knew she had to make lifestyle changes.
"The disease ran in my family," she said. "When my grandmother passed I made a commitment to her, and to myself, to prevent the disease from getting to me."
She joined Bakar Fitness & Recreation Center because she works as a program coordinator at the UCSF Institute for Global Health Sciences which is nearby.
"The research says you will work out more often if you work or live near your gym."
Solange still remembers stepping on the treadmill for her first workout. "I thought I could run for 30 minutes but I was gasping for air after 45 seconds. I was young and I thought I could run long but I was ashamed."
She decided to set small goals, including a 10-minute run on the treadmill. Over the next six months she was able to run faster and longer and that produced benefits in her daily life. "Now I can run 45 minutes on a good day. I also learned that not every day is going to be a good day in the gym. I don't beat myself up when I don't have a perfect day. When I don't feel energized, I do something little so it doesn't derail me from my daily routine."
At the same time, Solange began eating healthy and, two years after changing her lifestyle, she accomplished her goal of losing 20 pounds. "Morning workouts are now part of my daily habit. Going to the gym is one of the only things I do for myself, and by myself, every day. It has a big impact on my mood, energy, and sleep."