Dale Milfay–a Millberry Member Since 1969
---
Published on December 20, 2016
---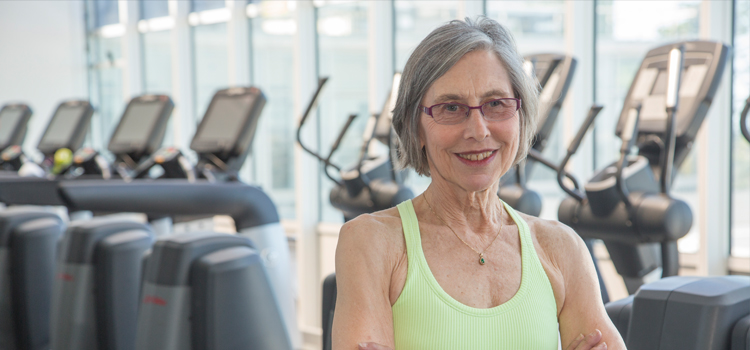 When Dale Milfay became a member of Millberry Fitness & Recreation Center at Parnassus in 1969, the current basketball court was a cafeteria with the pool underneath.
"I joined the gym when I started my job as a staff research associate right after grad school," she said. "I used to swim after work." Today, at age 70, Milfay is still going strong.
"I love the Group X classes," she said. "If I'm forced to pick a favorite it's probably CXWORX because it's a great ab class."
That's important because her latest athletic hobby is ice dancing. Her father moved to the US from Russia and enjoyed speed skating, so she began skating when she was four years old, but she never had money for lessons. Ten years ago, when she retired, she began skating with the Coffee Club at Yerba Buena. She later convinced her husband to skate, and now, they ice dance together.
"It's not like the people you see on TV," she said. "My husband doesn't throw me over his head or anything like that."
But ice dancing is a hobby she enjoys, and her regular workouts keep her core strong. "You need to have very strong legs, so BODYPUMP and Spinning classes are great."
It also doesn't hurt that she can work out with a view of the Golden Gate Bridge.
"The gym is so convenient, and I really enjoy all of the instructors. Most people think I'm 20 years younger than I actually am, and that's because I've been going to the gym for the past 40 years."